Estimating Carpet: Flooring Prices & Other Considerations
by ProHomeTips
Taking on a carpet flooring project is a surefire way to freshen up the home. It's also a task that can cut into your pocketbook.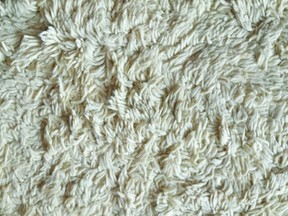 How to Plan a Carpet Installation
Taking on a carpet flooring project is a surefire way to freshen up the home, but it's also a task that can cut into your pocketbook. Fortunately, there are many smart ways to estimate the cost of carpet, plus keep on top of the other trimmings that will bring the project together.
Choosing a Style
One of the brilliant aspects to carpet flooring is that there are many styles, colors, textures and patterns available. Not only does this make it easy to select flooring that suits your taste, but also carpeting that fits your budget. Having an open mind will make it easiest for you to find a carpet style that you like and can afford. Another benefit is that there are many places to shop for carpet. Home improvement stores, carpet mills and wholesalers offer extensive collections of carpeting that you can browse through, while taking advantage of sale and wholesale prices.
Estimating a Price
According to CostHelper.com, you can expect to spend about $19 to $38 for a square yard of carpet, which pans out to be $300 to $600 for a 12x12 room. These figures are for middle-of-the-road carpeting; not too expensive, but definitely decent enough that you'll get your money's worth. You can find carpeting for as little as $2 a square yard, while custom projects can cost as much as $100 a square yard.

Do keep in mind that when it comes to carpeting, you get what you pay for. While it's possible to find quality carpeting at wholesale prices, the brands and styles are consistent across retailers. Therefore, you want to stick to brands that you know are reliable instead of testing out a cheaper carpet that you know nothing about.
Accessories Cost Money Too
There are more figures to consider when taking on a carpet flooring project, as the carpet itself isn't the only material that is needed. Padding is a key ingredient and one that will make a difference in the look, feel and longevity of the carpeting. Unfortunately, padding is where people try to cut corners, as it's overlooked in terms of importance. According to CostHelper.com, padding costs $2.50 to $6 a square yard.

When working with carpet installers, you'll find that many only offer one or two padding styles to choose from. Always ask for upgrades; the money will be well spent. The padding should complement the carpeting and vice versa, so stick to a similar grade of padding as the carpeting. Purchasing expensive padding for cheap carpet won't have it lasting longer, and buying cheap padding for expensive carpet will wear on its lifespan.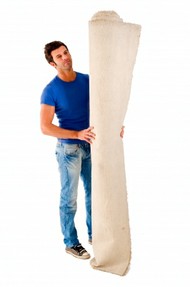 Professional Installation Costs
Also to be considered is installation. Wall-to-wall carpeting is generally done by a professional, which can add $2 to $6 a square yard. While you can consider doing the project on your own, it takes familiarity with installing carpet, plus understanding how to use such tools as a power stretcher. On a good note, many home improvement stores offer flat-fee pricing for installation so that you can have your whole home carpeted for one affordable price.

There are other costs to be aware of such as the cost of removing furniture, ripping up the existing carpet and disposing of the carpet. If you're having stairs carpeted, you can also expect to pay a fee for each stair. Speaking with the installer about these prices can help you make the best decisions. For example, you can save several hundred dollars just by removing the old carpeting, disposing of it yourself and prepping the area. That way, all the installer has to do is lay the padding and carpeting.
Be Persistent
It can be difficult to assess the cost of a carpet flooring project because many of these costs are hidden. When working with an installer, you'll find that they prefer to give you bundle prices. Even if the costs look attractive, you want to be persistent for a breakdown of numbers. You should be able to see how much you're paying for the carpet, the padding, the installation and any other fees such as stair installation or carpet removal. Only then can you assess the true cost of your project and feel good about the end result.
How to Pick Carpets: How Much Does Carpet Cost?
Get Book Smart on Carpet Installation
Read About the Variety of Carpet on Wikipedia
A
carpet
is a textile floor covering consisting of an upper layer of "pile" attached to a backing. The pile is generally either made from wool or a manmade fibre such as polypropylene,nylon or polyester and usually consists of twisted ...
---
Disclosure: This page generates income for authors based on affiliate relationships with our partners, including Amazon, Google and others.