Expressing Milk & Returning to Work
by wrylilt
If you plan to breastfeed your child for as long as possible, going back to work may throw a spanner in the works. Here are some tips and tricks.
Of course it would be wonderful if every mother could stay home full time with baby during their formative years. But this isn't always possible. Some workplaces do provide child care or allow a mother to breast feed at work, but again, this is rare.
For the working mum or just the mother who ventures out a lot, it's important to fit breast feeding and expressing into the schedule in a way that both mother and child are comfortable with.
This is a basic guide based on my own experience, to help mothers who plan to breast feed and work. This is a guide for exclusive breast feeding but some of the suggestions may be adaptable for mixed formula and breast feeding. Good luck with expressing breast milk; it's really the best choice for your baby!
What you'll Need
Bottles. You'll need at least three bottles (more if you work long shifts or the babysitter can't sterilize). Make sure you choose quality bottles and remember that it's easiest to buy the same brand as your pump.
Breastpump(s). You can choose either a manual or electric pump for expressing breast milk. Manual pumps are easy to use but require plenty of hand work. Electric pumps are bulkier but make regular expressing easier.
Sterilizer. You can choose from a variety of sterilizers including microwave and electric ones.
Breast Milk Storage Containers. Milk can be stored in a variety of breast milk storage containers - breast milk bags, breast milk bottles, breast milk trays. As long as the storage container is clean, sterile, suitable for freezing, and easy to stack or fit in a freezer, you're on the right path. Check out the guide below for which breast milk storage container is right for you.
My Personal Favorite Product for Breast Milk Storage
Breast Milk Storage Containers
Using a breast milk storage bag is an easy option for most women because bags come sterilised, are cheap and easily stored and disposed of.
Some other options include using a breast milk storage bottle or breast milk storage trays.
Breast milk storage bottles can be purchased either as disposables or re usable and generally can be used with most standard pumps and teats.
Breast milk storage trays are a great option if your baby drinks different amounts at different feeds or if you express more at a time than you can give in a feed - meaning freezing the milk in a block wastes some breast milk. Most trays allow you to freeze in 30ml cubes or long strips that can be put straight into a bottle - if your baby wants 90ml, put in 3 cubes of frozen breast milk.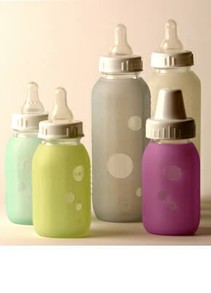 It's important to know how to store B...
Before you Return to Work
Get the equipment. Make sure you have everything you need to pump and feed your baby (see above information).
Start pumping. Test your pump so you know how much milk you can get in a certain amount of time and at different times of day. Remember that it may not work perfectly straight away. With practice it will become something you do without thinking about.
Start storing. Start freezing breast milk in the 4-6 weeks before returning to work. This way you'll have extras if you need them, allowing you time to get into a routine when you return to work.
Experiment. Choose a daycare or babysitter and leave your baby with them for the same amount of time as if you are going to work. This way your baby will adjust, you'll be less worried when you are at work and you'll know exactly how much milk baby will need. You'll also be able to experiment with how long you can go between pumping sessions.
Tips for Pumping
Pump first thing in the morning. This is when you have the most milk in your breasts. For instance, pumping from one side in the morning currently gives me enough milk to give my baby one and a half feeds.
Pump while breastfeeding. If you pump on one side while baby feeds on the other, your baby's mouth will help bring down milk on both sides. This means you'll get more and you'll be expressing breast milk faster.
Use a hot cloth or heatpack. If you have trouble bringing your milk down, try something hot. This will stimulate your milk letdown.
Calculate your times. For instance if you feed baby on one breast per feed and you feed every three hours, this means that if you pump both breasts each time, you only need to pump every six hours (but sooner is better.)
Storing Breast Milk
Standing - Up to 1 hour.
Refrigerator - Up to 48 hours
Freezer - Up to 3 months
Remember: Never store breastmilk in a colder environment than it has been in. Always go down, never up.
Freezer->Fridge->Standing.
In other words, milk that has been left standing should not go in the fridge or freezer and milk that has been in the fridge for awhile should not be frozen.
Freezing breast milk and using it correctly may seem daunting at first but trust me, after a few tries you'll be a pro!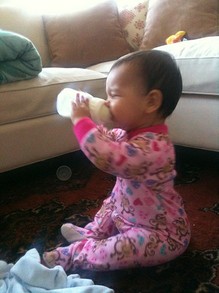 Baby enjoying a Bottle
Heating Breast Milk
It's very important to be careful when heating breast milk correctly, using one of the following methods, or both in combination:
Stand in hot water for no longer than 10 minutes.
Swirl breast milk filled bottle (so it heats evenly) under a hot tap.
Defrosting and using Breastmilk
Defrost breast milk in the refrigerator. This can take up to 24 hours depending on temperature.
If you need frozen breast milk in a hurry, use the same method as described in heating breast milk.
It's completely normal for breast milk to separate into a thick creamy layer on top and a clearer layer underneath. Simply shake to mix it back together before using.
It's hard to get the exact same amount each time you pump. You may vary 20-30 mL each time. When you pour the milk into bottles, just make sure each bottles has an equal amount.
Information for your Baby's Carer
Breastmilk is never to be microwaved or boiled. This can cause dangerous hotspots for baby and also remove important nutrients.
Always use the breastmilk sent that day or send it home - it's advisable not to save the milk for the next day. See above notes on how to correctly heat breastmilk.
Tip
If your baby has a bottle left over from that day, feed baby the bottle and express. This will give you a bit of extra milk to store.
---
Disclosure: This page generates income for authors based on affiliate relationships with our partners, including Amazon, Google and others.