Facebook Games for Christians: Journey of Moses
by wrylilt
Journey of Moses review, tips and FAQ.
Journey of Moses is a new Facebook game designed around the Bible story of Moses - the game follows his journey through pharaoh's palace as he sets the children of Israel free from slavery to the Egyptians.
The game also features interactive questions about Moses' mission and tells the story of his journey and life as the player completes various sections of the game.
The game features cute, habbo style graphics and characters.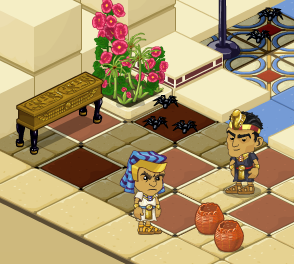 Journey of Moses
Game Play
This game revolves around clicking on squares. To complete a 'map', each square on the map must be clicked. Some squares require more than one click, and each square will give rewards (exp, shekels, quest items and energy items) when cleared.
The game is based around energy, which renews every few minutes. Clicking on squares uses energy and you can either wait for it to recharge or use fruit that you pick up from random squares.  
As well as the main game map series, which allows you to follow Moses through his journey to free the Israelites, there is also a camping place where you can visit your tent, collect gems and build structures such as wells and other equipment. You can also visit resource maps, which supply you with particular resources needed for quests.
Journey of Moses Frequently Asked Questions
Q: What happens if I don't pick up exp, shekels and items?
A: If you don't pick up items as you go, they'll simply be processed by the game and appear automatically in your inventory. However it's a good idea to pick up these items. Why? Because the more you pick up in a row (within a time limit) the bigger shekel bonus you can get. After picking up a certain number of items, you can get a bonus of over 1,000 shekels.
Q: What are resource fields?
A: Resource fields are maps similar to game maps - but instead of quest chains, they give one main reward, based on the type of field they are. For instance, in a fig field, you have a high chance of collecting figs each time you click a square. 
Q: How do I unlock resource fields?
A: To unlock resource fields, click on the shop at the very bottom right corner of the screen. Once in the shop, click on missions. Once you purchase a mission, you'll need to complete it by collecting items or asking your friends for help. Once you complete the mission, you'll open up the related resource field. Some missions have level requirements. 
Q: How do I get jewels that I need to open gates?
A: If you or your neighbours don't have the correct color jewel mine to open a gate, you can either visit Miriam (random jewel each day), ask your friends to send you a random jewel as a gift or add new neighbours.
---
Disclosure: This page generates income for authors based on affiliate relationships with our partners, including Amazon, Google and others.