Father Of The Bride
by Spook
My daughter got married and at last I knew what it was like to be the father of the bride. A day of deep pride and love.
My lovely daughter
On her way to get married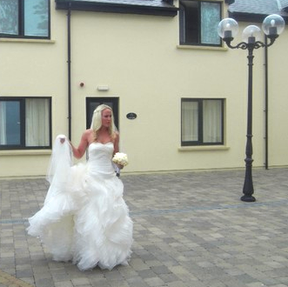 My, my, my, to think that it was only such a short time ago when she was born. My how time flies and just where does it go? Here she is all grown up and about to depart to marry the man of her dreams. Isn't it such a wonder?
Now I am not the type of person who beats my own drum, but, don't you think she looks lovely? How about the dress? Do you like it? Do you think it suits her? Well I'm the father of the bride doing my best to be impartial, but, I just can't help it, I think she looks grand all around and made a very good choice of her dress.
More importantly, when she was born she had something wrong with her, a faulty hip and the first few months of her life we had to tie her up in a splint. Now where we originally come from everybody has a nickname and that's just the way it is. The indigenous peoples ability to choose apt nicknames is not only astonishing but indeed mind blowing. In Dagny's (my daughters case) it was 'ambulance', because she cried a lot when she was a baby. Who cannot help but laugh?
I hasten to add that when we left Zimbabwe she had played Tennis and Hockey for Zimbabwe schools and she still had two years of her schooling left to do. So alls well that ends well hey?
Father of the Bride DVD
Letting go is the hardest part
Teenagers and earings
A small fight
Before I go any further I need to tell a little story. Now both my wife and I are big believers in disciplining children and by this I mean giving them the odd smack as well. Horror of horrors. I always have believed that if one does this between birth and up to the age of five. Then one never has a problem with errant children. However don't for one moment think that you do not have to do this and then try and start disciplining them as teenagers. It almost certainly will not work.
I know this as I have never had the slightet problem with any of my children through all these years and now they are all adults and the same remains true.
Before She Becomes The Bride: Father of a Teenager
Parenting a teenager is just as challenging
Ad
The biggest problem I ever had with the bride here was when she was 15 or 16 years old and asked me if she could have another earing in her ear. To everyones horror I absolutely refused. My argument being that you didn't have to have a whole lot of earings in your ear (or anywhere else), to make you look pretty. You are pretty enough as it is and what next, you'll be asking me if you can stick a bone through your nose to make you look beautiful? No.
Well guess what? I wasn't the most popular man around town. My wife promptly started wearing two earrings again and combing her hair behind her ears. I never noticed, but, I do remember her once telling me she only did it to spite her Father. Eventually, I was cracking under the pressure and said that if she made Zimbabwe schools hockey, I would allow it. Good thinking Dad, except she then went and made it and so I had to allow the second piercing.
I was telling this to an Irish friend of mine the other day and he shook his head at me in wonder and said, do I think any Irish teenager would ask her dad?
Which is exactly my point. Discipline them when they are young  and thereafter everything runs smoothly.
The setting for the wedding
Beautiful Glandore in South West Cork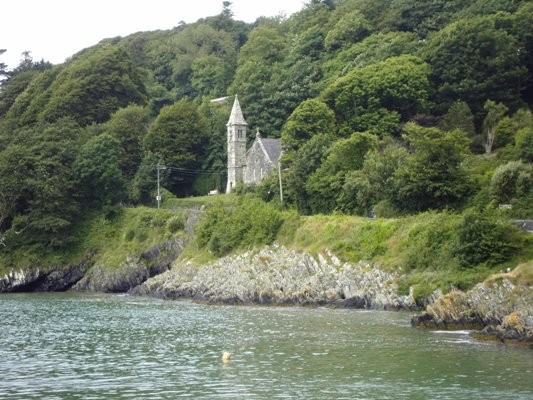 Beautiful Glandore church
Creating the Perfect Wedding Day
Best advice for planning the most important day in the life of your daughter
Ad
A wedding venue paradise
Beautiful South West Cork Ireland
Now actually my daughter got married slightly left of this beautiful church in the rectory. Beautiful setting and it was done outdoors. It started drizzling slightly as the ceremony began but I guess everyone was praying because it soon stopped. Now the problem began because a lot of priests will not do a Sunday wedding in Ireland and the hotel for the reception is booked up for years ahead. Hence the Sunday do, because no one is getting married on a Sunday. So to cut a long story short, the priests here in Glandore, will do a Sunday wedding and by the same token the hotel will fit in a Sunday wedding. Problem solved.
It was all so beautiful and so tastefully done. The rectory actually have a bar and also put up a marqee for the day. So whilst the bridal party were busy having their photographs done, everyone else could get into the party mood. Splendid it was.
Now I have tried to highlight this area elsewhere with little or no effect. So I'm trying my luck in a different place.
Here is Glandore.
The bride is now married
The bridal entourage except for the father of the bride (photographer)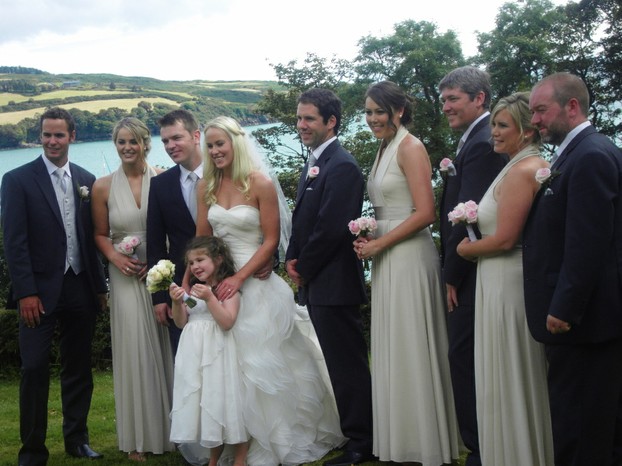 Photos of the wedding party
Father of The Bride Speeches
As the father of the bride you will need to give a memorable speech. Unless you are a gifted speaker I would highly recommend a bit of preparation for this important part of your daughter's wedding.
Ad
A splendid wedding
Bride, groomsman, matron of honour, my three kids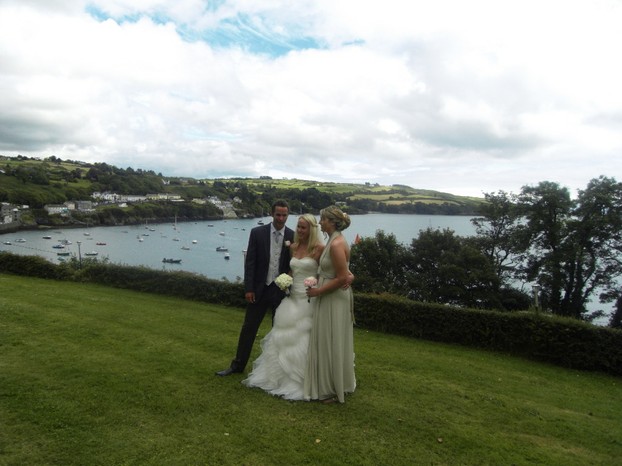 My three kids at the wedding
Updated: 08/22/2011, Spook
---
Disclosure: This page generates income for authors based on affiliate relationships with our partners, including Amazon, Google and others.