Florida Gardening
by flipflopnana
Florida gardening information and tips to help you get the most out of your Florida vegetable, herb, or flower garden.
In a Florida Garden
Pretty Pink Hibiscus Duo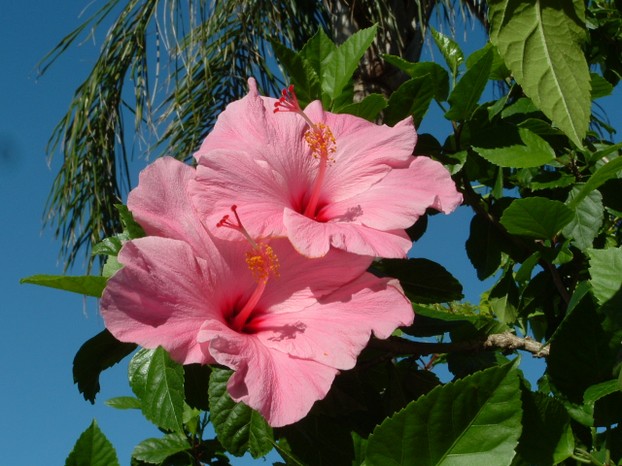 Pretty Pink Hibiscus Duo
Growing conditions in a Florida Garden
On first look around the beautiful state of Florida you would think growing a Florida garden would be quite easy as most of the time everything looks pretty lush and green. Although Florida does have a very long growing season and you may even be able to grow year round, there are a few things you will want to know before you start planting so that you can have the lushest blooms or best harvest ever.
First Florida is 900 miles long with 3 different growing climates. In the north you can find yearly freezes but in the south it can be entirely frost free.
Next you need to consider the soil as Florida is made up of mostly sand but you could find areas with clay or rock.
Then of course is the heat. May through September are the hottest months where you may see temps near 100 degrees Farenheit.
Along with the heat comes the summer rains. Did you know average rainfall in Florida is near 60 inches a year? Most of this happens during the summer rainy season.
Don't let me forget about the bugs, we see them year round here.
Where Is Your Florida Garden?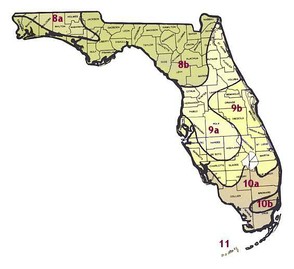 USDA Plant Hadiness Zone Map for Florida
I Would Love To Know Where Your Florida Garden Is.
What Climate Does Your Florida Garden Fall In?
Florida falls into 4 different cold hardiness zones according to the USDA or to simplify it a bit 3 different climate zone.
The North Florida Zone extends from State Route 40 and north. IThis are usually receives frosts and freezes during the winter, with the first frost usually in late November and the last in late February. Rainfall here averages about 60 inches per year.
The Central Florida zone is found in between State Route 40 and State Route 70. This are usually receives some frost between mid-December and mid-February. You can expect some light freezes here also. This area receives about 56 inches of rain a year with summerlike weather beginning in May and lasting through fall.
The South Florida zone is everything below State Route 70. It does not usually freeze here with very few frosts in facts the temperature only goes below 45 degrees for an average of 100 hours per year. Summer weather starts early in the spring here and goes through fall with an average rainfall of 56 inches a year.
Now that you know what climate your garden is in let's take a look at your soil before we rush out and start buying all of those beautiful plants or vegetables.
Keep an Eye on The Weather With Your Own Weatherstation
You will know if it is going to rain or if you need to water your garden.
What Type of Soil is in Your Florida Garden?
Hint: It is probably sand.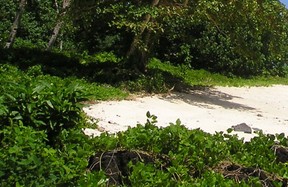 With the amount of rain that we get in Florida in the summer it is a good thing that most of the state is made up of sand. The sand lets the rain drain fast preventing most areas from flooding. You will want to keep some type of mulch in your garden due to the fact that sand drains so well, it will also dry out fast in the heat and end up blowing in the wind.
Sand  provides good aeration for roots without much resistance for their growth letting the plants to become well anchored into the ground. I love how easy it is to dig and weed in sand. Problem is sand also offers little resistance to pests moving about.
Sand holds very little nutrients that your plants need, this can be easily fixed by ammending the soil and feeding your plants frequently.
Remember that not all of Florida is sand. Check your garden to see if you are in an area that has clay or if you are all the way south you could be in a rocky soil are.
Find Out Exactly What Your Garden Soil Needs
with a complete garden soil test kit
Dealing With The Florida Heat In Your Garden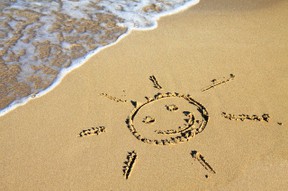 Before selecting plants for your garden make sure that they can handle the heat. Plants such as peonies, lilacs, and bearded iris do no do well here. I love petunias and snapdragons but the do give out by early summer under the heat.
The best bet is to plant native plants that love the heat and daily rain. You will also want to check a planting chart as to the best time to plant your favorite vegetables.
Florida is known for it's daily afternoon downpours so you should not have to water much this time of year. Keep an eye on your garden though, it will only take missing a day or two of these showers to thoroughly dry it out.
If you are planning on working in your garden during the summer months you will want to do so early in the day as most mornings the temps are already in the seventies. Apply insect repellant before heading out as this is also the time the mosquitoes love to be out too.
Have You Ever Grown Pineapple In Your Garden?
It is really easy in Florida.
How To Grow Pineapple
I love growing pineapples, it is as easy as cutting the top off and planting it into your garden in Florida.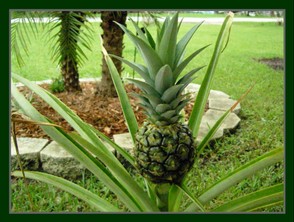 Pineapple In My Garden
---
Disclosure: This page generates income for authors based on affiliate relationships with our partners, including Amazon, Google and others.