Simple Homemade Peach Butter
by flipflopnana
If you love fruit butters try this simple and yummy recipe for homemade peach butter.
Nothing Better Than Homemade
There is nothing better than homemade peach butter. Sure it takes a bit more time than picking it up off of a store shelf, but it is so worth it.
First of all, you know where all of your ingredients come from.I can use organic ingredients and not worry about what is in my peach butter.
I also like that I can control the amount of sugar in this recipe. Most people like double the sugar that I have used here, but actually this amount is a bit too sweet for me. If this recipe is not sweet enough for you feel free to add my sugar.
I love this simple recipe and the wonderful peach flavor, but if you like spices, lemon zest. or rum for the liquid, add away.
Simple Homemade Peach Butter
his recipe truly is a simple one, you really only need 3 ingredients.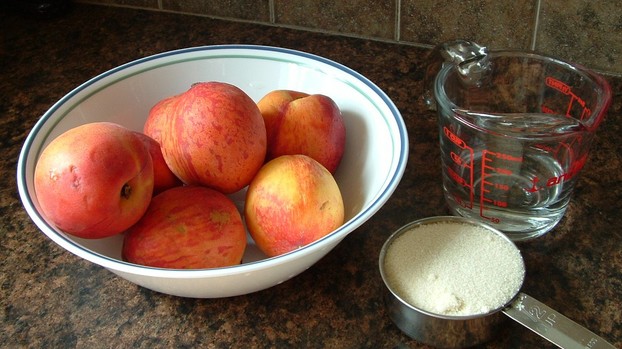 peach butter ingredients
This Recipe of Peach Butter
Makes 1 pint Peach Butter
Prep Time: 5 minutes
Cook Time: 1 hour
Total Time: 1 hour, 5 minutes
Simple Peach Butter
Ingredients:
6 large peaches

1/4 cup of liquid (water, apple, orange, lemon juice, or apricot nectar) whatever you have or prefer.
Step 1 - Simple Peach Butter
Dice Peaches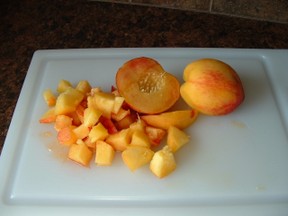 Remove seeds from peaches and dice.
No need to remove the skin, we are keeping this simple.
Step 2 - Simple Peach Butter
Put liquid and diced peaches in blender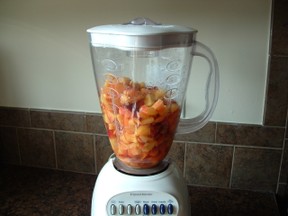 Add diced peaches to blender, start blender and add the 1/4 cup liquid a little at a time if needed.
If your peaches are really ripe you will not need to use all or even any of the liquid.
Step 3 - Simple Peach Butter
Blend
Blend peaches until smooth.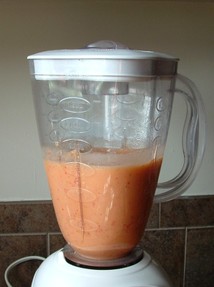 Step 4 - Simple Peach Butter
Pour in saucepan or crockpot
Pour the peach mixture into a saucepan and bring to a boil over a medium heat.
. Reduce heat and add sugar.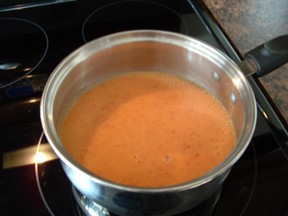 Step 5 Simple Peach Butter
Simmer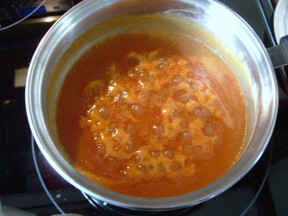 In a saucepan: Simmer until mixture thickens stirring frequently. It should be thick enough that the peach butter does not run off of your spoon.
This usually takes about an hour but it depends on how much liquid is in your mixture.
Want to Make A Bigger batch?
Enjoy homemade peach butter year round.
Just increase the recipe for every pint of peach butter that you would like.
Depending on the quantity you may want to use a crockpot to simmer the peach butter. This is actually my favorite way as I can make a big quantity and freeze or can to enjoy anytime.
Easy Crock Pot Directions: Pour peach mixture and sugar in a slow cooker with lid partially off to let steam escape. Set at low and cook, stirring occasionally, for 6-12 hours or overnight
Step 6 - Simple Peach Butter
Enjoy your peach butter warm on a fresh bread or biscuts!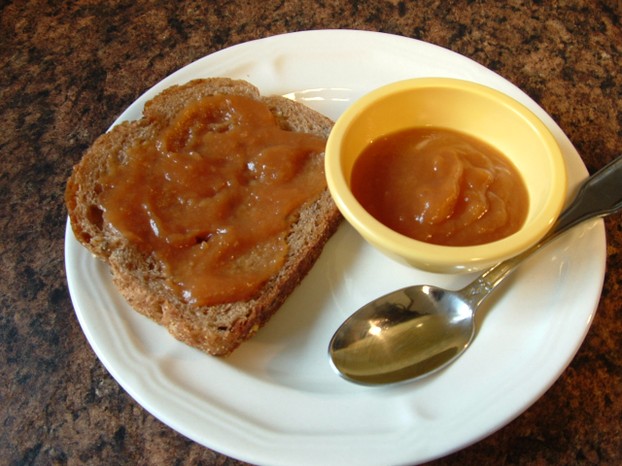 Enjoy
Homemade Peach Butter -
Not just for toast or biscuts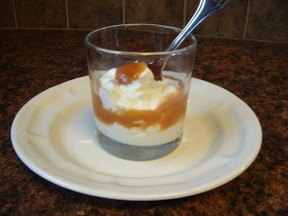 One of my favorite ways to enjoy my peach butter is on plain yogurt or warmed up over vanilla ice cream it is Simply Yummy!
Homemade Vanilla Ice Cream
Don't have time to make your own peach butter?
Order some!
Braswell's, Peach Butter, 12.5 Ounce

Delicious Peach Butter!!!!

Braswell's /

$16.81 $5.99
Peach Butter by Apple Woods Farm Premium Brand

Full of fresh peach goodness, This Old Fashioned Peach Butter is all natural, made from just peaches, sugar, peach juice and spices. Made from a time-tested family recipe, it's ...

McCutcheon`s /

Only $14.95
Peach Butter, 18 oz

Our Amish made Peach Butter is produced one small batch at a time to preserve the natural fruit flavor. Each bite of our homemade fruit butters easily identifies the particular ...

Scherger's Kettle /

Only $6.75
Peach Blossoms Peanut Butter filled Christmas Candy 1 pound

Peach Blossoms Candy. Delicious Peanut Butter stuffed into a pink, crunchy candy shell. These are delicious!! This listing is for a bulk 1 pound bag of Peach Blossoms.

Plantation Candies, Inc. - Telford, Pennsylvania /

Only $17.95
Easy Homemade Apple Butter
If you love this simple fruit butter recipe try:
---
Disclosure: This page generates income for authors based on affiliate relationships with our partners, including Amazon, Google and others.