Free Christmas Clip Art with Open Clip Art
by annieangel
If you are looking for clipart to use on your Christmas articles and blogs, Open Clip Art can supply your needs. Here you will find how best to make use of this resource.
Free Christmas Clip Art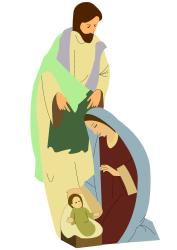 Are you looking for free clip art to make your article, blog or webpage look special this Christmas?  One Clip Art provides free clipart that is easy to download. Open Clipart is a library of clip art produced by various artists.  You don't have to be a member to use the clipart.  For your Christmas articles, type CHRISTMAS in the search box and up comes 10 pages of completely free to use clipart.  There isn't an obligation to, but I think by common courtesy, it is nice to add an acknowledgement of where it has come from should you use it.  You can also use NATIVITY in the search box for relevant Christmas clip art but right now there are only a few available.
Image: Nativity by 'hairymnstr'
How to find Christmas clip art
spruce up your pages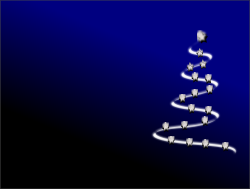 On the OneClipArt homepage, type CHRISTMAS in the search box and up pops 10 pages of clip art.
To use it you need to download it to your computer first, do not hot-load directly from their page to your  - that is a legal no-no.  You can simply right click on the image and SAVE AS to your picture file.  If you want a larger sized image click the button that says VIEW SVG and a larger image will open in a new window.  Right click on the image and save to your computer.  You can add your clip art to your where you want it on your page.  
Of course Christmas isn't just the only topic that you will want to use clip art to and there is plenty to choose from on this site. 
Clip art collaborations
Glossy Snowman by 'netalloy'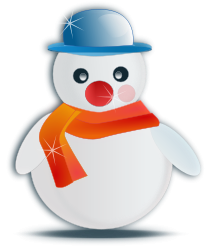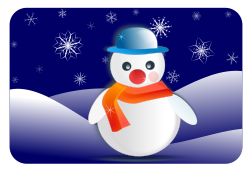 Snowman in Winter scenery added by Gem
Clip Art collaborations
One of the joys of clip art is that the images can be changed and incorporated with others to create new images.  As an example, the clever snowman created by netalloy was set onto a winter scene by gem to make this rather stunning image.
How to become an artist contributor with Open Clip Art Library
pay it forward by adding some of your artwork
 Open Clip Art Library works because people upload images for other people to use and you can do that too.  You don't have to be a professional artist to create clip art and on the website you will find free tutorial on how you can create clip art with the free software graphic programme called Inkscape.  If you click on PARTICIPATE and scroll down you will find a tutorial on basic Inkscape.  Using Inkscape you can use simple shapes to create clip art.  Once you have created your masterpiece, upload it via the link on that same page.   You can only upload SVG (Scabable Vector Graphic) files which is what Inkscape saves your clip art as.  Vector art is the use of basic lines and geometric shapes like the one below.
'Red and Green Stars by AnnieAngel'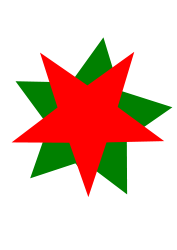 ---
Disclosure: This page generates income for authors based on affiliate relationships with our partners, including Amazon, Google and others.