Free Ebook Readers Are On The Way
by Thamisgith
Ebook reader prices have absolutely tumbled over the last two to three years. How much longer will it be before we can get free ebook readers?
In Fact, Free Ebook Readers Are Already here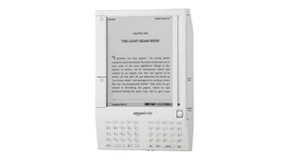 When Amazon first launched the original Kindle reader, back in November of 2007, it sold for $ 399. Today, a little over four years later, you can pick up an entry level Kindle for just $ 69. Even higher end readers, such as the Kindle Touch and the Nook simple touch, can be found for less than $ 100. $99 is the current price for both of these readers (albeit the Kindle Touch comes with "special offers" - adverts), and there's no reason to suppose that price won't go lower still - and quite possibly sooner rather than later.
There are many industry watchers who already believe that Amazon is losing a small amount on every hardware item that they sell. you would have to suppose that Barnes and Noble are probably in the same boat since they dropped the price of the Nook Simple Touch to match Amazon's Kindle Touch in November of 2011.
The fact of the matter is that the big money is not in hardware sales - at least not for companies like Amazon and (to a slightly lesser extent) Barnes and Noble. Once you have your Kindle or your Nook, you are closely linked to either the Amazon or Barnes and Noble content system. Follow up sales of ebooks and, in the case of the Kindle Fire and the Nook tablets, movie downloads, music, apps, software, you name it, are an ongoing income stream for these retail giants.
You could, if you had the notion, pay more for the cover of a Kindle or Nook reader than you do for the actual reader itself these days. Likewise, purchase a few recently released ebooks from the bestsellers list, and you'll probably have laid out more cash than you did for your reader.
As ebook reader prices dip below the $ 100 mark, the readers themselves become much less important financially to the big players. In fact, if you like, you might do better to think of them not as ebook readers, but as another electronic point of sale for either Amazon and B&N.
That's why there's almost an air of inevitability about the prospect of free ebook readers in future. In fact, free ebook readers are already here (sort of).
Get A "Free" Nook Simple Touch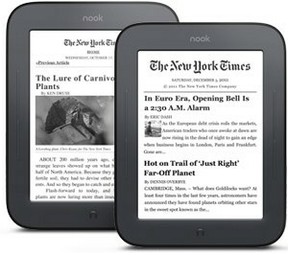 Barnes and Noble are offering a free Nook Simple Touch reader to anyone who takes out a twelve month subscription to the New York Times digital edition. So, if you spend $ 19.99 a month on your NYT subscription, $ 240 a year, you can get a free Nook Simple Touch valued at $ 99.
If you were thinking about taking out, or maybe renewing, a subscription to the NYT anyway, or if you were considering picking up a Nook Touch reader, then it's not a bad deal. Otherwise, it's interesting, but not exactly a "bite their hand off" gig.
Other offers from B&N include $ 100 off the price of a Nook Color tablet computer with a twelve month NYT subscription - you get it for $ 99 instead of $ 199 - and $ 50 off the price of the Nook Tablet with a year's subscription to People Magazine digital edition ($ 9.99 a month).
All of these deals are available up to March the 9th, 2012.  However, if they don't appeal to you, you will probably be able to pick and choose from other alternatives before much longer.
Free Ebook Readers Are On The Way (Really)
Okay, so the above deals may be interesting to some people, but they aren't exactly to die for. Nevertheless, they are a sign of things to come.
Both Amazon and Barnes and Noble are a lot more interested in linking you in to their content system than they are in turning a profit on their hardware, be it ebook readers or tablet computers.
Amazon might well offer free Kindles to Amazon Prime members before very much longer. They already let Prime members "borrow" one free Kindle book a month from their Amazon Lending Library. Free hardware would be the next logical option.
Both Amazon and Barnes and Noble could offer free readers for anyone who bought a certain amount of books a month/year. A kind of ebook of the month club would work well for either firm.
And, of course, the same is true for both the Amazon and B&N tablet computers, but the potential content and scope for follow up sales is even greater.
Free ebook readers are on the way. Expect to see a series of subscription incentives like the Nook and NYT in the near future. It won't be too much longer before ebook reader deals are considerably more tempting than what B&N currently has on the table.
---
Disclosure: This page generates income for authors based on affiliate relationships with our partners, including Amazon, Google and others.