Freezer Meals - What do you need for OAMC?
In order to enjoy the benefits of Once a month Cooking (OAMC), these are the things you will need.
Once a month Cooking - Oh the convenience!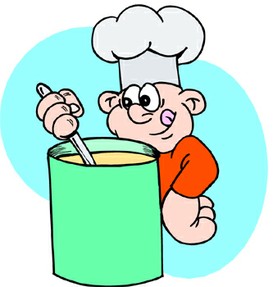 The concept of cooking all your meals for a month, a week all at once is one that is becoming more and more popular as the era of being a SuperMum surely begins to fade as we realize
There is no reason why the man cannot help
Life is just too busy to pretend
We are all in the same boat.
As parents, we want to feed our families healthily and recognize that take away meals or ready meals are not the way to better health for us and for our children.  It is also not that great for our pocketbooks, in these austere economic times.
Saving time and cost is definitely something to be considered and implemented as soon as possible.
What equipment do we need?
Most of these items we probably already have in our various homes but they are worth thinking about and gathering in one place in order to make our freezer once a month cooking (OAMC) as streamlined as possible.
Recipe Books - Spend an evening poring over a few or have a look at Once a month Cooking by the original Frugal Mom.  Select a few that your family will enjoy, cook a little amount and make sure they actually do enjoy it before starting on the big portions.

Not all recipes are suitable for up-scaling so be wary what you choose.   Soups, stews, casseroles, pies are quite useful.  There must be enough liquid in the recipe to store and reheat without it drying out.  

Lasagna is a great one for dividing and freezing.
2.   Large Pots and Pans - If you are going to be cooking in bulk for a family then these are essential additions to your cookware.  These are bigger than the regular size pots and pans and can be stored away until you require them each month.
 3 .  A permanent Marker pen and labels - You gotta get organised.  Label everything before it goes into the freezer. When things get frozen in a container, it is surprising how alike they can seem.  Without proper labelling, you could end up defrosting the wrong meal!
Masking tape can be used as labels on the various containers used to store the food.
Have a Sharpie...
4.  Freezer - Friendly Containers -  This one is up to personal choice but there are so many choices.  Ziploc bags, Tupperware, recycled margarine tubs and so on.  I favor Tupperware or similar kinds of containers.  However they may not always be the most space friendly.  
Should you choose to use bags, make sure they are definitely strong enough to withstand the freeing process.  Nothing like sweating over a hot stove, only for your food to spill out before you actually use it!
5.    A freezer - Well, we definitely need at least one of these.  I run two freezers at present as then I am able to store a whole lot of meals ready to pull out whenever I need them.  It probably would be more eco-friendly to run one large chest freezer but well, I am loathe to invest until one of mine comes up for recycling.
Freezers people like...
Appropriate for OAMC
Some storage containers that you can get delivered to you
Once a month Cooking - A tip to finish
When deciding what to cook in bulk, one way to get best value is to see what is on sale in your local grocery store.  Can you fit it into a giant meal that your family will enjoy?
This increases the cost savings experienced when cooking in this way.
And finally, I know I mentioned this earlier in passing - MAKE SURE your family like the recipe as a single dinner before investing the time to cook multiple versions of it.  I am sure we have all experienced the irritation of the family (usually the children!) refusing to eat what we have so graciously prepared for them.  Yes, we can MAKE them eat it but dinnertime really should be fun for everyone, don't you think?
---
Disclosure: This page generates income for authors based on affiliate relationships with our partners, including Amazon, Google and others.