Give The Gift Of Handmade Soaps
Give someone the wonderful and thoughtful gift of handmade soaps and skin care products!
Why Handmade Soaps?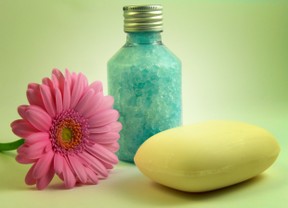 Handmade soaps are often made of 100% natural products which are very nourishing to the skin. Many of the soaps purchased in stores may have natural ingredients, but they can also be full of chemical additives which are very drying to the skin.
Handemade soaps are available with some wonderful all natural ingredients such as goats milk, shea butter, and olive oil, just to name a few. Many of the handcrafted soaps available for sale by soap making artisans come in beautiful colors, shapes and wonderful aromatic scents from essential oils. They make such great gifts and also are a wonderful idea as favors for weddings, bridal showers and baby showers.
Feeling A Little Crafty?
Try your hand at soap making!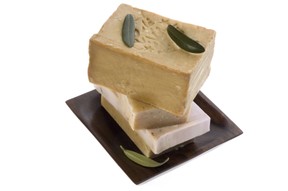 If you are looking for a hobby or perhaps thinking of starting a small business from home, you may want to look into the art of soap making or creating melt and pour soaps. There are many books and articles writen on the art of soap making as well as melt and pour soap kits. I would suggest starting out with melt and pour soap kits before diving into cold-process soap making. You can purchase melt and pour soap kits or bricks of melt and pour soap. Though not truly handmade like creating cold-process soap, the melt and pour soaps allow you to melt down the bricks and add botanicals, color or fragrances, pour into your choice of mold shape and you have a wonderful little soap creation all your own. They make perfect gifts or accents to your own bathroom. It is a good way to ease yourself into the world of soaps. Once you've gotten your feet wet and have read up on the cold-process soap making, you may want to give it a try yourself.
The art of hand crafting soap is becoming increasingly popular with both men and women as people become more aware of the effects of harmful chemical ingredients. The need for variety of all natural skin care products has driven more people to learn the craft and create their own all natural products. As more people are learning to make natural cold-process soaps, lotions and cosmetics, more and more online businesses and retail shops are being formed to sell these fantastic wares. Whether you are looking to learn the process as a hobby or hope to one day sell your creations, you will want to keep your creativity flowing. Online searches of natural beauty and skin care blogs are a great place to read up on the ingredients, share recipes and formulation tips, as well as join communities of others interested in natural skin care and soap making.
Where To Sell Your Hand Made Soaps
Now that you have perfected your formulations and recipes and are ready to offer up your sudsy masterpieces for sale, where should you sell them? If you are someone that enjoys face to face contact with potential customers and have the time to do so, you may want to consider setting up a table at local craft fairs, church baazars and flea markets. There always seems to be a good amount of foot traffic and the advertising for the events are usually taken care of by the parties hosting them. If you decide to go this route you will want to be sure that you have enough stock on hand and have your items presented in eye catching packaging. You may also want to consider having flyers, brochures and/or business cards printed up with your business name and contact information. Be sure to hand these out to anybody and everybody that stops by your table. A fabulous place for purchasing these items is Zazzle.com .
If face to face customer service and sales is not your thing, you may want to consider an online retail business. There are many site available for you to set up your own online store and shopping cart. One site that I can personally recommend as user friendy is eCrater.com. Another good site for selling handmade items is etsy.com.
Last But Not Least...
No matter what you decide to do with your new found love of soap making and soap pouring, be sure to have fun with it! Whether you are selling your creations, giving them as gifts or using them yourself! The best part of soap making is the fun you can have creating new recipes, trying out new scents and colors and seeing your finished product as you beam with pride! You will be the envy of all your friends as they see the fantastic bars of perfectly scented soaps coming out of your kitchen! It will be up to you to decide if you want to keep your soap making secrets all to yourself of if you want to be nice and bring your friends in on the fun. Perhaps a friends night in, whipping up some oatmeal and almond soap bars should be on the agenda! You and your friends will never run out of things to talk about and you will always have someone to swap recipes and trade secrets with, so maybe sharing your new hobby or business venture isn't such a bad idea after all?
---
Disclosure: This page generates income for authors based on affiliate relationships with our partners, including Amazon, Google and others.