Halloween Ice Cube Trays
These ice cube trays will heat up your party while cooling your drinks. Bats, pumpkins, fangs, and more will have people visiting the punch bowl and toasting your party!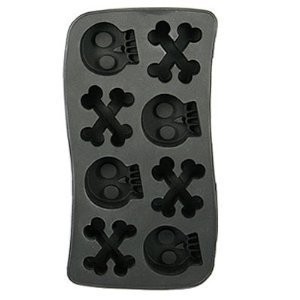 Skull and cross bone ice cube tray
If you take hosting your Halloween party seriously, you are always looking for ideas that other people won't have. You want people to talk all year about your party. You know it's the little things that will make a big difference. That is why molded ice cubes in your drinks and punch bowl are a good idea. These ice cubes will amaze your guests young and old. Whether you like skull and crossbones, bats, fangs, or even dentures these ice cubes will have people talking. These ice cubes trays are dishwasher safe and can be used for years. An advantage of ordering them from Amazon.com is that if you hit the minimum order there will be no shipping charges. This allows you to sit comfortably at home and shop for many of the items that other people won't have for their parties.
This skull and cross bone ice tray is made of plastic and is dishwasher safe. The unique ice cubes will greatly enhance drinks for young and old alike. Their shape will allow you to come up with some unique drink names. Simple fruit punch can become "Pirates Revenge" or something else.
Put a bite into your drinks with these fang ice cubes. Perfect for smaller mouths or mixed drinks. Where else can people have fangs in their Bloody Mary's?
Please visit some of my other Halloween articles
Wilton Bat Ice Cube Mold

Give your guests the chills with these bat cubes. Just fill, freeze and invert the silicone mold to release. Fun bat shape.
Ad
Will your "special punch" make your guests a little batty? The bat shaped ice cubes made using this tray will do their part.
You can use these molds to freeze more than water. How cool would skull shaped jello shots be? Maybe you can freeze some punch in the fang molds. Frozen dentures in your mixed drinks are always another option.
How can you not have these little skull ice cubes for your drinks?
You taken the time to have unique ice cubes, why not have something special with them in? You know the punch bowl will be a gathering point for your guests. Why not consider something unique? Think about putting these frozen novelties in a punch bowl that is a special as the ice cubes. What could be better than having skulls, bats, and bones floating around in a special Halloween punch bowl?
Your custom frozen ice cubes will be perfectly displayed in this beautiful punch bowl.
This large punch bowl set comes with ladle and tray and will have your guests amazed.
This mold can be used for more than Halloween. This tray forms four frozen dentures at a time. Perfect for mixed drinks or to have floating around the punch bowl!
---
Disclosure: This page generates income for authors based on affiliate relationships with our partners, including Amazon, Google and others.