Inflatable Halloween Lawn Decorations
Christmas is not the only holiday that has inflatable decorations. Halloween has numerous and elaborate displays to enhance your Halloween experience.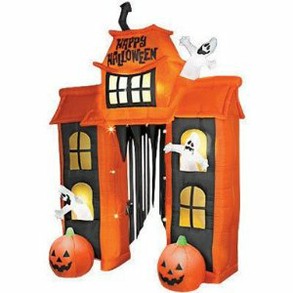 Inflatable Haunted Arch
Are you looking for more of a "WOW" factor this year for Halloween? You want more than the usual yard decorations, but don't need expensive animatronics that belong in Disney? Inflatable Halloween yard decorations will fit your need. These displays will offer a great bang for your buck. The cost is not excessive but will ensure people notice your displays. These inflatable displays can be used day and night, or whenever you choose. Set up is easy and the displays have blower units that keep them inflated. If you decide you want the display to take a break, simply unplug it and then plug it back in when you want.
This archway is 10 feet tall and inflates in seconds. Stakes and tie-downs are supplied to keep things in place. Strobe lights help create the scary effect you are looking for.
Some of these displays are up to 12 feet tall which will guarantee even the older Trick or Treaters will be awestruck. The displays have internal lights so the inflatable black cat has "glowing eyes" and the inflatable haunted house has spooky strobe lighting. Stakes and lines are included to keep them where they should be.
This inflatable feline is 10' x 10' x 11' when fully inflated. The head moves side to side and internal lights provide the "glowing eyes". This ferocious feline inflates in seconds with the included blower unit and includes stakes and tethers to keep the neighborhood mice and children safe. When the urge to catnap comes, the display quickly deflates.
This inflatable tree is eight feet tall when fully inflated. The inflatable black cat will not be lonely up this tree because of the ghosts already in this display. The tree inflates in seconds and includes everything needed to keep it firmly rooted in place.
A variety of Grim Reapers are available to suit your tastes
These inflatable Grim Reapers allow you to make different statements, depending on what you choose. The all inflate in seconds, contain lights, stakes, and tethers allowing quick set up. These displays are seven or eight feet tall and will definitely be the talk of the neighborhood.
Please visit some of my other Halloween articles.
Placing one or two of these displays will encourage numerous Trick or Treaters to visit you on Halloween night. Be prepared for a lot of vehicular traffic on your street from admirers.
Don't wait to purchase your displays! Most of these sold out from Amazon well before mid October. If you want your display to have more appeal than last Halloween, inflatable displays are a great choice.
---
Disclosure: This page generates income for authors based on affiliate relationships with our partners, including Amazon, Google and others.