Harry Potter Themed Birthday Party Supplies & Decoration Ideas
by Tehreem
A magical journey awaits you! Create a magical atmosphere in your party with Harry Potter Party Supplies.
Harry Potter Party Supplies
Have a Magical Celebration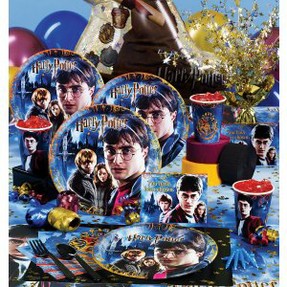 Harry Potter parties are widely popular and appeal to a wide age group. Children, teens and tween all would love to be a part of a Harry Potter Themed celebration. Planning a Harry Potter Birthday as your child's next party theme will be one of the awesomest gifts you can give him.
Here to help you plan your party, we have a great collection of most popular and loved Harry Potter Party Supplies. From Harry Potter Party Invitations to Harry Potter Birthday cake , we have ideas for everything. To help you plan a great party, many decoration ideas and helpful tips are also given. You can also try some more party theme ideas.
Help us improve our page by giving us a feedback.
Harry Potter Party Invitations
You Are Invited...
Harry Potter Party Invitations will call all the guests to a festive celebration. Harry Potter Invitation cards will be perfect for a Harry Potter Themed Party.
You can prepare Harry Potter Invitations at home using a simple method. Buy some construction paper or cardboard and adorn it with Harry Potter Themed Stickers and Images. Stars can be used to fill the cards and you can sprinkle some glitter on it. Markers can be used to fill in the details of the party.
Printable invitation cards are present on different sites. You can customize your selected card and easily get the print outs at home.
Another option is to buy the invitation cards. Wonderful Harry Potter Invitation cards are available in market. You can also order them online and have them delivered at your door step.
Two most popular cards are given below.
Harry Potter Party Invitations
Your Presence is Required...
Harry Potter Table Ware
Prepare to have a feast!
The Harry Potter Deluxe Party Kit for 8 will fulfill your needs for a grand feast. This pack includes:
Harry Potter Deathly Hallows Dinner Plates
Harry Potter Deathly Hallows Paper Cups
Harry Potter Deathly Hallows Lunch Napkins
Harry Potter Deathly Hallows Invitations with envelopes
Forks
Spoons
Cake Candles
Harry Potter Deathly Hallows Tablecover
Gold and Silver Stars Centerpiece
Solid-Color Activity Placemats
Package Star Confetti
Sorting Hat Shaped Foil Balloon
Latex Balloons - 3 colors
Crepe Streamers - 3 colors
Curling Ribbons - 3 colors
These items will fulfill all your needs for decoration and lunch. A party pack decreases your expenses by 40% and you only need to buy some more items to complete your decor.
Harry Potter Deluxe Party Kit
Harry Potter Cake Ideas & Decorations
Get to work!
A cake for a Harry Potter Birthday should be totally enchanting. Many Harry Potter cake ideas can be thought over while deciding the type of cake you want made.
If you are ordering the cake in a bakery then you can choose what cake you want made and tell them your specifications. Or you can trust them and ask them to surprise you!
You can also bake a Harry Potter Themed cake at home. Harry Potter Party will look great with a snitch shaped cake or even a broomstick cake (make it a FireBolt!). Other shapes to be considered are Wands, Cauldrons, Potion Books, Sorting Hat and any other character from the story can be chosen.
Harry Potter Cake Pan by Wilton
$42.24 $74.99
Inspirational Ideas For Harry Potter Themed Cake
Or...
A simple cake can be decorated with Harry Potter Cake Toppers and Edible Images. Check out below for some of these.
---
Disclosure: This page generates income for authors based on affiliate relationships with our partners, including Amazon, Google and others.