Hemifacial Spasm - Our Daughter's Story
by petunia
A facial tic that won't go away? That's what hemifacial spasm feels like! The spasming goes on and on for days, months, years. This is our daughter's story.
What is Hemifacial Spasm?
Kathy's story
When she was a college student, our daughter developed a little tic near her eye.   You have probably experienced something like this for a short period of time.  The problem was that this little tic continued to get worse and would not go away. 
We began to consult doctors.  Most of them felt that the tic was stress related.   And time and the tic continued to move on.
Kathy finished college and became a sales representative.   After a year or more in sales, the tic really became a problem.  The spasms would begin and people would think she was winking at them.  

Kathy's face in partial spasm

Kathy - full spasm
HFS Diagnosis and Treatment
Kathy soon went to work for a local dentist office.   The spasms continued and soon were interfering with her vision.   Dr. Houck, one of the dentists in the office, noticed that Kathy was struggling and began her own research into the problem.  Thanks to Dr. Houck's research,  Kathy soon had an appointment at the Medical University of Georgia.  
Kathy's appointment was with Dr. Sethi, a neurologist.   Dr. Sethi explained to us that her condition, called Hemifacial Spasm, was caused by a blood vessel pressing on a nerve.  Although Kathy had tried Botox treatments before, Dr. Sethi wanted to try again, and did.  But again, Kathy's face either froze in a frown, or drooped and sagged.
Dr. Sethi then suggested a Microvascular Decompression - a brain surgery technique developed by Dr. Janetta in Pittsburgh, PA.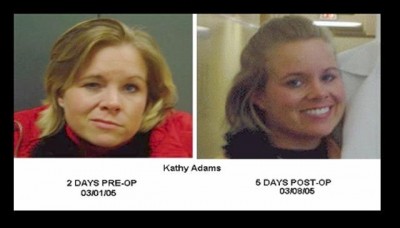 Kathy before and after MVD
What Hemifacial Spasm Looks Like
Obviously this is not Kathy, but this lady's experience is so similar to hers.
Kathy and Dr. Jannetta 5 days after surgery

Kathy and Dr. Jannetta
Tell Kathy's Story - Help people find HFSA
I cannot imagine what we would have done without the support and encouragement of the Hemifacial Spasm Association.  We joined as soon as Dr. Sethi told us about the association.   The wonderful folks there have a very active yahoo group that you can join for free, too. 
Kathy's story is much more complete on the HFSA site (see link below).  
I hope that you will help us tell people about the HFSA.  There are neurosurgeons around the world who specialize in MVD surgeries.  It took us ten years to find the right resources.   It is our goal to help others find the HFSA and a physician who specializes in Hemifacial Spasm and Microvascular Decompression.
Allegheny General Hospital and Dr. Jannetta
After waiting 9 months for Kathy's Botox to wear off, we arrived at Allegheny General Hospital and met with Dr. Jannetta.   He was so kind and his eyes sparkled like Santa Claus.  We all felt much better after meeting and talking with him.  He and Dr. Casey were wonderful to answer all of our questions about Kathy's MVD surgery.
Kathy awoke from the surgery with spasms still, but after a few days, they were gone and she remains spasm free.
Our entire family is forever grateful to the entire chain of helpful people who helped Kathy get to the right doctors and the right treatment - Dr. Houck, Dr. Sethi, Dr. Smith, and the entire HFSA!
Have you ever heard of hemifacial spasm?
This is Kathy's beautiful smile today!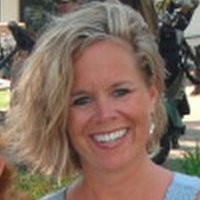 kathy
Hemifacial Spasm Association
Join the HFS for complete information and super support and friendship!
Hemifacial Spasm Association
"The Hemifacial Spasm Association (HFSA) is an international online support community of individuals who have or are presently suffering from Hemifacial Spasm (HFS) and are eager to provide information, understanding and support to other individuals and their families when coping with Hemifacial Spasm. " (Quote from the HFSA home page)
---
Disclosure: This page generates income for authors based on affiliate relationships with our partners, including Amazon, Google and others.