Where to Buy Area Rugs in Rock Hill, SC
by petunia
If you are searching for an area rug for your home, stop by and browse a bit at Outlook Floormasters. The team at Outlook Floormasters will help you make a great choice.
Choosing an Area Rug
Outlook Floormasters in Rock Hill, SC
Area rugs offer a wide variety of options.  You can choose your color, type of carpet, and even your specific size.  Yes, you can take your rug measurements to the new designer showroom and choose exactly what you want!
Area Rugs are a great way to upgrade a room without busting a budget, because you are covering a much smaller area.  You can really upgrade and get a fancy rug that is sure to be a conversation piece.  From Shag to Bright Red, you are sure to be able to put your design flair to any room!
It is good to know that Smart Strand is the most stain Resistent carpet and would be perfect for area rugs with high traffic.  So if you are looking for a stain resistant area rug, ask about Smart Strand. 
Outlook Floormasters proudly offers area rugs from Tuftex, Dixie Home, Kane and Masland.  Your rug will be created on site at Outlook Floormasters.  Also, ask about area rugs that are already cut.  This is a great way to find a super bargain!  Everybody loves a bargain!
See ya at Outlook Floormasters!
Meet the Super Team at Outlook Floormasters
These guys know flooring!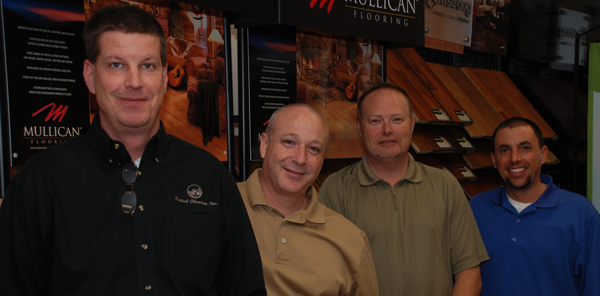 Outlook Floormasters Super Team
The Team at Outlook Floormasters in Rock Hill SC
When it comes to flooring, we got ya covered, Rock Hill!
Chris, Paul, Hank and Adam are ready to help you make the best decorating choices for your home flooring.   Tell them what kind of area rug you need, and they will happily help you. 
Good customer service is a priority with these fellows.  You will be treated like a friend indeed!   Dealing with local business is good for the entire community.
Just take a look at their favorite quotes:
Chris Emerick's favorite quote is from Ben Franklin "well done is better than well said."
Adam Trader's favorite quote is from Wayne Gretzky, " You miss 100% of the shots you never take."
Hank Duke's favorite quote is from Steve Musseau " Know what you're doing.  Love what you're doing. Believe in what you're doing."
Outlook Floormasters is easy to find!
4859 Old York Road, Rock Hill SC
Outlook Floormasters on the Web
Explore Our Pages - Follow Us on Facebook - We're Waiting for You!
Outlook Floormasters Home Page
Outlook Floormasters - friendly, personable, and experts in flooring of all kinds.
Follow Outlook Floormasters on Facebook
We are always happy to meet new friends. Follow us on Facebook for sales alerts, decorating ideas and the latest news from Outlook Floormasters.
Outlook Floormasters - The Place to Be for DIY Experts
Let the Outlook Floormasters Team Help You With Your Project
Do you like Do-It-Yourself Projects?  Do you consider yourself an expert at completing projects in your home?
Even experts need a little advice now and then.  Consult with the good folks at Outlook Floormasters for expert, professional advice. 
Outlook Floormasters in the Community
A mesage from Paul Peterson of Outlook Floormasters
"Outlook Floormasters is involved with numerous local and national charities, but we have chosen several that are closest to our hearts. One is the Special Olympics where we will donate some Area Rugs for silent auctions.
Another charity is the Make A Wish Foundation of South Carolina --at our Showroom in October 2011, we will  have raffles and rugs to purchase with all proceeds going to Make A Wish Foundation.  We will announce more information soon so you can be aware of this special day.  Remember to Follow us on Facebook to be informed about special events.
Outlook Floormasters is also very involved with local York County Schools with donations and silent auction material."
---
Disclosure: This page generates income for authors based on affiliate relationships with our partners, including Amazon, Google and others.