How to Admin a Facebook Disaster Page that goes Viral
by wrylilt
Sometimes, everyday people start Facebook pages that suddenly get thousands of members for a good cause. Here's some tips for being in charge of such a page!
First of All - My Experience
During the January '11 floods in Queensland (the first of which was nicknamed the 'inland tsunami'), Australia, I created a Facebook fan page in hopes of finding out some information for a friend. Within half an hour the page had 500 fans, within 6 hours, 10,000 fans and within a day, it was up to 37,000 likes.
During times of disaster, people are increasingly turning to social media as a source of fast and up to date information. Unfortunately, many official organizations are too scared or have too much red tape to properly utilize social media to reach people - instead relying on TV, radio and phone, which can often take longer and utilize more resources and time.
Because of this, ordinary, inexperienced people often become the centre for information updates on disasters and large events, with very little knowledge of how to correctly vet information, moderate spam and deal with changing problems.
I learnt on the go - discovering what worked and what didn't, what people expected from the page and things they'd argue over. Hopefully some of what I learnt will be helpful to other people in the same situation.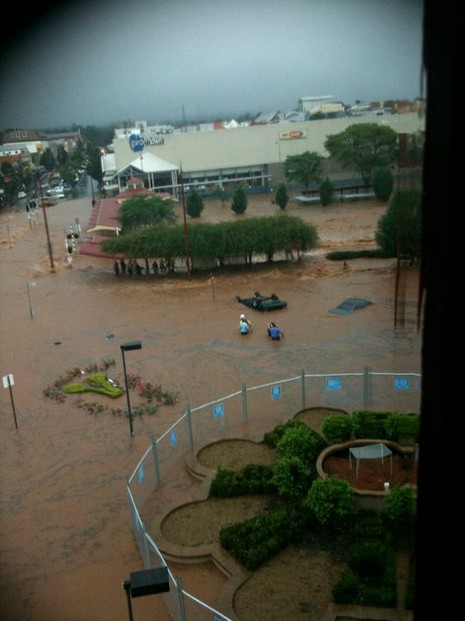 One of the first photos people saw of the 'Inland Tsunami'.
First Things First
One of the most important things if your Facebook page goes viral is to NOT ignore it. If you think you can't handle the amount of people posting on the wall and the spam and content that you'll have to monitor, see if you can find someone else to take the page over. Otherwise, the page will quickly become swamped with trolls and spammers.
Get more admins that you trust - even if you only get one friend helping, it will mean that there's someone there to catch things you miss, help out and give you support.
Start an email - when a page goes viral the wall often moves so fast it's impossible to read all messages. If you start an email specifically for the page, people who really need to, can contact you directly with information and questions.
Dealing With Spam & Trolls
Sadly, when not if is the question when it comes to trolls and Facebook pages. Some sick people will try and post rude things about the disaster, even posting grapic and offensive photos and images. Here are some tips for dealing with them:
Do not face them head on - at most, make an announcement telling people not to interact with the trolls or post about or to them. This is what the trolls want. Instead, quietly and quickly remove and ban any content from trolls that gets uploaded or posted to your page.
Close the page if needed - if you're planning to be away for an extended period of time and no one else can watch the page, you can close down photos and wall posts from the Facebook page admin area. You can re-open these areas once you come back, and the content will still be there.
Posting & Announcements
Facebook pages can often become the centre of information for people looking for updates, road conditions and missing family members. It's important to remember that any announcement you make will be available to all followers of the page, so it's a good idea to make sure you don't post:
Incorrect information - even if a tip or post sounds viable, don't repost unless you've verified it with at least two other sources. Posting incorrect information can be upsetting or even life threatening.
Personal attacks - even if it may be true, don't make posts such as "---- shop is profiteering, don't use them" or "------ was seen stealing from flooded homes". At the least it can hurt the individual or businesses reputation - at the worst it can lead to vigilantism or even to you being sued for libel. 
Personal opinion or vendettas - a disaster page is for helping people in times of disaster, not for saying hello to your friends or having a whinge about prices at your local store.
You Can't Please Everyone
No matter what you say or do, someone won't like it. So don't try and please everyone. Just do what you can, provide what updates you can and monitor the spam and trolls. It is a tough job if you choose to stick at it, but if you take it one step at a time, it will be appreciated by thousands of people.
---
Disclosure: This page generates income for authors based on affiliate relationships with our partners, including Amazon, Google and others.