How to Create Your First Google Site
by almirah
A tutorial on how to create a Google site for beginners
Why Google Sites?
Why care about Google Sites?
If you haven't used Google Sites before, you may ask this question. Let me tell you some of the nice features of Google Site you may consider. I have used it for a while, so I've got some experiences about it.
First of all, it's free. You just need to have a Google account to access this service. To start a Google site, you don't need a website host or register a domain. It's all provided for free. Of course, you can register your own domain later if you want, and you can do this easily.
Secondly, you don't have to be an expert in HTML to use Google Sites because everything you need is already available. Even if you don't know anything about HTML, you still can build your Google Sites.
Next, Google site is ready with Google adsense. You can insert Google adsense anywhere on the page with a plugin provided. You just need to tell them your Google adsense publisher ID, insert Goole adsense plugin, and you will see the adsense live! Instantly!
Many more Google Site features are available for everyone. Space is limited to explain one by one here, so I recommend you to explore them yourself.
Google Sites according to Wikipedia
Google Sites
is a structured wiki- and web page-creation tool offered by Google as part of the Google Apps Productivity suite.
Let's create a Google site
Once you're logged in with your Google account, you go to Google Site.
Click 'Create', and you'll be on a page where you can select you site template (blank template is pre-selected), site name, site url, and a security captha.
Many free templates are available to choose from, but let's use the blank template for now.
If your site url is still available, click 'Create' and you'll be taken to your site homepage in edit mode. You are now ready to insert text in the text box provided and click 'Save' when you're done. To edit the page, click the pencil icon you see on the top right of your screen or hit 'e' on your keyboard.
Adding more pages or sub pages
To add more pages such as About, Contact, etc. to your Google site, press 'c' on your keyboard or click its icon on the top right corner of your screen (next to pencil icon). Type your page title on the 'Name your page' box, and select the type of page you want create (there are 4 types of pages you can create, namely general web page, announcement, file cabinet, and list). You can change the page type from one to another later on.
Then select a location for the page you're creating. It can be the same level as other pages, or as a sub-page of one of the existing pages.
Each new page you create will be given a text link to that page on your sidebar. Link to a sub-page will be inserted under its respective main page.
The 'More' button
Next to the 'Add page' button
More things you can do with your Google site when you click the 'More' button on the top right corner of your screen (next to the 'Add page' button). You can find 3 categorical actions on the drop down list, namely Page actions, Page template and Site actions. The Page actions and Page template contain instructions you need if you want to modify your current page. For example, you can enable or disable comment form or attachment on that page through 'page settings' under Page actions. Try it to see what I meant.
The last category (Site actions) is where you can find instructions on how to modify the whole site configuration.
My free template for your Google Sites
This is free template I built for everyone interested to use it. This template has a flash plugin on the homepage. You can use it for free. See image below or here for live preview.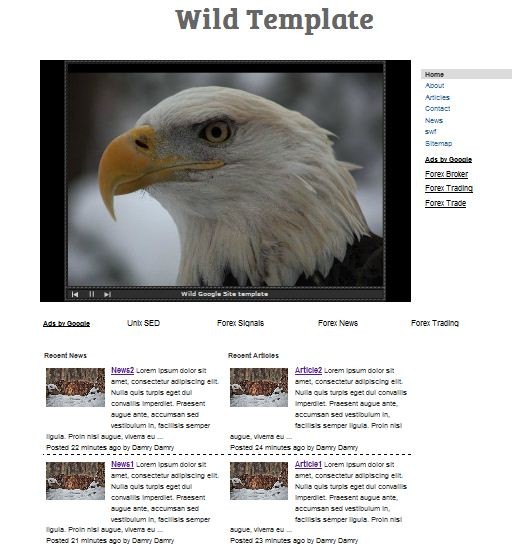 Free Free Template for Google Sites
---
Disclosure: This page generates income for authors based on affiliate relationships with our partners, including Amazon, Google and others.