How To Do Smokey Eyes
by optimist
Learn how to do smokey eyes with this smokey eyes tutorial. These sultry eyes look amazing and are easy to do...
Smokey eyes are a great idea for those nights (or days!) when you want to look super special. In this tutorial, I'll show you how to get smokey eyes easily.
There are two things you should remember before going ahead with this look though. First of all, make sure your eyebrows are immaculate. You should get them shaped by a professional, and then maintain that look. This will greatly open up your eyes and make you look well-groomed even when you're not wearing any makeup.
Second, make sure you've taken care of your skin. While this may sound like it has nothing to with applying makeup, think about it - how horrible does it look when a woman has patchy, flakey skin and lots of eye makeup on?
And a third tip - if you're doing smokey eyes, make sure to keep the rest of your makeup light, otherwise you'll look overdone. Remember to wear light lipstick with smokey eyes.
Smokey Eyes Tutorial
First, prep your eyes. Apply concealer under your eyes, and use eyeshadow primer on your eyelids. Primer will ensure that your eyeshadow stays on for longer.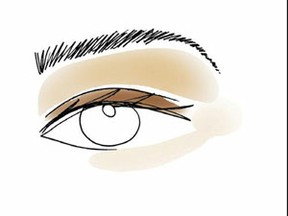 First, choose a color scheme. While traditionally smokey eyes are done with blacks and greys, or dark browns, many girls like to do dark green or violet eyes too. If you're using an eye shadow set, then the colors are probably laid out for you already.
Dip a slanted brush into a very dark eyeshadow, and apply it along your lash line like a liner.
Next, take the second darkest shade, and apply it along the eye up to the crease. Use A light shade and apply it along the brow bone. The last shade is the lightest - you want to apply this at the outer corner of your eye, and maybe even below your eye.
Finally, blend all the colors together gently. Make sure there are no hard demarcations between the colors!
Now is the time to add some extra oomph to your eyes. If you wish, you can use a black or dark brown eyeliner along your lash line. As the final step, add two coats of mascara to make your lashes seem long and thick.
Remember, use high quality makeup to ensure that your eye shadow doesn't flake and come off - I've heard that it's possible to make cheap eye shadow stay on longer if you use a good primer, but if you've got a long night planned or an important date, it's best not to take that risk!
---
Disclosure: This page generates income for authors based on affiliate relationships with our partners, including Amazon, Google and others.