How to Find the Best Vacuum Cleaners for Pet Hair
by mulberry
If you have pets in the house, you have pet hair or fur, and lots of it. Not just any vacuum can do the job of removing this copious fur. Here are tips for finding what you need.
Got Pets? You Need a Vacuum Cleaner for Pet Hair
Millions of us have cats, dogs, and other furry friends that share our home. They offer us love, companionship, and unfortunately, lots of pet hair. Clearing out fur that gets embedded in upholstery, carpeting, and which collects in corners, under furniture, and so forth, is no easy task. The average sweeper just doesn't cut it. Finding a good vacuum cleaner for pet hair is a must if you want your home to be clean, odor free, and allergy/asthma friendly.
On this page you will find some tips for getting a good pet hair vacuum and see some of the best as judged by other customers who have used them.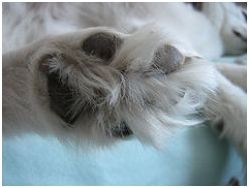 Photo by Jeffrey Beall
Tips for Choosing the Right Vacuum
If you're looking for a pet hair vacuum cleaner, then there are a few things to think about before you make your choice:
Handheld or Upright
If your primary need is to remove pet hair from upholstery or small spaces, then a handheld pet hair vacuum may be sufficient. Certainly these vacuums can be used to clean up any dry spill and complete small vacuuming jobs in general. They will save you money, space, and maybe even some time.

An upright model vacuum will be easier to use for larger areas such as cleaning floors and carpets. An upright vacuum cleaner designed to pick up pet hair will need to offer attachments to get in crevices and work on upholstery as well.
Brushes
Some of the best pet hair vacuum cleaners will have rotating brushes to help pull up embedded pet hair. As mentioned above, an upright model would need a pet hair attachment and/or crevice tool in order to clean upholstery effectively.
Filters and Dustbins
If you have pets and pet hair, you also have pet dander and potential pet related odors. A HEPA filter will eliminate most pollens as well as some molds and bacteria. They are effective in filtering out pet dander. Some pet hair vacuums may even offer odor eliminating bags or carpet care kits to help deal with any odor problems.

A dustbin that can be emptied without coming in contact with the dust/dirt/pet hair is optimal, particularly if someone at home has allergies or asthma.
Power
Power generally means suction, and you need good suction to get pet hair off of textured surfaces like most upholstery, rugs, and carpet. A handheld vacuum should offer at least 5 amps of power. Generally speaking you want a corded model as most cordless hand vacuums simply don't have the power to get embedded pet hair.
Other attachments
Clearly having an extension wand or flexible hose can help you get to other spots where pet hair can accumulate such as under the refrigerator, up on top of cabinet, or under a bed. Some vacuum cleaners for pet hair may even offer a blower function to push away pet hair that accumulates in the garage, on the patio, or in similar outdoor areas.
A Few Suggested Handheld Models
From Bissell:  This handheld vacuum cleaner for pet hair is perfect for the job. It has interchangeable nozzles that can easily be switched depending upon the job at hand. The flexible rubber nozzle is designed for cleaning upholstery and stairs and the hard nozzle makes cleaning hard surfaces quick and easy. It features powerful suction with a 7 amp motor, a washable HEPA filter, and filter screen.
Aside from being a powerful cleaner, it's also easy to handle. It's small and lightweight, measuring 10" x 5" x 8" and weighing under 4lbs. It has an easy grip handle which provides a fingertip-access on/off switch. You can reach any spot with the 16ft cord and stowe it away quickly with the cord wrap feature. 
From Eureka:  This model features two motors. One to power the revolving brush and the other to provide suction. It has powerful 5.5 amp suction and a stretch hose which makes it a good vacuum cleaner for pet hair on upholstery and stairs. It features a bagless filter, easy clean dust cup, and a crevice tool for tight spots.

This vacuum measures 15" x 7" x 7" and weighs 5lbs. It has a 20ft cord and a "riser visor" which flips up to allow easy cleaning of vertical surfaces such as found on stairs.

From Dirt Devil:  This hand vac provides a powerful 7amp motor and motoroized brush to lift pet hair quickly and easily. It's HEPA filter also makes it one of the best vacuum cleaners for pet hair as it filters 100% of the common allergens found in your home, including pet dander.
This vacuum comes with a 5 piece toolset that includes a pet hair upholstery brush as well as a 24" flexible hose. It's easy to to clean with a bagless dirt cup. This vacuum measures approximately 13" x 9" x 10". It comes with a 2 year warranty.
Eureka Hand-Held Vacuum, 71B

Remove deeply embedded dirt from anywhere in your home or car. Ideal for cleaning stairs and auto upholstery, this hand vacuum cleans with the help of a revolving brushroll ...

Only $130.0
Dirt Devil M0105 Purpose For Pets Hand Vac

Dirt Devil has specifically designed this hand vac to best serve pet lovers everywhere. The combination of a motorized brush roll and strong suction leads to a high powered ...
Ad
Some Suggested Full Sized Floor Vacuums
From Hoover:  This Hoover WindTunnel upright makes vacuuming easy. It has a bagless system and easy empty dirt cup, fingertip controls, is self porpelled, and uses a "dirt finder" system that let's you know when a particular area needs more cleaning.
It's one of the best vacuum cleaners for pet hair with it's handheld pet hair tool with rotating brushes and a flexible hose. It also features a HEPA filter for ridding your home of most allergens, like pet dander. It's motorized brushroll can be switched on or off as needed.
This vacuum measures 11" x 16" x 43" and weighs approximately 25lbs. It has a 29ft cord and comes with a one year warranty.

From Eureka:  For those who prefer a canister design, this Eureka is an excellent choice. It has a compact lightweight design, measuring 9" x 17.5" x 11.3" and weighing under 9lbs. It features a telescoping wand to get to hard to reach places, a crevice tool, and pet hair attachment. It offers 12amps of power to handily remove even the most embedded pet hair and even features a blow port to chase away pet fur and other debris in the garage or on the patio.
The HEPA filter keeps your home free of allergens such as pet dander and the Arm & Hammer odor eliminating dust bag keeps things smelling fresh. This pet hair vacuum has a 20ft cord and comes with a 1 year warranty.
From Dyson:  The Dyson DC25 and DC17 are both great upright vaccum cleaners for pet hair. The DC25 features a motorized brush bar and a mini turbine head which is great for cleaning in small spaces. It has a telescoping head that extends your reach up to 16 feet. It features a HEPA filter to remove allergens, a hygenic dust bin that easily empties with the push of a button and doesn't require you to come in contact with the contents. The see-through bin makes it easy to know when cleaning is necessary. This vacuum is certified asthma friendly.

The DC25 pivots easily making the task of sweeping effortless and the fingertip controls make it a one handed chore. It comes with onboard tools included a stair cleaning tool. This vacuum measures approximately 12" x 15" x 42" and weighs just over 16lbs. It comes with a 5 year warranty.
The DC17 offers similar features but has a slightly larger dustbin, a 35ft cord, and comes with a carpet care kit. It measures 26" x 13" x 43 and has a bagless system. It also has a 5 year warranty.
---
Disclosure: This page generates income for authors based on affiliate relationships with our partners, including Amazon, Google and others.