How To Make A Natural Body Cleanser And Shampoo
Here is a very simple recipe that will give you an all natural 3-in-1 cleanser; it works great as a shampoo for natural hair.
What Is African Black Soap?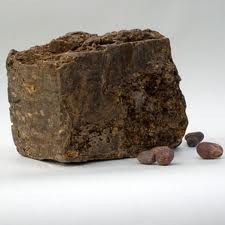 Making an all over body cleanser from Organic African Black Soap is very easy. Not only will you be saving money in the long run, but you get the satisfaction of knowing that your product is natural, organic and chemical free.  The formula that I use is great because it is actually a 3-in-one product. It can be used as a shampoo, body wash and facial cleaner.
African Black Soap also know as Ose Dudu or Dudun-Ose. Ose means soap and dudu means black in Nigerian. The soap can be constructed in various ways. Usually it is made by hand from the ashes pf plantain leaves and cocoa pods; this is what gives it is nice dark chocolate color. The ashes are then mixed with various oils, such as cocoa butter and shea butter oil, and water to create a soft solid. What makes African Black Soap so great is the fact that it has multiple uses and many benefits.
Raw African Black Soap from Ghana - 1 Lb

Some of the Benefits of black soap - Helps deep clean skin. - Works on most skin types including rough and dry or sensitive skin - Helps clear skin bumps and spots - Helps ...

Only $4.19
The Many Uses Of African Black Soap
The Benefits Of Using African Black Soap
Remember this products is all natural so that means it is safe to use on adults and children. It's a natural product that can be re-purposed to use not only as a body cleanser but as a facial cleanser and shampoo. There many different ingredient combinations you can use depending on the needs of your hair and skin. If you have dry skin you will want to add nutrient-rich oils like Vitamin E or Jojoba. Glycerin can also be used it is a great humectant and helps to retain moisture on skin and hair. It has rigid cleansing properties, but it is still very gentle to the skin. To turn black soap into a liquid you simply have to dissolve it in warm distilled water. For those experienced "Naturalistas" out there you can use Aloe Vera Juice instead; more on how to make your natural liquid soap in just a minute.
First take a look at some of the awesome benefits of African Black Soap.
1 pound of African Black Soap can be converted into MANY ounces of its liquid version and eliminate the need for separate hair and body skin cleansers therefore saving you money in the long run.
Helps to fight acne, oily skin, fine lines razor bumps and evens skin tone.
Soothes and exfoliates skin
The plantain used in the making of African Black Soap is rich in Vitamin
It's glycerin rich so it helps restore moisture to hair
Great for removing make-up
 There are so many uses for African Black soap and as stated it can be used on your entire body and it is family-friendly.
How To Turn African Black Soap Into A Liquid
My Favorite Recipe
This recipe is for 8 ounces of liquid. I prefer to make the soap in small batches so it doesn't sit around longer than a week or two. To extend the life of your soap you can always store it in the fridge. If you choose to make more simply double each ingredient that is listed. Also, the oils and other ingredients that I use are simply what works for my skin and hair. Feel free to change any of the extra ingredients. Most of the time the soap is crumbly so the measurements might not be exact. I use a measuring cup and crumble in the amount and then use my hand to press it down into the cup until it reaches the correct amount.
1/2 cup of African Black Soap
1- 1/2  cups of hot water distilled water
3 teaspoons of each  olive oil, coconut oil, jojoba oil, vitamin e oil (also works as a preservative), glycerin
If you would like to scent your cleanser a few drops of any essential oil will work (i.e. peppermint, lavender, tea tree oil)
1 teaspoon of raw honey (natural preservative)
You will need a plastic container with a airtight lid (ziplock bowl) to place the hot water and soap in. The soap must be allowed to sit in the water over night until it completely dissolves. You may see black specs in the liquid, don't worry it's just the ashes from the cocoa pod and plantain skin.

Once the soap is liquified then add in your oils and finally your essential oils. Real essential oils are undiluted and very strong so per 8 ounces of liquid you only want to use about 10 drops of each essential oil, that should be sufficient. Stir your mix very well. Dip your finger in the mix and rub it across your skin, you should be able to determine if you have added enough soap to your mix. If it is thin and watery you can always crumble more soap in and let it dissolve.
Now that your soap is complete and mixed very well simply place it in a bottle with top, give  it a few gentle shakes and make sure you store it in a cool dark place. It can be stored in the fridge to extend shelf life.
Nature's Way Organic Coconut Oil, 16 Ounce

EXTRA VIRGIN ORGANIC COCONUT OIL Coconut oil is a natural energy source because it contains MCTs (medium chain) "good fats" the body uses to produce energy. As a dietary ...

Only $14.94
NOW Foods Jojoba Oil Pure, 4 ounce

Condition: In need of healthier hair, softer skin, or an oil for general bath care and massage. Solution: 100% Pure Jojoba Oil is derived from the seed of the jojoba ...

$11.23 $10.69
NOW Foods Peppermint Oil, 1 ounces

Aroma: Fresh, strong mint. Benefits: Revitalizing, invigorating, cooling.

Only $7.78
Organic Extra Virgin Olive Oil 16 fl oz (474 ml) Liquid

Swanson EFAs Organic Extra Virgin Olive Oil is cold-pressed from certified organically grown ripe olives and contains no preservatives, solvents or chemical additives. Its ...

NOW Foods Glycerine Vegetable, 16-Fluid Ounces

Condition: Rough skin, simple cosmetic applications. Solution: Pure Vegetable Glycerine is an outstanding moisturizer and skin cleanser that also provides softening and ...

Only $8.99
Jason Natural Cosmetics Pure Beauty Oil, 5,000 IU Vitamin E Oil - 4 fl oz

Jason Natural Vitamin E Oil 4 oz

$9.11 $8.71
---
Disclosure: This page generates income for authors based on affiliate relationships with our partners, including Amazon, Google and others.