How to Straighten Hair
An article outlining how to straighten hair using a flat iron. All the steps from washing to the hair spray at the end. Enjoy!
Introduction - How to Straighten Hair
What kind of hair do you have?  Hair comes in different styles - some people have curly hair and some have straight.  Inevitably, everyone wants what the other person has!
As a fashion statement, bone-straight hair is often required.  Now being the mother of three girls with varying types of hair, I have had to learn how to straighten hair easily and quickly - I assure you it is cheaper than going to a salon with all three!  
I have also had to use a variety of hair straighteners in order to find one that works on the variety of hair I have in my household - From pure black African kinky, hair to straight European hair.
It can be difficult to find a straightener at the right kind of price as well as one that does the job.  Let's look at one of the greatest and most versatile.
The First Step - Wash the Hair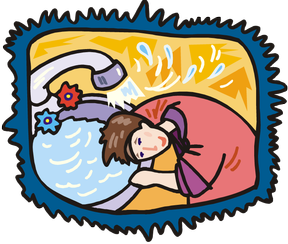 To make sure you get the best results, it is best to work with clean hair.  It helps with getting rid of a build-up of hair products on the hair.  This build up can quite easily deposit itself on the straightener reducing its effectiveness.  
Of course, there are times when you just need to straighten your hair in a hurry, that is OK too.
A great brand of products to use on the hair is the KeraCare Brand.  They are one of the best available and not too pricey.
Do be careful when you dry your hair as a towel tends to add frizz ot the hair so try not to rub around wildly.  Dry it from root to ends in one direction.
KeraCare Hydrating Detangling Shampoo 32oz

Moisturizes hair as it conditions hair for a healthy-looking appearance and feel. Removes excess oils from hair and scalp without over- stripping hair. Helps minimize hair ...

$25.90 $12.70
Keracare Humecto Creme Conditioner 16oz Big sale!

Keracare Humecto Creme Conditioner helps correct and prevent moisture loss due to exposure to chemicals. It helps prevent brittleness, breakage and splitting. Hydrates and ...

Only $17.69
The Best One
HERSTYLER HAIR SERUM VITAMIN E AND ALOE VERA

Use a small amount on damp hair before styling for ultimate shine and softness. apply to dry hair before and after straightening to seal split ends and reduce fluffiness.

$49.95 $3.99
Second Step to Straighten Hair - Apply Serum
After washing and conditioning the hair, (or instead of) apply a hair serum. 
This will reduce any frizzing that occurs to the hair on introducing moisture.  It also helps with detangling hair, particularly curly hair.
Do not rinse this out.
Third Step - Blow Dry Hair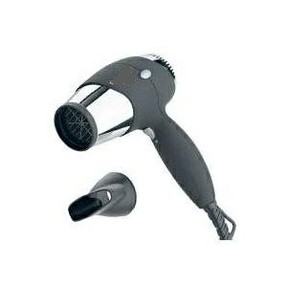 For best results, Use a paddle brush and a handheld blow dryer. 
Most dryers come with an airflow concentrator or a comb nozzle attachment.  Dependent on your hair type, a paddle brush may be better than the comb attachment.  Direct the airflow towards the brush with the airflow concentrator.
This will get the hair as straight as possible.
Some people prefer to use a round bristled brush but I suggest that a paddle brush is easier to use and it gives a better result.  However, use whatever works best for the hair you are working with.
Final Step - Straighten the Hair.
Put the Hair straighteners on to heat them up.

In order to achieve the required look, part the hair into a few sections using a crocodile clip to hold the hair you are not working with in place.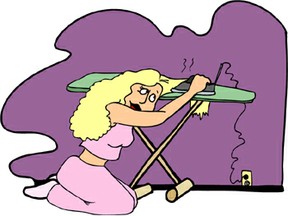 Take small sections at a time and starting from the root, place the pre-heated straightener and pull slowly up the hair to the ends. For best results use sections that are one or two inches wide and only about a half inch thick.
Hold the hair taut as you pass the straightener over the hair.  Also make sure the hair is as detangled as possible.  There may be steam coming out of the straightener but this is normal as it may just be the remaining moisture in the hair drying out. 
Do be careful about hairspray in the hair as this is flammable and it could catch fire so be particularly vigilant when straightening hair-sprayed hair.
Go over the whole head until all sections of the hair have been straightened.  It may take some time if you are unused to doing this but you will gain speed as you become used to the actions.
Keep playing with the finished result until you achieve the look you desire.

How to Straighten Hair with the best straighteners on the Market.
These are the greatest ones on the market at present.
---
Disclosure: This page generates income for authors based on affiliate relationships with our partners, including Amazon, Google and others.