Best Method To Straighten Your Hair With Your Blow Dryer
Tips for blow drying your hair for fast and smooth results.
You've probably straightened your hair with a hair flat iron before and when it comes to the blow dryer, you've probably also done it a thousand times but do you really know how to straighten your hair with a blow dryer properly? Ok, so now you are asking yourself "Why do I even need to read this article? I know how to do it!" While it's true you may know how to blow dry your hair straight but I am certain you will discover a thing or two new that you didn't know or do before.
First of all, you need to address your scalp. Did you know that product build-up not only can make the hair appear heavy and dull but that the build-up causes serious problems such as it slows down the hair growth and the more serious problem; it causes hair loss? So to get rid of the product build-up in your hair, you should use an exfoliating scalp scrub. It's very similar to sugar scrubs used on the body. You can make one very simply by mixing together 1 part brown sugar, 1 part of finely ground oatmeal and 1 part moisturizing conditioner. Once you have mixed the above ingredients then ass a few drops of an essential oil of your choice. Begin to use your scalp scrub focusing on the scalp, not your hair. Once you have applied the scrub to the entire scalp and have worked it onto the scalp well, just rinse and you are done. If you can do this 1-2 times a week, you will help prevent dandruff by removing dead-skin quickly and you will help remove the product build-up that is hovering on the scalp trying to clog the hair follicles.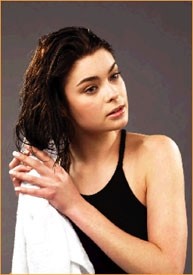 Towel dry hair to remove excess water
Ok, the next step is to start washing your hair with a good shampoo that is designed specifically for straightening the hair. Also use the coordinating straightening conditioner. Follow the recommended directions for them.
Once your hair is washed, use your towel to remove any excess water. Try not to rub your scalp or hair with the towel since that will create tangles. Instead; lay the towel over your scalp and press down on the towel. Lightly grasp the hair with the towel over and squeeze a section of hair gently with the towel, making the same squeeze-release motion down until you reach the ends of the hair. Repeat the same pattern if there is still a lot of water left in the hair.
Next, get a wide-toothed comb and remove any tangles from the hair, starting with the ends and working your way to the scalp. Add a straightening cream or serum to help prevent frizz.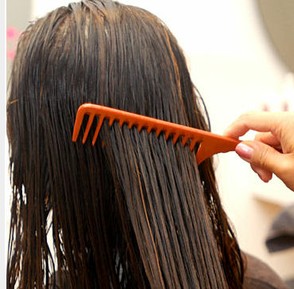 Comb hair with wide tooth comb
Now spray a heat protectant spray in your hair and you're ready to whip out the blow dryer. Put your blow dryer on the lowest setting but warmest heat and start with a gentle blow at the top of the head. Make the dryer point downwards and do a quick over all dry from the scalp down to the ends to help remove additional water.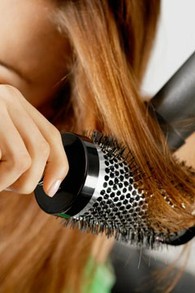 Straighten Hair With A Blow Dryer
Then you are ready for serious blow drying. Use some hair clips to create sections of hair. Usually separating a top half of your hair and the bottom half will do. You are going to start by straightening the bottom half of the hair.
Take a round soft boar hair brush (approx. 1.5"-2" diameter) and grab a small section of hair. Lay the hair over the brush starting at just an inch or two away from the scalp and then take your blow-dryer and hit the hair at about 3-4 inches away from the hair. Now, move the brush downward towards the ends of the hair slowly while you follow the blow dryer in the same motion. Make sure to keep your hair dryer on low to medium at the maximum. Keeping a lower setting helps prevent frizz. Repeat again with another section of hair until you have completely dried the lower half of your hair.
---
Disclosure: This page generates income for authors based on affiliate relationships with our partners, including Amazon, Google and others.