Permanent Hair Relaxing Methods
Various methods of how women today can permanently relax their hair.
Women flat ironing or straightening their hair is not something relatively new. Women have been straightening their hair long before flat irons were every created. Some of these methods were using a clothing iron and ironing board and the use of a hot comb and for the very poor, some would use large food cans and wear them like rollers to loosen up the curls and give a straighter appearance.
Of course with the development of hair flat irons, the older methods are no longer used plus hair straighteners today work far more efficiently than previous methods. The only issue with hair straighteners is that they still take to use. On average, a woman is expected to take at least 15 minutes to use a hair flat iron on her hair. That's if you invest in a really good quality straightener, otherwise if you purchase a mediocre one then you can expect 30 minutes or more. Well, plus you would have to factor in the time used to blow dry the hair before you can even use your straightener. Ok, so now you're looking at about 45-60 minutes in total to walk out of the bathroom with bone straight hair.
So what's a woman to do then if she doesn't want to spend 45-60 minutes each morning to straighten her hair? Well, that is when permanent hair relaxing comes into the equation. There are several methods of permanent relaxing a woman can choose from. Some are more effective than others and of course some come with a larger price tag.
First there are chemical relaxers. These chemicals are often the same chemicals used to "perm" hair only instead of rolling the hair up in curls the hair is combed straight with the chemicals and meant to lay straight while setting. This can take about two hours to complete and can cost anywhere from $300 and up.
Japanese hair straightening or also called thermal reconditioning is another permanent relaxing method that has much like traditional chemical relaxers such as the one mentioned above but the difference is that after the chemical is placed in the hair, the hair is then flat ironed piece by piece. Since there is the extra step of flat ironing each while the chemicals are still present, this adds on about another hour or two to the process so you're looking at about 3-4 hours and the cost is $800 and upwards. This is considered a permanent method and will only need to be touched up every 6 months or so depending on how quickly the hair grows. One should definitely do their research when thinking about doing this method since many women have reported their hair was severely damaged from it.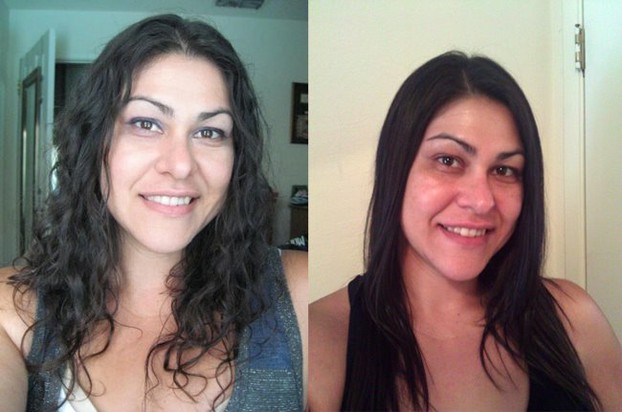 Aveda Smoothing Treatment (Thermal Reconditioning)
Brazilian hair straightening is the more popular method for women that want their hair relaxed but without all the damage that is caused by the chemicals used to break the protein bonds that cause the natural curling. The Brazilian hair straightening method is very similar to the Japanese Hair Straightening, only the Brazilian method does not alter the bonds of the hair. These treatments do not guarantee perfectly straight hair since it will only reduce 50-80% of the curl. So think of it as loosening the curl making tighter curls looser into a larger curl. This method also only lasts about 10-12 weeks.
Lastly there is now a drug you can take called Interferon alpha that is reported to modify hair follicles resulting in changing the overall hair texture.
---
Disclosure: This page generates income for authors based on affiliate relationships with our partners, including Amazon, Google and others.