Humpback Bridge
by mbgphoto
Humpback bridge is the oldest standing covered bridge in Virginia.
Virginia Covered Bridges
step back in time on a covered bridge
     I have always been fascinated by covered bridges.  Last year we took a drive to Parke County, Indiana and I spent three days photographing the bridges there and wrote about them in Inidiana Covered Bridges.  There is also a covered bridge near St. Louis that I photographed and wrote about in Visiting a Covered Bridge.  So when we were traveling through Virginia, I decided to stop at the visitors center and ask if they had any covered bridges.  I was delighted when they handed me a brochure about Virginia's covered bridges and even more excited when I found we would be passing very close to one of the bridges.
     In reading the brochure from the Virginia Department of Transportation, I learned that in the 1800's Virginia had hundreds of covered bridges.  By 1900 these bridges were no longer the bridge of choice and in fact few of them survived into the 20th century.  Today there are only eight covered bridges known to be still standing that were built before the 1920's.  Of these eight bridges, three are on private property and the other five have been preserved as landmarks.
     The sign below was near the entrance to the Humpback Bridge that we visited in Virginia.  It is found just off Hwy 64 near Covington, VA.
Sign by Humpback Bridge
oldest standing covered bridge in Virginia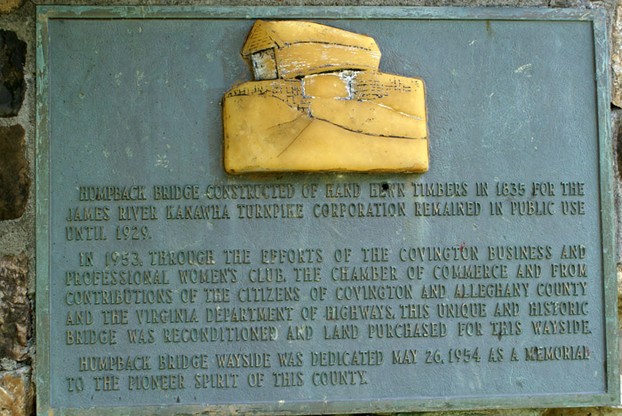 Humpback Bridge Sign
Humpback Bridge near Covington
covered bridge in Virginia
     Humpback bridge was build in 1857 and is the oldest of the covered bridges still standing in Virginia.  This bridge is located in Alleghany County and it stretches across the Dunlap Creek which is a tributary of the Jackson River.  The Humpback Bridge is the third structure to be built at that location.  The first two were washed away by floods, one in 1837 and the other in 1842.
     Humpback bridge is four feet higher at its center point and that is how it got the name humpback.  It is  100 feet long and is a single-span structure.  Traffic across the bridge stopped in 1929 when it was replaced by a modern steel truss bridge.
    I find it interesting to walk across covered bridges.  I always feel a sense of history and wonder what is was like when people would cross these bridges in horse and buggies.  There is a quietness in the bridges and even though today most are filled with graffetti you can't help but feel the past when you stand under their trusses.  When I visited the bridge it was a hot June day and children were swimming beneath the bridge and swinging from ropes that they had hanging from the bottom of the bridge.  it made me stop and wonder if the bridge had always been a gathering place where people could enjoy the creek below and then climb up to the bridge to get out of the sun.
My Photo of Humpback Bridge
virginia covered bridge
Inside Humpback Bridge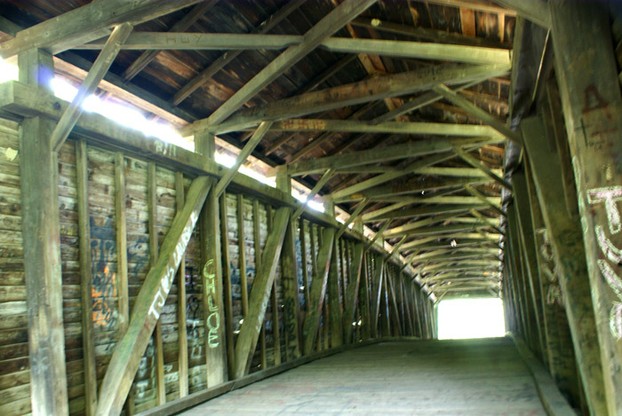 Humpback Covered Bridge
View of Humpback Bridge from Down River
covered bridges in virginia
Bridge from Down River
Covered Bridges in Virginia
Photographs and Stories of the Bridges
More Covered Bridges on Wizzley
---
Disclosure: This page generates income for authors based on affiliate relationships with our partners, including Amazon, Google and others.