I Got Me Some Efficacious Writing Rules
by bobsimpson
What are your writing rules? Don't respond with something lame like, "Writing Rules!"
This machine used to print letters on a thing called paper.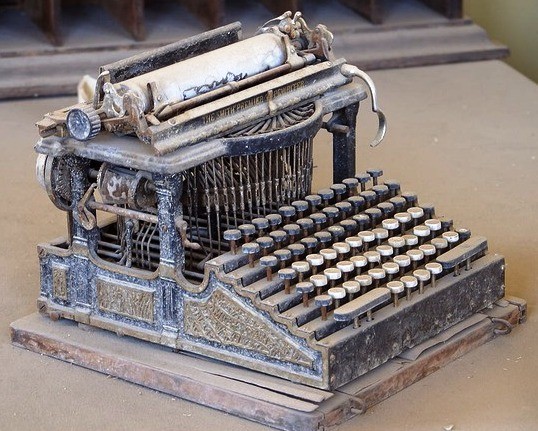 I Got Me Some Efficacious Writing Rules
The "Got Me Some" rule was violated. I know the title is grammatically incorrect, but the "Got Me Some" rule is trumped by the "Grabber" rule. You got to get a good grabber or nobody is going to read your pearls. You are reading this so it worked and I got you with the Grabber.

Here are some of my writing rules, which I often follow. The more I follow them, the smarter I am. 

Rule 1. Write. That's what you do when you are a writer. You write. Sure you can eat and sleep and even share your life with another soul in a relationship. … but you are a writer, so you write. You can do research and set a time for thinking and planning, but you write, because you are a writer.

Rule 3. Edit for continuity, especially when numbering a list.

Rule 2. Never wait on anything. Example = Submit a killer query. Schedule your e-mail calendar for the appropriate time to follow up and get on with your life. Don't spend any time thinking about that query. Don't wait for any answer. Do something else, oh I don't know, maybe something like … WRITING some more.

Rule 4. Hang a Visualization Board in your office or laundry room where you write every day. The stores won't call it a Visualization Board. It will be advertised in a more mundane manner like a Bulletin Board, White Board, or Dry-Erase Whiteboard. That last one proves that the manufacturer didn't waste any time discussing what they were going to name their dry-erase whiteboard.

Upon your Visualization Board, write a dream future as if it has already happened. For example: "The New Yorker printed my article and has asked for more." Fill up your Visualization Board with these future reckonings until there is no room left.

It's ok to edit these prophecies at any time. Include only positive statements. Strike out the ifs and don'ts and maybes and nots.

Rule 5. Never give up. Your life task is to write. It is not your business to give up. Giving up is for your next of kin to handle. They are the ones that will close up your shop. God that's depressing.

Those left behind will wade through your kitchen drawers and throw out those 400 packets of Sweet N Low that you took from restaurants during your living and writing years. At your funeral, the choir will sing Swing Low, Sweet N Low Chariot.

Rule 6. Do not share your "stuff" with loved ones and close friends. They do not want to read your compositions and they certainly will not want to tell you what they thought. If someone says they want to read what you have written, they are lying or you are just beginning a meaningful relationship with them and both of you are still on your best behavior.

Remember that these people love you but that does not mean that they want to hang on your every sentence and ponder how clever you are. If you love them back, spare them your prose.

Rule 7. Stop writing poetry. A ribald limerick is allowed and appreciated, otherwise you are wasting your time and everybody else's time. It should be a misdemeanor to write poetry and a felony to read it out loud. Just don't do it. Anyone who disagrees with me can come to my house and fight me. I'm soooooooooo scared of an angry poet.

Rule 8. Don't discuss any future or pending writing with anyone except someone who might publish or buy your work. Any effort spent discussing unfinished work will drain the impetus away from completing the project. On a personal note, it was many years before I discovered that Impetus was not a skin disease.

Rule 9. Throw in some humor. See the above comment on Impetus.

Rule 10. There is always one more mistake in your final draft that you missed. If your computer has a text-to-read capability, listen to it while you read a printed copy. I bet you find that last mistake.

Rule 11. You will not be discovered. You have to aggressively market your craft all the time. (but remember rule 6 and rule 8). Work as hard and long and smart as a real estate listing agent in a bad economy.

Rule 12. Grammar. (I Got Me Some). You don't have to maintain a stilted writing style but don't turn out sentences that make English teachers groan. Grammar check programs are often an option with spell check programs. If you are purposely abusing grammar to highlight a certain dialect, be careful. Don't bog down your reader with too much regional phonetic spelling. Like seasoning food, less is better.

Rule 13. Start your essay with a grabber. Make it outrageous or mysterious. Tease your reader. Read the first few sentences of any of the classics and you will see how the great ones do it.

Rule 14. Keep your published lists to a number like 10 or 20. Never end a list with 14 items.
---
Disclosure: This page generates income for authors based on affiliate relationships with our partners, including Amazon, Google and others.