The New Madrid Run - a Book Review
by bobsimpson
The New Madrid Run, by Michael Reisig, is a best-selling, apocalyptic thriller about survival in a changed world.
The New Madrid Run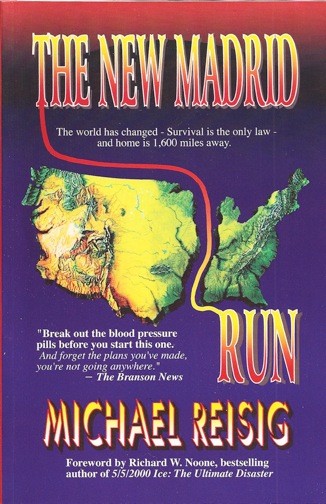 The New Madrid Run - a Book Review
The New Madrid Run
Anyone reading this book who maintains an erudition lasting more than 4 hours should seek medical assistance immediately.
The New Madrid Run, by Michael Reisig, is a best-selling, apocalyptic thriller about survival in a changed world.

In the aftermath of a global cataclysm caused by a shift in the earth's poles, Travis Christian, owner of Island Air Charter in the Florida Keys, has somehow survived nature's initial onslaught.

The first pages of this adventure had me. I studied the book again to check on some facts and ended up reading and enjoying the entire epic tale again. The book has been optioned for a movie.

The action begins as Travis Christian's plane clears the crest of a 200 foot Tsunami swallowing the Florida Keys. The landing gear wheels splash through the tip of a once-in-a-ten-thousand-years wave.

Now Travis faces the elements of a changed world and the baser ambitions of his fellow man. He purposely crash-lands his plane into the sea and climbs into an abandoned sailboat that somehow survived the crushing Tsunami. He navigates the battered sailboat from the ruins of Florida into the hills of Arkansas via a huge rift with a new ocean in the continent, the New Madrid Fault.

Along the way he gathers a most remarkable crew of castaways. One world ends, another begins, and this crew embarks on an adventure of a lifetime.

High-seas pirates, fierce storms, and ultimately the man who would be king stands between them and a place of refuge. Yet banded together in this desperate gambit for survival, a handful of souls discover friendship, courage, and faith, on The New Madrid Run.

Think flashing swords, guns, bigger guns, an aerial dogfight above the hills and mountains of Arkansas, a beautiful woman, a loyal dog, a raving preacher, and a maniacal survivalist militia captain. I won't mention the rest of the good guys and bad guys except to say that they are all real and memorable.

Reading this book could raise the testosterone levels of an old Eunuch. If you are an old Eunuch you don't have the read the book but, really … what else have you got to do?

This novel is in its fourth printing. This adventure novel won the MidSouth Science Fiction and Fantasy Association's Hall of Fame award. It has been a #1 bestseller for Books In Motion Audio Books.

Visit Michael Reisig's website at www.michael-reisig.com for more on this author/adventurer. His newest book, The Road to Key West, along with his previous books, can be found at Amazon.com.

Disclaimer: Michael Reisig has been a personal friend of mine since we both cruised through high school together. As editor and owner of the Polk County Pulse Newspaper in Mena Arkansas, he offered me an opportunity to write a humor column. That newspaper column is now 5 years old and going strong thanks to Michael Reisig … and maybe a wee bit of my own talent. 
---
Disclosure: This page generates income for authors based on affiliate relationships with our partners, including Amazon, Google and others.