Killing Wasps Without Using Poison
by SDKP
If you hate the idea of using poison sprays, there is a way to kill wasps without using any poisons whatsoever.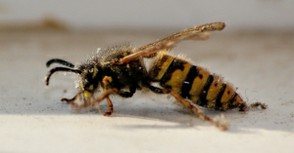 Yellow Jacket Wasp
Problems With Wasp Poison Sprays
While wasp poison sprays can be very effective and can kill wasps quickly, some people don't like the idea of spraying a poison into the environment, especially when the wasp nest is close to the home. And if there is a next inside a garage or in a vent system, spraying poison can be hazardous to the human occupants of the home.
There are several alternatives to spraying bug poison, and they are more ecologically sound than poisoning the flying insects. When you use a wasp killing alternative, you don't have to worry about the poison getting into the local environment, contaminating groundwater or children coming into contact with the poisons.
Wasp Traps
Wasp traps are an easy way to kill wasps, though they will certainly take more time than using a poison spray. The concept behind a wasp trap is simple- put together a device that will encourage wasps to fly down through a thin opening so that they have trouble find the way back out again. When this happens, the wasps eventually tire of flying and will fall down into the bottom of the trap. The inside of the trap has a thick liquid solution that will trap the wasps and keep them from ever escaping it. The wasps drown one at a time.
To make a wasp trap, you need a surface that gets narrower, such as an upside-down funnel. Place this so that the narrow part is inside a jar. Then, mix up a thick liquid to put into the jar. The liquid can be dishwashing detergent, a watered down detergent, liquid hand soap, etc. As long as it is thick enough to coat the wasp's body, it will work. Eventually, the trap will get full of dead wasps and will need to be cleaned and reset.
Fire and Water
Both fire and water have been used to kill wasps, but there is danger involved in both. Wasps will defend their nest, and they will do so aggressively if it is threatened. Using a hose to knock down a nest and to drown the wasps can work, but be aware that you must be completely covered in protective gear to even attempt it, and even then it should be done from a distance with a long-reaching hose.
Using fire is an old trick for getting rid of wasps, but it is also perhaps the most dangerous method. This is never, ever recommended. There are too many dangerous elements with this method, and there are too many ways to be hurt. 
Updated: 11/01/2011, SDKP
---
Disclosure: This page generates income for authors based on affiliate relationships with our partners, including Amazon, Google and others.