Killing Roaches in the Home
by SDKP
When you have roaches in your home, you may want to grab poison spray immediately. However, there are many other ways to kill roaches, many of which are better for your indoor air.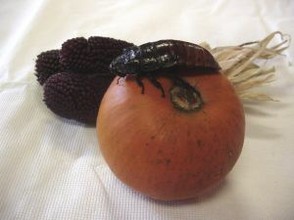 Hissing Cockroach
Killing Roaches
While you may know how dangerous it can be to have roaches in your home, you may not know how dangerous it can be to use poison bug sprays to kill them. Spraying poisons in a home, particularly when there are children in the home, can be far more dangerous than the roaches themselves.
The sprays often contain both known and suspected carcinogens. These substances on surfaces that family members come into contact with can be dangerous, particularly long term. But for some, the particles being put into the air is the worse aspect of poison sprays. For people with asthma or chronic bronchitis, spraying poison in the air can reduce the quality of life. It causes indoor air pollution that can be far worse than any pollution outdoors.
Alternative Methods for Roach Extermination
Instead of grabbing that can of poison spray, try one of the many alternative roach killing methods. These are not only better for your home and your family- they are better for the environment.
One of the easiest and most eco-friendly methods for roach killing is to use traps. These often use nothing more than a little glue and cardboard to trap cockroaches and kill them. Some also use a bait to draw the bugs to the trap. These traps will not poison your home, and they are far more biodegradable than poisons. 
Another method is to use a roach gel. These do use a concentrated poison, but you will use far less of a gel than you would a poison spray. You also keep the poison from entering the air in the home. The gel is placed in small amounts in areas that roaches frequent. This lessens the amount of poison entering the environment and poisoning the home. It is also a vital way for those with asthma to kill roaches without suffering from the effects of the poison.
Another method is to use a less toxic substance to kill roaches, such as boric acid. This is a poison, but one that is only slightly toxic to humans. It can also be applied under appliances and in corners, keeping it away from family members and out of the air. Boric acid powder or tablets are considered one of the safer ways to poison roaches in a home. It is a natural substance that has been used for centuries for many household purposes, and it can be used for safe bug extermination if used in small doses away from human exposure.
advion Cockroach Gel Bait, 4-syringes 1.06 oz each

Advion Cockroach Gel Bait is designed to control pest species of cockroaches such as German, American, Australian, Smoky-Brown, Brown, Asian, Oriental, and Brown-Banded. Active ...

$31.49 $22.99
(11 Pack) Cockroach Traps Premium Non-Toxic Eco-Friendly -Spiders & Ants -Roach Busters (10 Traps...

Cockroaches are a real threat to your home and health. There is no fear greater than seeing a cockroach run across the floor or kitchen counter. We all know that if we see one, ...

$29.99 $8.49
Trapper Insect Trap (Great for Bed Bugs, Spiders, Cockroaches) - Includes 90 Traps

TRAPPER MONITOR & INSECT TRAP is a non-poisonous glue trap that captures and monitors insects. PCOs can use it to accurately determine the location, insect species and severity ...

$20.99 $17.90
Black Flag Roach Motel Insect Trap (Contains 2), 12-PK

The Black Flag Roach Motel is ideal for kitchens, bathrooms and basements. It is extremely effective in trapping all kinds of roaches and other crawling bugs including crickets,...

$30.60 $25.99
Updated: 10/30/2011, SDKP
---
Disclosure: This page generates income for authors based on affiliate relationships with our partners, including Amazon, Google and others.