Kitchen Spice Rack Storage Ideas
by SquidooGirl
If you are looking for inexpensive ways to organize your kitchen pantry or drawer with spices, this is the perfect spot! Find turntables, wall mounts, under the cabinet, and more.
Finding peace with your spices in the kitchen
Desperate for some organization in your kitchen? Take a peek at all the options for making your cooking life easier and more efficient. There are so many options available to improve the look of the pantry and cabinets. I have listed different ways you can purchase online and included a video of a do it yourself magnetic spice rack.
Wall Spice Racks
| | | |
| --- | --- | --- |
| | | |
| Only $21.99 | Only $27.99 | $25.99 $20.79 |
Mounting Spice Racks on Your Wall or Cabinets
Enough of rummaging through your drawers and cabinets to find the darn oregano spice bottle! This wall mounted spice rack is perfect for when you are ready to cook up a storm. Either mount it on your kitchen wall or install it behind a cabinet door. In my own opinion, if you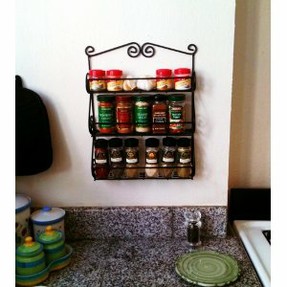 don't have matching spice bottles (just the original packaging) I would suggest to put it behind your doors. This beautiful black durable metal spice rack is a very modern piece of decor for your kitchen. With its three level storage, it could fit many spices depending on the width of each one. This wall spice rack measures 14-1/2 inches tall by 12-1/2 inches wide by 2-3/4 inches deep. The mounting hardware is included and with all the great reviews on amazon and for under $20...this is a must purchase! 

.
Cheap Spice Storage Unit
Saving space in the kitchen is ideal for any cook around! Try getting organized with this under the shelf spice rack. I like to think of this one as "out of sight" which is a plus! All you'll need is a shelf and you just slide it right on it. The ease and convenience is worth the low price that it is being offered right now on Amazon. Click on the picture to read reviews and see a close up of the item.
Under the Shelf and Cabinet Spice Rack
Only $11.99
Storing Spices in Your Cabinet
Easy Finding your spices
Not all people have pantries to store their spices and other goods so here is a great invention to buy! It is a 3 level spice organizer which helps you view all labels and containers at ease. Just set it in your cabinet and stack up your spices! It also has non-skid pads which help keep them grounded in case of bumps and accidents. The dimensions of this spice organizer are 3-1/2-Inch high by 8-3/4-inch deep by 15-inch wide. This product has good reviews and for less than $15, why not give it a try?!
$32.7 $32.69
Turntable Spice Racks
Quick and Easy
If you want something that will speed up your time looking for spices try this turntable spice rack. It is a 2 tier stainless steel rack. This will fit perfectly in your cabinet or on top of your counter measuring in at 6" H x 10 1/2" in diameter. This product weighs about 3 pounds and can hold a good amount of spices. This rack spins with the twist of the wrist allowing you to grab the right spice in no time. At an affordable price under $25 this is a great addition to your kitchen. The only drawback would be having to wash it to keep its luster look.
Only $25.13
Slide or Pull Out Spice Storage Rack
Not looking for a way to put spice bottles in your cabinets or pantry? Try this new product which can fit between your fridge and counter! It effortlessly glides out when you are in need of items for cooking. Not only could the top shelf hold spices but the bottom two could hold larger bottles such as oils and sprays.This slide out storage measures 5 X 21 3/4 X 26 3/4". It is easy to assemble at home and has free shipping! This wonderful storage unit is under $30, can't beat that!
27 Bottle Spice Pull Down Rack
Unique Spice Product
If you are looking for something to go in your cabinets for organizing spices, this is a unique product. It is a pull down drawer spice rack which measures 11.0"W x 8.5"H x 10.75"D. This holds 27 bottles or 54 half size spice bottles! No assembly required and it has over 4 stars out of 5 from 100+ reviewers. Looks good to me for under $35!
Spice Rack Organizing Ideas
Get inspired by other peoples kitchens!
Which is the best way to organize your spices?
DIY Magnetic Spice Rack
Build or make your own spice storage
You might also like
Yonanas Review
Yonanas is a frozen dessert maker that touts the ability to create an ice cre...
Flower Salt and Pepper Shakers
From sunflowers to roses, there's a set of floral salt and pepper shakers for...
---
Disclosure: This page generates income for authors based on affiliate relationships with our partners, including Amazon, Google and others.