Kumon Math Review
by thefont
A mother's review of the Kumon Math program including suggestions for kumon alternatives.
My Kumon Math Review
All about Kumon from a mother's perspective.
My children have been enrolled in the Kumon math program for several years. The following is my review of what I think the advantages and disadvantages of studying using the Kumon Math Program are.  I also discuss where to get Kumon Worksheets to trial at home to see if the system suits you. 
A little background: I have two beautiful daughters whose natural math ability is probably in the top 25% of students in their class. I felt that although they were doing OK at math at school they were not really learning things such as multiplication as thoroughly as they should before the lessons moved onto the next topic. 
As somebody that studied a mathematics based subject at university I was convinced that the fundamentals of mathematics, basic arithmetic, are the most important part of a child's mathematics education. Without getting that right, everything else in mathematics seems much more difficult than it should. 
I wanted two things from Kumon Math
. I wanted my children to have instant recall of basic arithmetic (addition, subtraction, multiplication etc) and I wanted them to be completely comfortable with mathematics and not to be afraid of it. 
I also knew that my eldest daughter regularly complained that the pace of the teaching in her class at school did not match how quickly or slowly she liked to work, so I also wanted a method of mathematics tutoring that allowed my children to overcome this frustration by studying at their own pace. 
Kumon Math Enrolment
Are your children enroled in the Kumon math program?
A Little Background About Kumon
All about the Kumon Math Program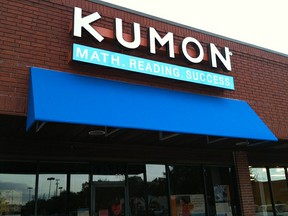 The Kumon math program is a self paced mathematics program for children from around 4-18+ years.
A child enrolling in Kumon will begin by sitting a test designed to find the right starting point for the student in the Kumon program. This test establishes the child's current strengths and weaknesses in mathematics and then finds what is known as an "easy starting point;" a point at which the student will feel perfectly comfortable to work at and which they find easy. Generally the test is fairly easy and neither of my children found it in any way stressful or upsetting. 
The student then begins studying Kumon workbooks, starting at this easy starting point. Kumon workbooks are divided into many levels. Each student works through a level, repeating and rerepeating each set of worksheets until they have completely mastered that topic. Mastery of each topic is judged both by the number of questions that a student gets correct, and by the speed at which they answer them. To prove that they have fully mastered a topic a student must be able to answer the questions accurately and within a set time known as the standard completion time. 
When they have completed a level students are awarded a certificate and often a small prize and are moved up to the next level. There is no set time for when students should complete each level; each student simply works at their own pace taking as much time as necessary to complete the level they are on. Similarly, students levels are chosen not by their school grade, but by their mathematical ability. This means that a gifted six year old could be studying at the same level as a ten year old who finds math more of a challenge. 
Watch A Kumon Commercial here...
This is how Kumon sell the Kumon math program.
How Is Kumon Different To Math Tutoring?
One of the important things to note about the Kumon program is that the children don't usually have one on one tuition with the Kumon teacher. The introduction of new topics comes through the workbooks themselves where new topics are introduced very gradually and with worked examples so that the student doesn't need to be 'taught' the new topic by a tutor. 
Of course, if a student is stuck on any particular topic the tutor will offer guidance, however this is not usually needed. 
The full Kumon program requires a commitment of twenty minutes a day where the student completes a single Kumon workbook at home. Once or twice a week the student also attends a Kumon centre where they hand in completed books  and are allocated new workbooks depending on how well they completed the previous weeks books. They also complete the workbook for that day at the centre so that the Kumon instructor can make any changes to their program that are needed and so that they can also verify that the child is completing the books themselves. 
It is important to note that in many countries parents are required to mark the Kumon books. This can be quite time consuming so should be taken into account if you are considering enrolling your child in Kumon. 
Kumon Workbooks For Use At Home
The Advantages Of The Kumon Math Program
What I found worked for our family.
There is no doubt in my mind that Kumon math really works as a program. My children both went from being in the top 25% of students in their class at school to being the top student. More importantly, they became very comfortable with mathematics and no longer have any fear of math. They both currently describe it as their favourite subject. 
Joining the Kumon program means that your child does work every day. Even though it is only 15-20 minutes a day the fact that you are doing daily practice means that your child will steadily improve. I also find that the fact that it is the Kumon teacher who has told my child to practice rather than me means they are less inclined to argue with me and more inclined to do the work that has been set. 
I love the way that my children work at their own pace. It means that they get competitive with themselves and also that they never get frustrated with having to wait for others to catch up with them. For my children Kumon has been the extension program that their school isn't able to provide. For one of their friends who struggles with math Kumon has allowed her to effectively go back two grades and catch up the things that she didn't fully understand the first time around. 
Kumon is repetitive. In some ways this is boring for the children, but what it does do is ensure that they REALLY, really learn things such as the multiplication tables. My children don't even have to pause to think if you ask them a mental arithmetic problem, it is already on the tip of their tongue without them even having to think. 
Kumon is cheaper than employing a tutor where I live. Also, a tutor might come for an hour or two a week. For my children the fact that it is broken into 7 lots of 15 minute lessons means that they are less likely to get bored. 
I think Kumon is great practice for exams. This is because it is timed, so the student gets used to having to complete work accurately and within a specified time limit. This helps them to be less stressed when real exams come along. 
Disadvantages of the Kumon Program
The things that I really don't like about Kumon
It's expensive. Although it differs according to your location, where I live it is $100 per child, per subject, per month. That is a lot of money by anyone's standards, especially as it is a self taught program. If your child only complete 5 books a week (which is not unusual, my children often skip a day or two due to illness or sporting commitments) it works out at $5 a book a day. 
My children complain that it is boring. The truth is that what makes Kumon so effective is that it works by repetition. However this is also what can make it very boring for some students especially those that need to repeat a booklet many times in order to master it. 
During the primary years of schooling Kumon does not even attempt to cover the whole curriculum. Instead it focuses on the basics of mathematics such as addition, subtraction, multiplication, long division, fractions etc. For this reason it is not sufficient as a complete math program for homeschoolers during these years. 
The booklets lack problem solving questions. This means that Kumon students become extremely fast at mental arithmetic, but can't always apply what they know to written problems effectively. I find that you also need to give your child additional help in problem solving to really enhance their math studies. 
Kumon say that this is a fully self taught program but this is not my experience. I sometimes need to go over something with my daughters to help them fully understand it. 
Not all of the Kumon tutors are teachers. They are all proficient at math, and have all completed the full program themselves, but are not all teachers, unlike if you hire a tutor. 
You need to mark your child's work which can be time consuming. However, this isn't the case in every country, so might not be applicable where you live. 
Were You Aware That There Are At Home Alternatives To Kumon?
Did you know about at home Kumon alternatives before today?
Are There Alternatives To Kumon?
What are the Kumon alternatives that still work.
My children have something of a love/hate relationship with Kumon, as do I. We love how well it works, but they get bored of it and so start to hate it, and I get bored of nagging them to do it and start to dislike it periodically. We usually cure this by taking a few months off from Kumon every now and then (something that is not recommended by Kumon but works for us to rekindle our enthusiasm.)
In an ideal world I would employ a math tutor for my children during these times, but at $40- $50 an hour for one child I simply can't afford it. So instead I tend to develop my own math tutoring program that is more cost effective and over which I have a lot of control. 
During those down periods I turn to the kind of Kumon books that you can buy at bookshops in order to complete at home. I have discovered that these books, although different in size to the kumon worksheets you get at the Kumon centre, actually have an identical style of problems to those you get by enrolling in the Kumon math program itself. 
These books do differ in that they are generally divided up by grade level, and if your child is struggling with math, or is way ahead of their grade level you may need to purchase a different book than the one that corresponds directly to your childs grade. 
I then find that by setting a couple of pages of these books a night I can maintain my children's math level, but without the stress of timing them, and I can be more flexible about how many days a week, and how much time we spend on maths. 
In reality for my family these workbooks are not quite as effective as enrolling in the full Kumon program, mainly because I am not organised enough without the structure of a supervisor overseeing us to make sure that the work is always done. However I can see that it would be easy to create a structured program from them and adapt it to your child, probably with more flexibility than the full Kumon program offers. They are not quite as comprehensive as the full Kumon program, but mixed with some problem solving tasks etc could make a very good alternative or act as a good way of discovering whether your child is likely to be suited to the Kumon way of teaching without having to enrol in the full program. 
Kumon Workbooks For Use At Home
Many more titles are available. Click the images to see other Kumon titles....
---
Disclosure: This page generates income for authors based on affiliate relationships with our partners, including Amazon, Google and others.