Discover The UK's Canal Waterways
The UK has a network of amazing canals that connect the major towns and cities of England, and some parts of Scotland and Wales. Holiday makers can hire narrow boats.
A relaxing boating holiday on Britains canal system
exploring Britain at a pace that means you can take it all in
The UK has an extensive system of canals. This canal system was fundamental to the Industrial Revolutio. When road haulage arrived the transport of bulk materials by narrow boat became less viable and canals into disrepair. Fortunatley for us, enthusiasts and the government organisation British Waterways  have ensured a revival of the waterways system for leisure and pleasure.
Some canals are sadly still out of commission. We live right by the Grantham Canal which connects the river Trent at Nottingham to Grantham famous for being the home of British Prime Minister Margaret Thatcher. We walk our dog through Cotgrave Park which the canal cuts right through. There are some recently renovated locks but the canal unnavigable.
One of the best boating holidays I had was taking my young sons and my nephew on a narrow boat holiday from Alvechurch Marina just south of Birmingham to Stratford Upon Avon. The boys were aged between 9 and 12 and they were perfectly safe as long as sensible watercraft was observed. They worked the locks and steered the boat and had a whale of a time. Of course we had to have a mandatory Pirate's Flag flying from the boat, although as I'm sure you realise Pirates never sailed on the canals.
One of the most impressive features of the canal between Birmingham and Stratford is the Lapworth Locks flight. You need to be prepared for a wait when its busy.
One of the most interesting and beautiful is the Llangollen canal that connects North Shropshire and Cheshire with Llangollen in Wales. It cuts through charming rural countryside and the wonderful hidden gem of the Shropshire lake district around the town of Ellesmere.
Long tunnels and two amazing aqueducts are features to be enjoyed. Hiring a canal boat is easy, there are lots of narrow boat companies to choose from. The canal boats are just like hotels afloat with all mod cons.
If you fancy something a bit different then try a narrow boat holiday.
Best UK Holidays A Llangollen Canal Narrow Boat Holiday
Canal Guide Book
I would really recommend getting a good canal guide book when you go on a narow boat holiday. They provide great information about the facilties and sights near to the canal. Handy if you need a shop or a good pub. They also show you where mooring points are and the times help you plan your day.
LLangollen Canal Narrow Boat Holidays
LLangollen Canal Narrow Boat Holiday Mousepads
These mousepads feature some great scenes from the LLangollen canal. Each one gives a hint of just how beautiful this part of the UK is. You can imagine by just looking at these images just how relaxing a narrow boat must be.
The Unique Style of Canal Boat Art
Roses and Castles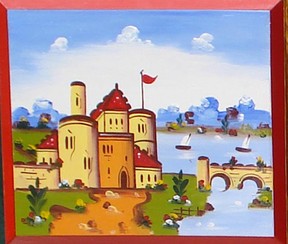 Canal Boat art such as this example by the Oxon Narrow Boat Painting Company is very stylised.
Folklore says that the narrow boaters couldn't really afford many luxuries in life so they adorned their boats with dreamy castles and beautiful roses.
The artwork is used on the flat surfaces of the narrow boat and also the utensils such as pans and watering cans. There are some great examples of so called canalware via this link which also posts links to canal art painting courses and the like.
Canal art is recognised as a traditional folk art. The art form blossomed in the 19th century.
Narrow Boat Art
A traditional British artform
Narrow Boat Art
This amazing folk artform is unique and highly specialised. It has a long heritage and today craftsmen and women are in high demand for decorating boats and signwriting. The colours are bold and bright and the style is unmistakeable,
Get Into Narrow Boating
Once you get the bug following a narrow boat holiday you will find yourself gravitating towards marinas in search of your own boat. This magazine is great way to get steeped in canal boat life. Seemingly idyllic there are basic chores and maintainance such as water filling and sewerage removal. All in all though its a very appealling lifestyle.
Canal Boat Magazine
subscription
---
Disclosure: This page generates income for authors based on affiliate relationships with our partners, including Amazon, Google and others.