Lego Birthday Cake & Cupcake Ideas
by Tehreem
This page will provide you with lots of ideas to create your own Lego Birthday Cake. Search through a variety of cake designs and learn how to make your own Lego Birthday Cake.
Lego Birthday Cakes & Cupcakes
Find tons of amazing Lego cake and cupcake ideas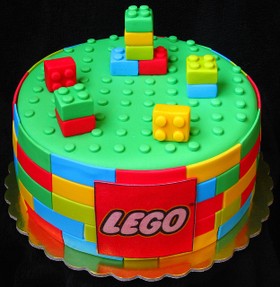 Lego is the most popular toy among kids. Building things with these awesome building blocks has been a favourite activity of kids for a long time. Each one of us has been amazed by Lego at some point in our lives. Lego Birthday Cakes will be really loved by kids. 
You can always order a Lego Birthday Cake but making one at home will increase its worth by a million times. Kids would love you for making them a Lego cake for their birthday. Making a Lego cake isn't difficult at all. It is the most simplest cake to make and will be worth a million once you see your child's expression on seeing his cake!
You can use Lego blocks from your kids Lego to decorate the cake, you can have a single, double or multi tiered cake, there are so many ideas to think of! This page will guide you to a perfect Lego cake making experience. Don't forget to leave a comment!
Lego Party Supplies & Favors
Lego Cake Shapes
Different ways to make a Lego cake
A Lego cake is very simple to make and decorate. You can make a cake to look like a single Lego block or a pile or stack of Lego blocks can also be made. Some ideas on making a Lego cake are:
You can bake a simple sponge cake and cut at in rectangular pieces. Using a round cake cutter, cut out small circles from one of the cake pieces. Cover the cake blocks with icing or fondant and paste the circles on the cake using gum paste to make it look like a Lego Block.
Lego mini figure cake mould can be used to bake a Lego Figure cake.
After baking a rectangular or square shaped cake. Place inverted cupcakes on top of the cake to give the look of Lego brick studs. Cover with frosting.
Mini Loaf cakes will also be a good option to make a Lego Cake. After baking some mini loaf cakes, cut small circles out of one cake and put on top of cake to make a Lego brick.
A simple round cake can be piled up with Lego Sugar Bricks to make a simple Lego cake.
How To Make a Lego Cake
This Tutorial will help you out in making your Lego cake
Lego Birthday Cupcake Ideas
Make some cute Lego Cupcakes at home!
Lego cupcakes are no big deal to make. All you have to do is bake some simple cupcakes and top them off with Lego decorations. You can decorate your cupcakes by:
Using Fondant: Cover the cupcakes with fondant and put a Block shaped fondant cutting on it
Topping with candy bricks: Small candy bricks can be inserted in the cupcakes
Spell them Lego: Arrange the cupcakes and on each cupcake write different letters to make them spell Lego. You can also spell Happy Birthday or the birthday kids name.
Lego Cake Ideas For Your Inspiration
Lego Candy Bricks & Cake Mould
How To Decorate The Cake
Different ways to decorate a Lego Cake
To decorate a Lego cake you can use:
Frosting: Frosting is a great way to decorate a cake but is a bit messy to work with but a Lego cake is of a simple shape so it wont be much of a problem for you. A video tutorial will help you decorate your cake with frosting.
Fondant: To give a neat finish to your cake you can use fondant. It is a little tricky to use correctly but gives an awesome look to your cake. Fondant learning tutorials are available on YouTube which will make it a lot easier for you to learn how to use fondant.
Sugar paste: This will be a perfect choice if you want to make a funky bright coloured cake. A hot environment will have no effect on sugar paste while frosting can loosen up and harm your cake.
Lego Colored Fondant For Lego Cake
Fondant Rolling Pin and Smoother by Wilton
How To Use Fondant To Cover a Square Cake
Learn how to use fondant for your Lego cake
---
Disclosure: This page generates income for authors based on affiliate relationships with our partners, including Amazon, Google and others.