Lego Birthday Party Supplies & Decoration Ideas
by Tehreem
Get Great Ideas For Planning a Lego Birthday Party For Little Lego Fans
Lego Party Supplies
Great Ideas For Throwing a Lego Party For a Lego Fan!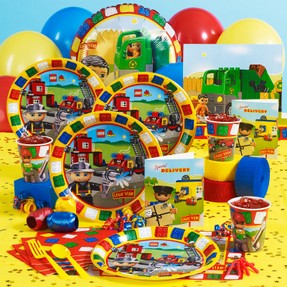 Are you planning to surprise your Lego fan by having a Lego Themed Party for his next birthday?? 
Kids just love Lego! They love the variety of things they can build with it, the colors which attract them and all the creativity they can come up with. Lego has been a partner of every child a young phase of his life. It also fascinates us as we used to play with the same blocks!
Having a Lego Birthday Party will be great decision to make your kids birthday party one of the most memorable time of his life.
This page will provide you with many ideas for hosting a Lego Themed birthday Party. Lego Invitation Cards, Thankyou Cards, Decorations can be easily made by using the ideas given below. For a complete Lego Birthday we have Leg Themed Cakes and cupcakes ideas, Lego Party Tableware and many more.
So read on to find out what you can do to make your kids Lego Party a blast!
Lego Party Invitations & Thankyou Notes
You're invited to a Lego party!
Creating (or buying) Leg Birthday Party Invitations won't be so hard if you are planning a completely 'Lego' party. If you are a creative person then you can easily create some cool party invitations at home. All you would need is some Lego colored construction paper or cardboard. Lego stickers or paper cutouts can easily be pasted on the paper to get a Lego themed party invitation.
Some really cool Lego Birthday Party Invitations can be found online. These invitations can easily be personalized and printed out.
The product we featured below is a Lego Birthday Party Kit. This kit includes:
10 invitation cards
10 thank you cards
10 3D name stickers
10 building tips and tricks booklets
10 Birthday Builder Packs
10 Official LEGO Builder Licenses and mini figures
Lego Pop-up card and magnet
10 Exclusive birthday-themed minifigures
Lego Birthday Party Kit
Only $44.99
Lego Birthday Party Supplies
Lego Tableware
For a complete Lego party your party table should shout 'LEGO' all the way!
Lego tableware can be purchased from any mall, or any nearest stores at affordable prices. But if you don't have time to go out and shop then you can easily order them online. There is a large variety of Lego party supplies and decorations available at amazon. They are good quality supplies and will definitely fulfill your needs for party tableware. It will be much convenient for you to purchase a complete party supplies pack instead of purchasing individual products. On the left you can view the Lego Star Wars party pack which can be a good choice to make. This pack contains:
16 invitations
16 dinner plates
16 dessert plates
16 cups
16 forks
16 spoons
16 knives
32 napkins
solid-color tablecover
foil balloon
12 balloons (2 colors)
curling ribbon (2 colors)
crepe paper rolls (2 colors)
cake candles
Lego Starwars Party Pack For 16 Guests
In case you wish to purchase the party supplies individually, then you can just need to follow the product mentioned below.
Fabulous Lego Birthday Cake & Cupcake Ideas
Make your own Lego Cake
Your Lego Birthday Party will get super duper amazing if you plan a Lego Themed cake for it. A Lego Cake can easily be baked at home. Ordering the cake at a bakery will also be a good choice if you are not much of a baker. Bakeries have many designs of their own or you can tell them exactly what you want for your cake and they will create it for you.
To bake a Lego Cake at home you can either choose a Lego figure cake pan or a simple square cake pan would also do. Lego Cake Toppers are available in market which you can use to decorate your cake. A Video Tutorial to hep you decorate your cake and Lego Cake Gallery has been provided for your help and inspiration.
Block Cakes Video Tutorial
This Video Tutorial Tutorial will help you learn how to build Lego Cake at home
Lego Cake Moulds & Decorations
---
Disclosure: This page generates income for authors based on affiliate relationships with our partners, including Amazon, Google and others.