Long Tail Pro Review
by Natasha
Is Long Tail Pro really fast and accurate? Is it better than Market Samurai and MNF? Let me show you my experiences in this Long Tail Pro Review.
Long Tail Pro is a keyword research software that will help you find profitable keywords and help you build niche websites.  This software is developed by Spencer Haws, who makes a living online and earns a six figure income every month with sites he built with the help of this software.  You can read more about the Spencer and his approach on his personal blog: Niche Pursuits.
This software emulates his approach and it will help you find keywords that you can easily rank for, fast.  
Long Tail Pro has 3 modules:
1. Keyword Research  2. Competitor Analysis  3. Rank Checker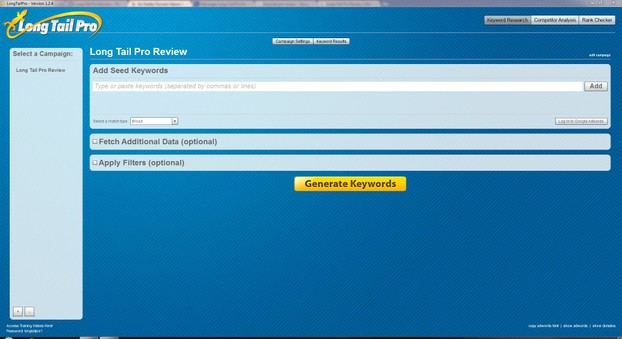 Long Tail Pro
Create your first campaign and then add the seed keywords you want the software to research.  The best thing about Long Tail Pro which sets it apart from softwares like Market Samurai and Micro Niche Finder is that you can research multiple seed keywords at once.  In the image below, I have put 3 different seed keywords.
Select a match type: Broad, [Exact] or "Phrase" and log into your adwords account.  Long Tail Pro will generate thousands of potential keywords based on your seed keywords.
It consists of 2 options:
a) Domain Availability: You can simultaneously check whether the potential keyword has a domain name available.  This feature is very helpful and is exclusive to Long Tail Pro.  You can check for Exact Match Domains and also Hyphenated Domains.  You can also choose the domain extension you want like .com, .net, .org and the like.
Personally, I only go for Exact Match Domains with .com or .net extension.
b) Title Competition: This is also a neat feature.  You should know how many pages you are competing against for a particular keyword and Title competition will tell you exactly that.  It shows how many pages has your desired keywords in the title.  
Now this is the most important part of your keyword research with Long Tail Pro.  You don't want thousands of useless keywords, you want gold nugget, profitable keywords that you can easily rank for.  You can achieve this by filtering out the useless keywords with the help of the following filter options available with Long Tail Pro:
Average Local Searches:
You can determine the number of local searches you would want your keyword to have.  Set a minimum and a maximum number of local searches count and Long Tail Pro will filter the keywords which don't meet this requirement.  I set 1500 exact local searches as minimum when I am researching an Amazon focused topic, for keywords monetized by adsense the number is 3000.
Average Global Searches:
Set the minimum global searches count you want your potential keyword to have.  Personally, I just focus on the Average local searches as I tend to write more of sales and holidays related pages.
Average CPC:
Now filter keywords in terms of it's profitability.  Weed out keywords which do not have enough advertisers.  This feature is particularly useful if you want to build an adsense focused niche site.  Personally, I don't go for keywords having less than $1 CPC (Click Per Value).
One note though, when researching product keywords or keywords for sales pages, ignore the CPC column.
Number of Words:
You can even specify the number of words you want your keyword to have.  Long Tail Pro will filter out the rest.  I set the minimum of 2 words and maximum of 4 words.
Title Competition:
This is my favorite part.  You want keywords that you can easily rank for and filtering out keywords in terms of title competition is  big part of that process.  As mentioned earlier, Title competition means those pages that have your keywords in title.  These pages are your direct competition.  The less the number of title competition, the better.  
If I am thinking to build a website around the keyword I would go for title competition less than 30000.  If you are going to write on some revenue sharing sites than the number can be higher.
Has Available Domain:
This option will filter out all keywords that don't have an exact match or hyphenated domain available (Depending on your selection). 
This is how the "Keyword Results" would look like after applying all the filters.  Since the page was too big to fit in an image, I have taken two screenshots.  You can see all the columns.  
You can see the keywords, local searches, global searches, Avg. CPC, Advertisers competition, Title competition and available domain.
Double click on any of the shortlisted keyword and Long Tail Pro will do a thorough competitor analysis on that particular keyword.  It will analyze the top ten results for the given keyword and tell you whether the results have keyword in URL,Title and description.  It will also tell you the pagerank of the competing page and the number of links that particular page has.
This analysis is very essential as it will help you determine the amount of effort you need to put in to rank for that particular keyword.  
Now you can easily check where you rank for your keywords with the help of the rank checker.  You can put as many keywords you want and it will check the rank of your page in popular search engine like Google, Yahoo and Bing. 
Simply put, I am very very happy with my purchase.  Long Tail Pro is fast and efficient.  It is not buggy and slow like Market Samurai and also has all the features that Micro Niche Finder lacks in.  Honestly, this tool is way better than both the tools and is comparatively cheap as well.
Now, I don't need to spend hours researching for keywords.  I can utilize that time writing or promoting my sites.  Don't want to sound hypey, but this is really an amazing piece of software and at $97 one time fee it is a true value for money. You don't have to believe me, See Long Tail Pro in action, view the official demo video.
Long Tail Pro - In a Nutshell
Following are some of the unique features that makes Long Tail Pro different from other keyword research software in the market:
Option to research multiple seed keywords at the same time
Simultaneously check for domain availability
Filter keywords based on search volume, CPC and domain availability
Quickly Assess and analyze SEO competition
Where to Buy Long Tail Pro
You can purchase Long Tail Pro from the official website: www.longtailpro.com
You can start using the software immediately after you make your purchase.  Also, the product has a 60 day money back guarantee, so you can test the software without any fear of risk. 
Conclusion
My review of Long Tail Pro ends here and on a final note I would say that it is way better than Market Samurai and Micro Niche Finder.  It is fast, efficient and at $97 one time price, it is worth every cent.  If you are serious about making money online, then this software is a must have.  Give it a shot and try Long Tail Pro.
---
Disclosure: This page generates income for authors based on affiliate relationships with our partners, including Amazon, Google and others.