Monopoly Deal Strategy
by wrylilt
Monopoly is a well known game with many versions - but now it's available as a card game with all new strategies.
Monopoly Deal is a brand new card game from the makers of the world famous board game Monopoly. Unlike the original game, the card version is made of just 110 playing cards. There are no boards, markers or dice in this game - just turns for up to five players. Right now there is no online version available, but you can buy the card game for as little as $10 USD in many stores or download the game to play on your phone. The following guide is created specifically to unlock an achievement in the phone version of the game, but the strategy can be used for the hands on card game as well.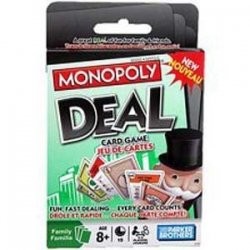 Monopoly Deal Strategy
REMEMBER:
This is a game of chance. It may take you five games, it may take you 100 games to collect the highest rent and get the award. However these strategies will help you be as prepared as possible.
The Basics
These are the cards you'll need to collect the highest rent in the game:

* 2 x Blue Properties.
* 1 x House
* 1 x Hotel
* 1 x Rent Card
* 1 x Double Rent Card

Optional:

* 2+ Just Say No cards.

There are two main methods to win:

*Collect all cards yourself.
*Wait for your opponent to build up the properties and steal them (risky).
Read on for a more in depth explanation...

The Properties
To start with you'll need any two out of these property cards.
As any Monopoly fan knows, the most sought after properties on the board are Mayfair and Park Lane. The same applies in Monopoly deal - with a twist. 
In Monopoly deal there are three cards that can be used to make up the well known blue property group, as well as a fourth card which can be used in place of any property card in the deck.
Mayfair

Park Lane

Blue/Green Wild Card

Random Property Wild Card
Monopoly Deal Buildings
The Buildings
Once you've completed your property set, you'll next need to work on placing a house and a hotel on them.
In Monopoly Deal, this can often be harder said than done. Keep reading and you'll find out some other ways to get around waiting on these  cards, and letting your opponent do the work instead!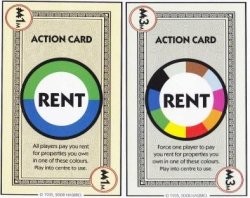 Rent Cards
Of course you won't be able to charge rent in Monopoly Deal unless you've got some rent cards.
There are two types of cards you can use to charge rent on your blue properties, in Monopoly deal:

Blue/Green Rent Card

Random Rent Card (used to charge rent on any property.)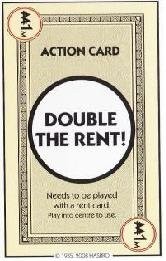 Double Rent Card
Double Rent Card
Of course you won't be able to charge the maximum amount of rent by just using a normal rent card.
A double rent card will allow you to double whatever rent you're entitled to on your property/s.
It must be played with a rent card, so make sure you have one of those handy!
The double rent card is one of the most important cards to finish off your clean sweep and charge the maximum rent - thereby winning the game, getting an award and showing everyone how it's done!
The Deal Breaker Card
Make your opponent work for you!
Of course it can take time and effort to amass all the cards needed to get your high paying rent.
So why not let your opponent do the work for you?
If your opponent has two blue properties, don't give up hope.
Simply wait till he's added a house and hotel and then steal them back!
Remember that this is a risky way of winning, but can work out well, since it saves you more than five cards in your quest for the highest rent.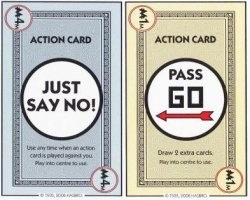 Backup Cards
These cards aren't necessarily needed, but they do make your chances of earning the highest rent possible a lot easier.
The Say No card does exactly what it says - it allows you to say no to rent, single or sets of properties being stolen. It's a good idea to only use it when necessary and not waste it on keeping a low value property or paying low value rent.
The Pass Go card is a great way to increase your chances of getting all the cards you need to get your blue properties built and ready to charge rent on. Each time you use it, you'll get another two cards from the draw pile. Just remember - you can't have more than five cards in your hand at the end of a turn!
How do you like to win Monopoly?
---
Disclosure: This page generates income for authors based on affiliate relationships with our partners, including Amazon, Google and others.