Mouthwatering and Authentic New York Cheesecake and Recipe
by Digby_Adams
Looking for cheesecake in New York? Find your way to Junior's in Brooklyn, legendary New York style cheesecakes for 60 years.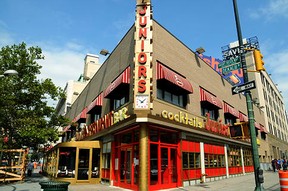 What you see to the left is cheesecake heaven, otherwise known as Junior's. For the past 60+ years Junior's has been in Brooklyn at the corners of Flatbush and Dekalb. It is the only place my family ever ate cheesecake. Just like the only place we ever ate a cheese steak sub was Pat's in Philadelphia - and the only place we ate Maryland crab cakes was Angelina's in Baltimore. Yes my family were and are regional foodies, we love eating classic recipies where they began. My family lives in Maine and I went to college in Philadelphia, so we had lots of chances to drive through Brooklyn and find our way to Junior's.
Harry Rosen started Junior's in 1950 and three generations later it's still going strong. You can get lots of good food at Junior's, but most people make sure that there's room for a cheesecake dessert. In 2009 Junior's celebrated its 60th anniversary by having a recipe contest. The grand prize winner was Joyful Almond Cheesecake, won by Suzanne Banfield who grew up in Brooklyn eating Junior's cheesecakes. She is delighted to have her cheesecake feaured on the Junior's menu. There are now five Junior's restaurants throughout New York City. You can now buy Junior's cheesecakes from the online shopping channel QVC as well.
Buy Junior's New York Cheesecake from QVC
Junior's New York Cheesecake
Junior's Chocolate Mouse Cheesecake
You've got your choice. You can either order a Junior's New York Cheesecake and savor every mouthful - or you can make it yourself with the Junior's recipe for New York cheese cake below. But I'll be honest I've done a side-by-side comparison and mine is good but it's not Junior's great. It's probably because I don't use the same cream cheese or cream or vanilla even. But here's the best cheesecake recipe I've ever tried!
Junior's Authentic New York Cheesecake Recipe
Junior's cheesecake starts with a sponge cake crust. You make it in the springform pan that you're going to bake your cheesecake in. It cooks very quickly 10 to 12 minutes so you have to keep a close eye on it. Then you pour your cheesecake batter in on top of it.
Spongecake Crust
1. Preheat oven to 350 degrees.
2. Grease the side and bottom of a non-stick 9-inch spring-form pan. Wrap the outside of the pan - bottom and sides - with aluminum foil.
3. Sift the flour, baking powder and salt into a small bowl.
4. Put the eggs in a large bowl. Use an electric mixer to beat the eggs on high for 3 minutes. Keep the mixer running and gradually add 2 tablespoons of the sugar. Keep mixing the eggs for about 5 minutes or until the batter starts to form a riboon.
Sponge Cake Crust Ingredients
1/3 cup sifted cake flour
3/4 teaspoon baking powder
1/8 teaspoon salt
2 extra-large eggs, separated
1/3 cup sugar
1 teaspoon pure vanilla extract
2 drops pure lemon extract
2 Tablespoons unsalted butter, melted
1/4 teaspoon cream of tartar
5. Sift the flour mixture into the egg mixture. Use a spoon to mix until the flour disappears.
6. Add the melted butter and stir.
7. Take a clean and dry bowl and beaters, put the egg whites and cream of tarter in a bowl and beat until frothy. Then add the rest of the sugar until stiff peaks form.
8. Fold 1/3 of the egg whites into the batter, then the remaining.
9. Gently put in pan and cook until the cake is golden and springs back - about 10 minutes. But watch it very carefully. It's cooks up quickly.
How to make the Cheesecake Filling
1. In a large bowl combine 1 package of cream cheese, 1/3 cup of sugar, and cornstarch. Beat with an electric mixer set on low until creamy - usually about 3 minutes. Blend in the remaining cream cheese - one package at a time.
2. Increase the mixer speed and mix in the rest of the sugar.
3. Add Vanilla.
Cheesecake Filling Ingredients
4 8-ounce packages cream cheese (use only full fat), at room temperature
1 2/3 cups sugar
1/4 cup cornstarch
1 Tablespoon pure vanilla extract
2 extra-large eggs
3/4 cup heavy or whipping cream
4. Add eggs one at a time. Mixing well after each egg.
5. Add cream and mix until just blended. Resist the urge to overbeat.
6. Place the spring-form pan in another pan with about 1-inch of water.
7. Bake until the edges are deep golden brown and the center is slightly golden brown - depending on your oven about 1-1/4 hours.
8. Remove cake from the oven and put it on a wire rack for 2 hours. Leave it alone.
9. Then cover the cheesecake in the pan with plastic wrap and put in the refrigerator over night.
10. Then it's okay to take it out and serve it. Somethings just can't be rushed!


Whether you make it yourself or order in, I know you'll love your Junior's New York cheesecake!
---
Disclosure: This page generates income for authors based on affiliate relationships with our partners, including Amazon, Google and others.