My Admiration of the Lakota Sioux
by vbright
Those who know me are well aware of the fact that I have a great admiration, and respect for Native Americans, Lakota Sioux in particular. Their culture and art inspire me
A Vacation to the Black Hills
The beginning of my love story
I can't say that I've always had such a fascination and respect for the Lakota Sioux. It actually all started and began to snowball after a vacation I took with  my children and a friend to the Black Hills of South Dakota. While there, I met a man who, although I only spent a short amount of time with, would impact me greatly. His name was Paha Ska. He was the Ambassador to Keystone, a city which is at the base of Mount Rushmore.
The remarkable thing that happened was; my youngest child, who had always hated to be touched (that is another story), willingly reached out and took Paha Ska's hand. It may not seem like much since you don't know how much my kid hated to be touched, but I knew then that Paha Ska had a certain quality that was unseen.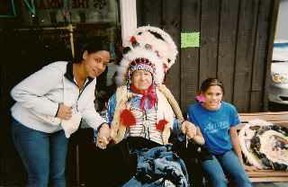 This is Paha Ska with my two girls.
 The next year, I met his wife, Susan (given the name Yellow Bird Woman). Since that time, I have learned so much about the people, the culture and traditions as well as the beautiful art of the Lakota Sioux. It is interesting to note that Paha Ska was named by Ben Black Elk, son of the famous Chief (Nicholas) Black Elk. I visit the reservation at least once a year, and my friend and I take up items for families there. In short, meeting Paha Ska and his wife, Susan, began my love affair (so to speak!) with the Lakota Sioux.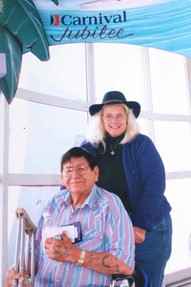 Paha Ska and Susan
The Beauty (and not) of the Pine Ridge Reservation
Beautiful land and people
If you ever have the opportunity to visit Pine Ridge Reservation, two things may strike you; one, the Lakota who live on the reservation are very poor, and two, the land is breathtaking.
The Lakota live on only a portion of the land promised them originally by the Government. Currently, it encompasses three of the poorest counties in the nation. Despite that, there is so much beauty. I have the honor of knowing several families on the Rez, and they are such repectable people. Although throughout the reservation, the drop out rate is staggering, these families have children who attend, and in some instances excell at school. They have 3, sometimes 4 generations all living under the same roof. That is not uncommon at all on the reservation, where one family of which I know has 16 people living in one 2 bedroom house.
The Lakota produce some amazing art. Paha Ska, for example, was a wonderful artist. I have one of his prints of Black Elk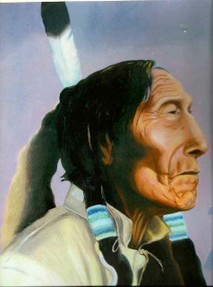 Black Elk by Paha Ska
 I have seen some beautiful quillwork, star quilts, paintings, dream catchers and paintings done by the Lakota people. Often, these people sell their work at Rapid City pawn shops just to earn a few dollars when their work is worth so very much more. As a side note; Susan sells some wonderful artwork, including some of Paha Ska's paintings, and you can contact her via the Paha Ska Tours website. Or, you can contact me and I will relay the message.
While on the reservation, one can expect to see a combination of hills, prairie, and badlands (as seen below). The land is not fit for farming so it is not filled with farms, although there are a few. You might see some wild horses, magpies, meadowlarks, pronghorn, and some other beautiful wildlife. Deer and antelope are plentiful on the reservation.
Honestly, the people don't much care for gaukers, but if with an experienced tour guide, you can see some wonderful things. There is also a casino on the reservation. I have been lucky enough to see where many of the Lakota legends got their start, as well as some sobering sights like Wounded Knee. I've seen where Crazy Horse used to hold council and so many other wonderful things on the reservation.
So, that is the Pine Ridge Reservation, in short.
The beautiful Badlands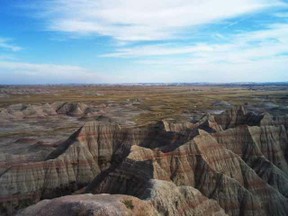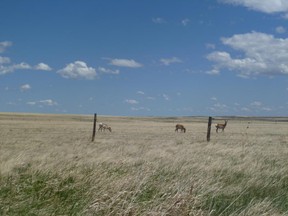 More Lakota Sioux Treasures
Those who help the Lakota Sioux
In my years of dealing with people on the Pine Ridge Reservation, I have come across many organizations. Some of them, such as those listed here are reputable and help the Lakota in many ways. Others...not so much. Sadly, there are a lot of posers. There are some "organizations" as well as people who get others to donate to the people only to collect the money for themselves. I can't speak for all, of course, but following is a list of people and organizations which do benefit the people on the Reservation:
One Spirit has many programs including working with SHARE to deliver nutritious food to the people on the reservation. You can also adopt a familly.
The Lakota Plan is one I just started working with, but is very promising! They (a group of Lakota people) are trying to make the reservation more self-sustaining by using both internal and external resources. They want to bring business on the reservation (currently, there are less than 5 businesses on the reservation, including the Casino). They want to help the Lakota to be productive and self sufficient individuals. More on this as I learn more!
Friends of Pine Ridge Reservation is an organization I came across looking for places to donate my crocheted scarves to. They accept crafted items, but they do much more. They work with many of the programs on the rez and participants can send donated items straight to the reservation. FoPRR has been around for years now, and they do wonderful things.
My Adventures
We just went up to the Black Hills in May of 2011, and hope to go up again very soon. Each time we go, we enjoy it. Thanks to Susan, we also learn something new each time! I continue to learn as much as I can about the history of the Lakota, their art, culture...and the future of the tribe. Most people who know me understand I am not a "wannabe", however I have been called, by one online reader; "A wannabe Indian Princess" (snicker-snort). Um, yeah...I simply feel I have a calling for whatever reason, to learn and act when it comes to the Lakota.
You might also like
Merkén
A look at Mapuche gastronomy and a glance at the traditions and customs of th...
Indian Head Nickel
A little history about the Indian Head or Buffalo Head Nickel. Do you know wh...
---
Disclosure: This page generates income for authors based on affiliate relationships with our partners, including Amazon, Google and others.