Natural Sea Sponges: From Bubble Baths to Window Cleaning
Window Cleaners Love Them!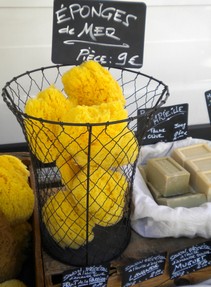 Natural sea sponges are highly-sought after for those that enjoy a really good soak in the tub. People can invest up to $25 for just one container of bath beads or the latest bath ball. Whether they like fizzy water or tons of bubbles, strong floral scents or subtle spice ones, there is a perfect bath product for everyone. And, natural sea sponges are the perfect complement. They are soft, hold water and are preferable to the synthetic pouffs and sponges.
We've all seen natural sea sponges in upscale retail shops that feature luxurious bath products but did you know that their original use was much more utilitarian? Window cleaners have used these organic beauties long before green cleaning was cool. In fact, many professionals swear by their effectiveness as window cleaning equipment. If you want to know some of the pro's secrets, read on.
Natural sea sponges may seem like a device from the last century but they are a great tool for every window cleaner to have on hand. Here are the top 5 reasons to try one out for yourself:
1. Natural sea sponges are more absorbent than synthetic sponges. In fact, they can soak up a ton of water when needed.
2. They can really help a window cleaner get into any of the tight corners they run into on the job including tracks, frames and french panes (cut-ups).
3. When you wring out a natural sea sponge, every last drop of dirty water is expelled - on the first try. This helps a window cleaner's day move along a little faster.
4. As a product of Mother Nature, sea sponges are more durable than synthetic as well. Window cleaners can be tough on their tools but natural sea sponges can stand up to the task.
5. It all comes down to preference, but many window cleaners prefer the ergonomic fit of a natural sponge in their hand to the tight square of the synthetic version.
Why not try a natural sea sponge next time you have a tough cleaning job and see what all the fuss is about. In fact, car fanatics already know the secret and use the soft sponges to take care of their rides. Natural sea sponges in combination with a soft chamois for drying is preferred over most cleaning methods.
Check out the video below and watch Mike Rowe, from the Discovery Channel, practice diving for sea sponges with the pros on "Dirty Jobs". The process of harvesting sea sponges from the ocean floor can be difficult and complicated, as the video details. Enjoy!
More reasons why window cleaners love them...
Video: Dirty Jobs from Discovery Channel
Diving For Natural Sea Sponges
---
Disclosure: This page generates income for authors based on affiliate relationships with our partners, including Amazon, Google and others.