Navitas Naturals Raw Cacao Powder Review
by Noni
If you are looking for a quality raw cacao powder for your healthy and delicious chocolate dishes, look no further.
Introduction
Navitas Naturals Raw Cacao Powder is the best 100% organic, vegan, kosher, and gluten-free product on the markets today. If you are interested in finding out what the health benefits of raw cacao are and how this particular product differs from all the other popular cocoa or hot chocolate brands, you can check the detailed information below. Otherwise, just follow the link to Amazon.com on the right to purchase this cacao powder at a very reasonable price.
Navitas Naturals Raw Cacao Powder
Product Description
Navitas Naturals powder contains certified 100% truly raw organic cacao, unlike some of the raw cacao brands that can be purchased on the market today which are mixed with the lesser hybridized variety.

There is no added sugar or other additives.

The pack contains two 16 ounce pouches of healthy cacao powder for your puddings, brownies, smoothies, cakes, pies, chocolate frosting dishes, and other recipes.

The shipping Weight is 2.2 pounds.

Imported from Peru (packaged in the USA), Navitas Naturals cacao is from the most valuable premium Criollo variety. There are three main varieties of this plant species: Forastero, Criollo and Trinitero. Forastero is most common and less valuable - over 85 percent of all commercial cacao comes from this type. Criollo is the most sought after variety of the three. It is rare and only 5-10 percent comes from this variety. Trinitero is a hybrid of the two other cacao types.

This raw cacao powder has relatively low calorie content. It has 24 calories per tablespoon, versus ca. 45 calories per tablespoon that some high fat content cacao brands have, or versus ca. 80 calories per tablespoon of chocolate and baking chocolate. So Navitas Naturals raw cacao is high in fiber and at the same time low in fat.


Navita Naturals Cacao Products
How is this Cacao Powder Obtained?
The philosophy of Navitas Naturals is oriented towards whole, organically grown healthy foods with minimal, low temperature processing. In the process of production, the cacao beans are hand-picked to ensure high quality and partially fermented in order to alleviate bitterness. The beans are cleansed with purified water and processed at low temperature (to remove the husk) so that all of the nutritive value is preserved. Finally, they are cold pressed to extract the cacao oil and to obtain the nutrient rich cacao powder.


Raw vs Processed Cacao Powder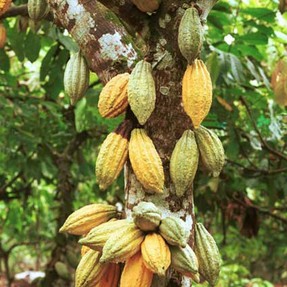 Make no mistake, Navitas Naturals Cacao is NOT Cocoa powder similar to Hershey's, Nestle's or Ghirardelli's products. It is totally raw, without any sugar, milk, or any artificial ingredients. It is thinly ground and tastes bitter, just the way cacao is supposed to. Those who suffer from allergies will appreciate the fact that it is 100 percent gluten free. It also contains no soy lecithin or other similar food additives that are used to stabilize processed foods.

The main advantage of raw cacao as compared to the processed cacao or dark chocolate is that all of its important phytonutrients, vitamins and antioxidants are preserved. Heat used for preparing processed foods is the main enemy of many of these important bioactives and health promoting nutrients, whose concentration in processed cocoa or chocolate powder is greatly diminished.

That said, the taste of this Navitas Naturals organic product might be not what you are used to when it comes to the standard commercial cocoa flavor. It might take some time until you have got used to it.


Health Benefits of Raw Cacao
The most important micro nutrients of raw cacao are the following:

Anandamide, a neurotransmitter responsible for the feeling of bliss.

Phenethylamine (PEA), a neurotransmitter responsible for the feeling of love.

Tryptophan, one of the standard amino acid usually deficient in those people who are on a diet of primarily cooked food.

Omega 6 fatty acids are good for hormone production.

Serotonin, a chemical compound basically derived from Tryptophan, is a neurotransmitter that makes us feel calm, confident and relaxed.

Coumarin, a bioactive compound found in many plants that has anti-HIV, anti-tumor, anti-hypertension, and appetite suppressing properties.

Theobromine, a caffeine-like chemical, is a bitter alkaloid of the cacao plant whose health properties are somewhat controversial but in fact quite beneficial for humans. Theobromine is a cardiovascular stimulant and helps in prevention of cavities and tooth decay. It dilates the arteries leading to better circulation and natural lowering of the blood pressure. Animals (e.g., dogs), however, metabolize theobromine more slowly, which, in turn, may lead to theobromine accumulation and may cause serious health problems. So, your dog or your cat should avoid cacao products altogether.

Various chocolate antioxidants, such as resveratrol and the catechin and epicatechin polyphenols, dissolve the accumulated plaque in the blood vessels, which in turn helps reverse cardiovascular and heart diseases.

Magnesium, a very deficient mineral in our daily diet, enhances digestion, helps the cardiovascular system, and relaxes the muscles of the body.


How to Use This Navitas Naturals Cacao Powder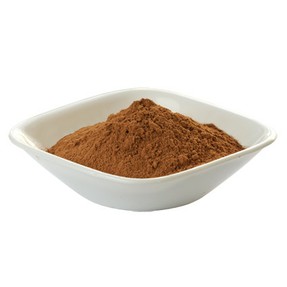 Basically, the best way to take advantage of this raw product is to mix it with your hot chocolate mixes or chocolate smoothies making them much richer and tastier than before. Or you can add a tablespoon of it to your morning coffee and obtain a cafe mocha type of flavor. Alternatively, you can mix a bit of this cacao powder with some frozen bananas to obtain a sort of banana ice cream. You are limited only by your imagination with respect to the shakes and smoothies you can prepare from it. Of course, even though it is raw and unprocessed, you can always use this cacao to prepare your delicious cacao brownies, solid chocolate bar, cakes and chocolate pies.


What People are Saying
This is a great cacao powder that I have been buying at the nearby health store at twice the price.
This type of cacao is delish. The packaging was great as I was able to share it with a friend.
Great and much better than the Hershey's cacao powder.
This cacao powder has a rich and refreshing aroma. I use it to make my own my chocolate bars and it works very well.
I use it for my rich ice cold alternatives to coffee and it is also great in baked goods. 
I love the fact that it is raw.
Are There Complaints or Possible Side Effects?
Some people don't like the taste of this cacao powder, probably because they expect to get something like Hershey's or Nestle's processed cacao. It has a slightly lighter taste than what you might expect from cocoa powder and you will have to do some research and experimenting as to the different ways of using it in your kitchen.

Although raw cacao is much healthier than the process one, one should be aware that cacao in general is still a stimulant, very much like green tea or coffee, and that it should be consumed in small amounts. Cacao does not contain caffeine; instead, it has its own stimulant called theobromine (see above). Some people might have problems with overstimulation if they consume too much cacao.


Where Can I Buy This Product?
The best place you can purchase Navitas Naturals Cacao Powder is online, via Amazon.com. Just follow the link below and you will always get a very good price along with their excellent customers' service.
Conclusion
Regardless of whether you are following the organic, healthy lifestyle movement or you just want to enjoy additive free form of foods, Navitas Naturals Raw Cacao Powder is a great product. It is organic, it comes at a great price, and most importantly, it will meet your desires for chocolate in a much healthier way. If you liked this Navitas Naturals Raw Cacao Powder Review, you may also check my review about Grass Fed Organic Ghee or my Noni Iridoids page.
Updated: 02/10/2012, Noni
---
Disclosure: This page generates income for authors based on affiliate relationships with our partners, including Amazon, Google and others.