Nutrient And Fertilizer Application For Pumpkin Vines
by CEdward
Pumpkin vines require a lot of ongoing care to ensure that you'll have matured, full size fruits at harvest, and so it's a must plants have enough nutrients and fertilizer.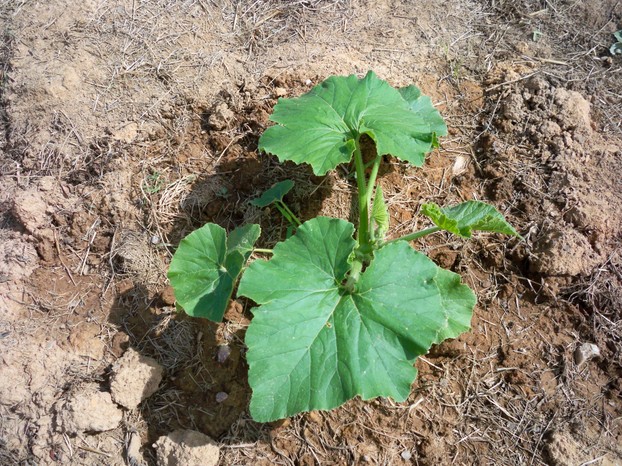 Atlantic Giant Pumpkin
Photo by writer and grower CEdward
In determining the best plan for applying nutrients for pumpkin vines, it's best to first determine the condition of your soil, basically what nutrients are present and in what quantities.  You can assess your soil by collecting representative samples and having a soil test performed.  When indicating on your soil test what crop you intend to plant, pumpkin or winter squashes in this case, you can receive back recommendations on what your soil needs to grow the best possible crop.  It goes without saying that you will need to have the soil test performed before planting, but the earlier is better.  With planting occurring in the spring or earlier summer, testing in the fall of the prior year will give you more time to prepare the ground for your pumpkin crop.
Once you have a starting point (your soil test results), there are three different approaches you could take in how you feed these nutrients to your pumpkin plants.  They can all be extremely effective for feeding the plants and for most part come down to your preference, how much money you want to spend, and how much time you have to devote to the pumpkin crop.
First, you could add the required nutrients as amendments such as gypsum or lime directly to the soil to work them prior to planting.  These amendments could be added as a surface application or tilled into the soil, but be sure to follow manufacturers application and timing recommendations.  Certain amendments (depending on what they are) must be added early enough to breakdown a little for the plants to safely receive the nutrients and others should not be added too early as they may breakdown too quickly and the plant receive no benefit from them when the time comes.  It is important that these amendments not only add the needed amounts of nitrogen, phosphorous, and potassium, but supplemental nutrients that encourage plant health and resistance to disease and insect damage.
As a second option, you could apply the nutrients and fertilizers directly to the plants correlated to the stage of growth the pumpkin vines are in.  In satisfying the pumpkin plant requirements for nitrogen, phosphorous, and potassium throughout its life, you can make these regular applications of granular fertilizers, like13:13:13, or liquid fertilizers such as Miracle Grow.  You should also plan to make applications of additional nutrients that promote plant health and supplement the deficiencies of standard fertilizers such as Calcium and Humic Acid.
The third method for feeding your pumpkin plants is simply a combination of options 1 and 2.  You simply combine the best of both worlds by adding the needed amendments for your soil in the late Fall into early Spring.  These possible amendments are numerous but may include, organic matter, fresh or composted manure, or lime.  Once the growing season begins and your pumpkin seedlings are growing and becoming established you will make regular applications of fertilizers, either granular or liquid such as fish and seaweed to provide the needed plant nutrients.  You will also want to make applications of nutrients that promote plant health (and there are many great ones to choose from) through the season such as Humic acid or Root Shield.
How ever you decide to apply nutrients and fertilizer to your pumpkin vines, it's important to be consistent and responsive to the plants.  Feeding them with smaller applications more often is a good rule thumb to reduce the chance of plant injury.  Even with your best efforts you may still under fed or overfed the plants from time to time but they are generally strong and resilient (if they are hardy varieties and/or you are doing your part to care for them) as well as forgiving but it is key to learn the plant and how it best responds to how you are feeding it and when necessary to adjust.
RESOURCE:
Bob Matthews, Premier Star Company
Fertilizers and Nutrients for Pumpkins, Pumpkin Nook
Retrieved from: http://www.pumpkinnook.com/howto/fertile.htm
Related Articles from this author
---
Disclosure: This page generates income for authors based on affiliate relationships with our partners, including Amazon, Google and others.