Picnic Baskets for Summer
by mulberry
Warm weather often means outdoor dining. Casual or romantic, nothing makes a picnic easier or more special than the right picnic basket filled with everything you need.
Picnic Baskets for Summer Fun or Romance
Whether it's a romantic meal for two or a fun family outing on a summer day, picnics are a great way of enjoying nature and the people you care about as well. Of course getting the food, beverages, and service that you need to your picnic spot is a must. Picnic baskets are the easiest way to take care of all of this. While completely functional, they can also be very attractive.
Many of these baskets offer insulation for keeping food and beverages at the right temperature until you're ready to dine. Whether it's finger food or culinary delights that require a knife and fork, you can have everything you need on hand with most of these all-in-one picnic baskets.
Lower on the page you'll even find a few tips for packing your basket and staying safe as well. Be sure to add your suggestions for the perfect picnic menu at the bottom of the page.
Photo by Elite PhotoArt
Packing Your Picnic Basket
Just a few tips here when packing a picnic basket or cooler for your picnic. There are two basic rules to pack by:
1. Keep the items you need first on top
2. Keep the items that need to be coldest on bottom

Picnic foods need to be kept at a safe temperature. Perishable items like dairy products, meats, and so forth should be kept at 40 degrees F or lower. Therefore, you can put ice packs in the bottom and then perishables next. Preferrably in crush-proof containers rather than plastic bags.
When salads or sandwiches are involved, it's best to make these on the spot. Combining a salad ahead of time often results in a wilted salad. Constructing a sandwich in advance can result in a soggy sandwich.
Beverages can be toted in outside pockets sometimes, but in some instances, such as with water bottles, you can freeze them in advance and stow them in the top of the picnic basket. This way they stay cold for a long time, help to keep the other contents cold, and are quick and easy to access when you want them...even before you're ready to unpack the food.
Don't forget to take along items for clean up: trash bags, a cloth in case there are spills, plastic bags to put dirty utensils in, and so forth.
Tips For a Safe Picnic
No one wants to spoil a romantic picnic or a fun outing with the kids with a nasty foodborne illness. There is one vital rule related to this:
Keep cold foods cold and hot foods hot. If you can't do this, it's often wise to dispose of the food.

In general, cold foods (cheese, meats, products with mayonnaise in them, eggs, and so forth) need to be maintained at 40 degrees F or less. Even melon, due to the lack of acidity needs to be kept cold. For this reason, it's best to transport your cooler or insulated picnic basket in the car versus in the trunk whenever possible. It should be placed in the shade when you arrive at your destination. As long as the ice hasn't melted, you should be safe.

Hot foods should be eaten as they are cooked; within 1 hour. You shouldn't grill some burgers or hot dogs, and then store them to be eaten later. If you must cook foods the night before, they must be refrigerated immediately. Ideally, warm foods should be at a temperature of 140 degrees F to assure no harmful bacteria can grow.

Other important steps to prevent exposure to unwanted bacteria or viruses are to wash your hands before preparing or consuming food, use only clean utensils, and to keep food covered to avoid contact with insects. Remember too, that the surfaces you will be using, for instance a public picnic table, the ground, and so forth, have not been disinfected. Food should not be allowed to come in contact with these surfaces.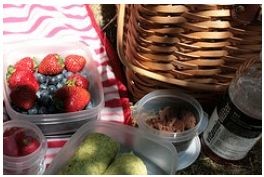 Photo by Crystl
Metro Picnic Baskets
This picnic basket has room for food and utensils for 2, or 3, or 4, or more people. It's surprisingly roomy for a fairly compact basket. It offers insulation for keeping chilled foods chilled and warm foods warm. It also has a zippered pocket on the side for stowing important things like keys, cell phones, and utensils if needed. It has a plate holder and is fully expandable with a drawstring on top.

The aluminum frame makes it sturdy and the polyester canvas exterior makes it durable. The matching velcro canvas straps help you keep the handles tucked together when you're carrying it and it's fully collapsible design make it easy to store. The interior is waterproof so spills or melted ice won't be a problem.
This basket is available in a variety of colors and patterns.
Picnic Time Metro Insulated Basket, Sky Blue

This Picnic Time Metro Basket features a lightweight design in polyester canvas, with an aluminum frame. A perfect tote for shopping, picnics, or going to the beach, this ...

Picnic Time Metro Basket (Moka)

The Metro Basket is a lightweight fully-collapsible, insulated basket that can be used for many occasions. It's made of durable 600D polyester canvas in many fun prints and ...

Only $27.99
Picnic at Ascot
This wheeled picnic basket is perfect in urban, suburban, and even rural settings. It is made of durable 600 denier polycanvas (Olive/Tweed) and offers a waterproof interior for beverages. It allows you to keep dringks on ice while keeping other foods dry and warm with the divided compartment. The zippered opening gives users easy access to beverages at all times.
This basket provides a service for 4. It includes a corkscrew, hardwood cutting board with juice groove, cheese knife, wooden salt and pepper shakers with non-spill tops, acrylic wine glasses, coordinating melamine plates, stainless steel flatware, and cotton napkins.

It's easy to take your picnic anywhere with this 13" x 18" x 13" basket.
Canvas Baskets
These aren't traditional picnic baskets but a modern version. The Solano offers an adjustable shoulder strap that makes it very portable. It's made of durable 600 Denier polyester canvas and is fully insulated keeping warm foods warm and beverages cold. It has an 18 can capacity and can hold enough food for a typical picnic for four individuals.

This tote also comes with picnicware for four. It includes four 9" plastic plates, four stainless steel forks, knives, and spoons, four plastic 10 ounce tumblers, four 100% cotton napkins, one stainless steel corkscrew, one 5 1/2" hardwood cutting board, 1 set of salt and pepper shakers, and one stainless steel cheese knife. Elastic straps and mesh keep everything secure while you trasport your picnic.
The Malibu picnic tote is built to accommodate a picnic for two. It's insulated and has a removable water-resistant liner for the food storage area. The side compartment can accommodate two bottles of wine. It comes with picnic service for two, including two 9" plastic plates, napkins, stainless steel utensils, acrylic tumblers, a hardwood cutting board, a stainless steel cheese knife with wooden handle, and a corkscrew.
Wicker and Rattan Baskets
Wicker and rattan picnic baskets are very traditional. The Chardonnay measures 12" x 8" x 10" and can easily accommodate a picnic for two. Both a red/white checked or Hunter Green and Grape motif can be selected for the interior and napkins. It comes with service for two including 8 ounce wine glasses, a stainless steel corkscrew, and cotton napkins.
The barrel design basket is another one that's perfect for two. Made of willow, it's sturdy as well as attractive and includes faux leather accept straps and handles. Lined with canvas, it's available with a variety of themes/patterns: Pine Green, Hunter Green, St. Tropex, and Botanica. It comes with two 9" melamine plates, 8 ounce wine glasses, cotton napkins, stainless forks, knives, spoons, and corkscrew, salt and pepper shakers, and one 45" cotton table cloth.
The Terazzo offers high quality in a casual design. It provides service and space for four. It comes with a picnic recipe book. The handcrafted Amish picnic basket is perfect for families and for shopping. The woven basket includes a wood divider which allows you to separate items in the bottom (a pie for instance) from items on top. It includes wood carry handles and a lid. It measures 20.25" L x 10.25" W x 9.5" H.
The Sunrise picnic basket is also of willow construction and offers coordinated cotton liner, napkins, and service for 4 (plates, cups, and utensils). The Farmhouse basket provides enough space and service for 4 and it provides upgraded accessories like 4" x 7" ceramic plates, 4 stainless and wood knives, forks, spoons, a corkscrew, cheese knife, and plastic salt and pepper shakers. This basket measures 18.5" H x 17" W x 14" D and comes with a 100% lifetime warranty.
Backpacks for Picnics
Backpack style picnic baskets are perfect for active people. If you have to hike or bike any distance to your picnic location, these totes are ideal. The Excalibur provides service for 4 (plates, glasses, napkins, a bottle opener, utensils, a cutting board, salt and pepper shakers, a corkscrew, and so forth). The bag offers a pouch for a bottle and pockets for smaller items in addition to a compartment for your food. You also get a blanket to set up the perfect picnic.
The second backpack picnic tote offers service for 4 as well and a similar design, but, without the blanket. It measures 15" W x 6 1/2" D x 17" H. The Fiesta on the otherhand, is a sling type picnic tote. It's comfortable to carry and offers space and service for two. It has a thermal foil insulated food compartment as well as mesh front and side pockets for bottles and accessories. It measures 10" W x 9" D x 18" H and is available in many cheerful colors.
Excalibur Picnic Backpack with Blanket

EXCALIBUR 812-2 Picnic Backpack With Blanket. Everyone loves picnics, but they can be a hassle to set up. Our new Picnic Backpack eliminates all the trouble. Everything you ...

Only $59.99
Backpack Picnic Set - Style 33037

Dine al fresco with an all in one picnic set! A backpack contains four each of top quality melamine plates, cutlery, wine glasses, and napkins; plus cheese board, knife, ...

$69.95 $42.66
Picnic Plus Fiesta 2 Person Picnic Backpack

The Picnic Plus Fiesta 2-person picnic backet boasts a unique sling design with glasses, plates, flatware, and accessories for an easy picnic for 2. The bag itself features an ...

$58.49 $39.99
---
Disclosure: This page generates income for authors based on affiliate relationships with our partners, including Amazon, Google and others.