Pirate Themed Birthday Party Supplies & Decoration Ideas
by Tehreem
Find a wide range of ideas for a Pirate Themed Birthday Party.
Pirate Birthday Party Supplies
Plan an Exciting Pirate Birthday Party!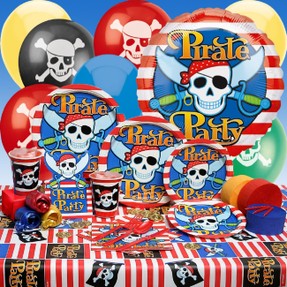 A Pirate Themed Birthday Party as your kids next birthday party theme will make him dance with joy! This theme is especially suitable for boys but some adventure loving girls will also be thrilled by this theme. Pirate party will give a chance to all the kids to thoroughly enjoy themselves.
For planning a Pirate Party, you will need some ideas and suggestions on how to do the decoration and planning. This page will provide you with many ideas on how to plan a Pirate Party Bash. You will find the most suitable party supplies, invitations and cake decoration ideas to pull off a successful party.
Do provide us with a feedback on how we can improve our page and what you will like to see more.
Ahoy Mate! Come To The Party!
Pirate Themed Party Invitations
Start your pirate party by sending out Pirate Themed Party Invitations. A birthday theme should be a complete and perfect one. Everything from the invitations to party favors should compliment the theme of the party.
Party Invitations should be sent out atlease 3 to 4 weeks before the party to give everyone enough time to RSVP and will give you enough time to plan other things.
Party invitations can be prepared at home using Pirate Stickers and Cut outs. Printable Customized Pirate Party Invitations can be found online and easily printed.
You can also find some amazing Pirate Party Invitation Packs online and order them to be delivered on your doorstep.
Skull Invitations in a Bottle
Fun party invitation perfect for the theme!
These party invitations are exciting, fun to open and durable. They completely co ordinate with the Pirate Theme. This package includes a plastic bottle with a roll in invitation. The invitation paper should bear all the details of the party and put in the bottle to be mailed. The receiver will also be excited for the party after receiving the invitation in such a unique style!
Pirate Party Supplies
Get some pirate tableware
A Pirate Party remains incomplete without Party Supplies to match the theme. Pirate Themed Party Packs come in basic packs and deluxe packs.
Basic Pirate Party supplies contain plates, cups, napkins and basic necessities of a party.
The Ultimate Pirate Party Pack contains decoration items other than the basic parts. It reduces your total expenses by approximately 40%.
Pirates Standard Party Pack for 16
This Party Pack will serve your 16 guests. It contains:
16 invitations
16 dinner plates
16 dessert plates
16 cups
16 forks
16spoons
32 napkins
1 solid-color tablecover
1 foil balloon
12 balloons (2 colors)
curling ribbon (2 colors)
crepe paper rolls (2 colors)
cake candles
The Ultimate Pirate Partypack
All in one
This Party Pack Includes
8 invitations,
8 dinner plates,
8 cups,
8 forks,
8 spoons,
activity placemats,
16 napkins,
solid-color tablecover,
centerpiece,
foil balloon,
18 balloons (3 colors),
crepe paper rolls (3 colors),
curling ribbon (3 colors),
confetti and cake candles. 
It also contains 8 filled-in favor boxes, Treasure Chest Pinata with fillers, 8 skull cups, 8 pirate hats, 8 glow swords, 8 pirate hooks, 8 pirate figurines, 8 dessert plates and 8 thank-you notes.
Pirate Themed Cake & Cupcake Ideas
Wy Not have a Treasure box as your party cake?
Pirate Party Cake can be of many shapes, A treasure box, Edible figure cake, Pirate topper cake, Pirate ship and many other shapes can be considered.
You can order a cake to be made in a bakery or you can make it at home. Making a pirate cake at home won't be difficult. All you would need is a Pirate Ship Cake Pan if you want a shaped cake, Pirate Hat shaped pan can also be considered.
Another way is to bake a simple cake and decorate it with different cake toppers and decorations available to purchase.
Unique Pirates Birthday Cake Ideas
Click the links to view the images !
---
Disclosure: This page generates income for authors based on affiliate relationships with our partners, including Amazon, Google and others.