Pirates of the Caribbean 4 DVD boxed set
by ethelsmith
Ahoy my shipmates set sail with Captain Jack Sparrow in the the adventure of a lifetime.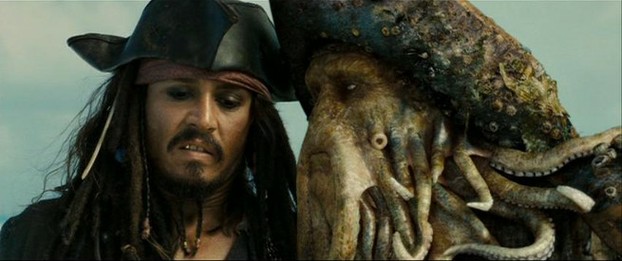 Sparrow with Davy Jones
Pirates of the Caribbean
The fourth, and to date final, film in the Pirates of the Caribbean series was released in September this year. It completed this strange fantasy come adventure tale but there is nothing to say we have definitely seen the last of this action adventure.
Laced with comedy and special effects it is truly a tale of the 21st Century. Without the benefit of modern CGI the films would lack that extra something special. As it is they have that by the bucket load.
All four films are currently available individually or as a boxed set. As usual the set works out much cheaper. Opt for Blue Ray discs for the best viewing experience.
If you still have gifts to buy for Christmas this could fit the bill. Pirates is bound to be a successful gift for boyfriends, husbands, teenagers and even Dads, It will also appeal to some females as Captain Jack Sparrow is played by Johnny Depp.
The cast is full of well know faces and names. We even meet Rolling Stone Keith Richards in the third film as he plays Sparrow's father. In fact Johnny Depp claims that he created Sparrow from his imagination and the appearabce of Keith Richard, as he is now.
The films are :-
Curse of the Black Pearl
Dead Men's Chest
At World's End
On Stranger Tides
The films are from the Disney Studios and essentially classed as children's action adventure films. However they will be far too creepy for young children. Most of them are rated as PG-13 due to the content.
The cast includes, Keria Knightley, Geoffrey Rush, Orlando Bloom, Bill Nighy and Penelope Cruz.
The first film was released in 2003 and the others followed in 2006, 2008 and finally in 2011. For some fans the last film lets the series down but it is equally as entertaining as the rest.
Each film has its own plot but yet all four are intertwined. From start to finish it is an entertaining journey into a fantasy world. Enjoy my hearties!
Overall
The first film the Curse of the Black Pearl is available at a very competitive price. However as the later films are more pricey the boxed set should be the best value. Each movie in the set includes additional bloopers and extras.
For Blkue Ray the price in the UK ranges from a little under £20 to a little over £32.
For the DVD version it is a little under £18 to just under £32. In other words there is little difference in price but of course the Blue Ray will offer a better viewing experience. The choice is yours
---
Disclosure: This page generates income for authors based on affiliate relationships with our partners, including Amazon, Google and others.