Planning a 50th Anniversary Party
My parents just celebrated their 50th Wedding Anniversary, and my sister, brother, and I planned a party for them. Here is what we did.
Parents Can Be Extremely Hard to Plan For
You might not be able to surprise them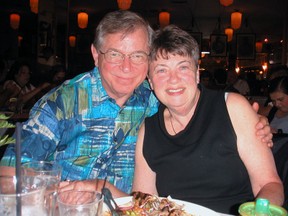 Having the opportunity to plan a 50th wedding anniversary party for my parents was truly a pleasure and an honor.  Not every couple is able to have a 50th wedding anniversary, and my brother, sister, and I are aware of the fact that we are truly lucky to have parents that are healthy enough and still together after so many years.
What we wanted to do was plan a party that would include as many of our close relatives as possible, while we still could, and not make it into a huge party, because it would not be as intimate.  The original plan was to make it a surprise party, but my parents spoiled that by planning a 50th anniversary trip to Alaska which we are all going on later this year (that is all 11 of us, my parents, my family, my sister's family, and my brother), so since we had to work around that, we had to tell them about the party.  Here is what we did:
Where to Have the 50th Anniversary Party
Planning by committee
Even with just three of us on the planning committee, it was hard to decide where to have the party.  We wanted to do it on a Saturday evening, so that we could invite out of town guests who would have time to come in.
My idea was for a smaller venue, like a nice restaurant, so that they would take care of all of the food, catering, and clean up, and all we had to do was have fun. 
In the end, my brother's idea won out.  My parents love baseball, so we had the event at the Cleveland Indians' Progressive Field Stadium in their Terrace Club Restaurant.  It was pricier than I wanted, but we got the room for free, just had to pay for the food and drink.  We knew that our crowd does not drink much alcohol, so that would not be a large cost.  In the end, what my parents wanted was our main focus, and we knew that they would love that idea.
Struggling Over Our Vision of What the 50th Anniversary Party Should Be
I wanted small, my sister wanted big.
Since this year my husband and I sent our daughter to Israel, had two graduations, and a new college student, we wanted to keep the cost as low as possible.  We were splitting it three ways, but still. . .
My brother and I had to cut the list of invitees to keep the numbers down, but my sister kept wanting to raise it.  In the end, we ended up with 40 guests, but that was a struggle.
Other ideas got nixed due to cost.  We did not have decorations, or centerpieces, or favors for the guests, all ideas that my sister wanted to add.  These were unnecessary costs to me, and my brother agreed.
50th Anniversary Invitations
Invitations can be very costly.  This was an area that I did not want to spend money on.  I wanted to send evites to everyone.  However, in the end, we did send out paper invitations.  The cost with invitations is not just the invitations, but the cost of the postage.  One good place to get a custom invitation for a special event like a 50th anniversary is Zazzle.  We ended up spending under $100 on the invitations that we got.
Gift Ideas for a 50th Anniversary Party
Do people really need more stuff when they are married for 50 years?
Memory Book
One of the best ideas we came up with, was to create a memory book as a gift for my parents.  In lieu of gifts, we asked each person to send us or bring us memories that they had of my parents, which we would collect and give to my parents at the party.  Some people wrote letters, some emailed, others provided pictures.  I collected all of these memories into a scrapbook.  The front of the scrapbook had my parents' picture, the picture at the top of this page in a frame, and the book was assembled with scrapbooking materials that can be easily purchased from Amazon, or at a local craft store.  Each of the grandchildren wrote something or made a picture that got included in the memory book.
Original Song
My family has a tradition of making up a song for every occasion by changing the words to a well known song to fit the event.  My brother has the "song writing gene" for our generation, and he wrote a song about my parents which we sung at the party.
Slide Show
We didn't want to bore people with a narrated slide show during the party, so we decided to run both my parents' favorite music, and a slide show of pictures of my parents throughout the years in the background so people could watch or not watch while they were socializing.
Commemorative Gifts
In the end, we did have party favors.  My sister had fake baseball cards made up with my parents "stats" on them to give everyone.  For my parents, we made up baseball jerseys that said "50 and counting" on the front and back.
Scrapbooking Kits to Get Started on Your Memory Book
The 50th Anniversary Party Itself
Simple is better than long winded
The Menu Needs to Please an Older Crowd
We picked our menu based on what we knew the majority of the invited crowd would enjoy.  It was a buffet dinner with salmon, chicken, and beef, and side dishes of potatoes and steamed vegetables.  There were three types of salad and rolls.  We didn't want anything too fancy because most older people have restricted diets of one kind or another.  The food was a hit, and everyone found something to eat.
The Dessert Menu
Our dessert menu was provided by the caterer, and was tiny pastries with coffee, tea, and iced tea.  But we wanted a special dessert, and I ordered a cake from a local baker that was custom made for the party.  I chose a cake that looked like a wedding cake on the outside, but the inside was chocolate cake with a peanut butter buttercream filling between the layers.  The frosting was a white chocolate frosting.  The cake looked and tasted divine.  It was well worth having because it added a special wedding atmosphere to the party.
Speeches
One of the things I dislike about some 50th anniversary parties, is that there are too many speeches.  We wanted people to just have time to socialize and relax.  Although there were a few more speeches than we expected, the speeches at the party stayed under control.  We had no more than 30 minutes total of speeches, gifts, and presentations.
End of the Party Last Picture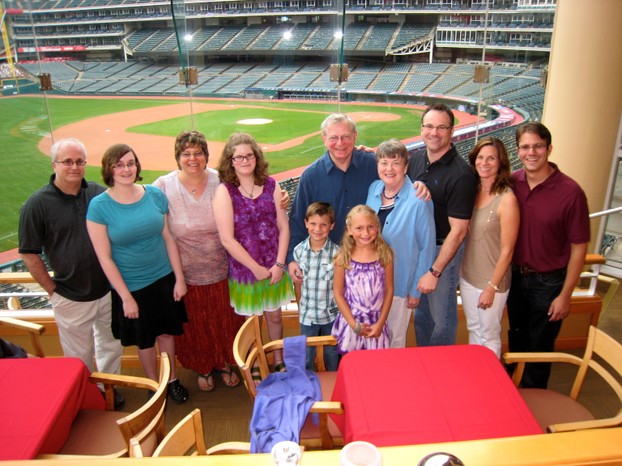 The Whole Gang
50th Wedding Anniversary Party Success
In the end, as long as it is fun, then it is a success.
No matter what you decide for your 50th anniversary celebration, large or small, as long as it is a fun and memorable experience for the anniversary couple, then you have succeeded at your task.  Although our event did not end up exactly as I had originally envisioned, what we did end up with was a great party, parents who had a wonderful time, and another memory to add to the family's album.
This is a huge success in my opinion, because you never know when you will have the last time with your parents.  Each time you do spend with them, should be the best possible moment you can have.
---
Disclosure: This page generates income for authors based on affiliate relationships with our partners, including Amazon, Google and others.