The Best Portable Bluetooth Keyboards for Smartphones and Tablets
by WillApse
If you want to use the full power of a smartphone or tablet, a portable Bluetooth keyword is the neatest accessory you can have- and they do not need to be huge and cumbersome.
Entering text is the the biggest problem most of us have with a smartphone or tablet. Virtual keyboards are hard to use- even with all the word suggestion tools. Blackberry style QWERTY keyboards are easier and, if you are good with your thumbs. you can get up to impressive speeds.
Nothing can beat a full sized keyboard, though, for speed and ease of use.
This is why portable folding keyboards, flexible keyboards (that can be rolled up small) and shrunk down keyboards that can be gotten used to with some practice have all appeared.
The most satisfactory arrangement is to lose the wires as well. This has resulted in the arrival of infra red and wifi keyboards. The most popular of all genuinely portable, clutter-free keyboards, though, are portable Bluetooth keyboards.
But how to choose the best? The keyboards on this page are the ones that have survived a few tests. They have been around long enough to be sure they will survive the rigors of being stashed away in bags and purses. They have been given awards and one has even been honored in the world's top design museum.

The Stowaway
This is users favorite portable bluetooth keyboard by a margin. Don't take my word for it- check out the reviews around the web and, if you are in New York, take at a look at one on display at the Museum of Modern Art. It doesn't lust look good, though. It feels great and it works just the way most people want.
The keys are full size and in use feel like any quality keyboard. There is the disadvantage that there are no number keys but you soon get used to pressing a function key and typing numbers from the letter array.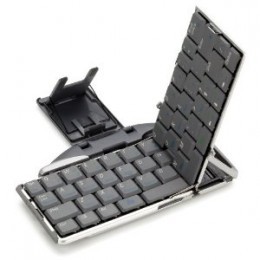 The Stowaway: still the best?
The keyboard folds to a very satisfactory 5.5 x 3.9 x 0.5 inches meaning it will slip into a coat pocket or any but the smallest bag. It weighs about 6 ozs so you will not be walking with a limp.
There is a neat case (vinyl but durable) and the keyboard will last.
For many people the biggest selling point is the stand. It will keep a range of electronic devices secure and in the best position while you type.
Installation requires no PC. It will download the drivers from your PDA or Smart phone via bluetooth and you should be ready to go.
Unfortunately it is not compatible with Android phones. These use SPP bluetooth and this is not supported by the Stowaway. The Freedom Pro (below) is the better option for Android.
Freedom Pro Universal Bluetooth Keyboard
In terms of quality and ease of use this is the nearest rival to the iGo Stowaway above. It will cost you considerably less and, if budget is an issue, this is a worthwhile alternative.
It is specifically designed for use with Blackberry, any Symbian, Windows Mobile and Android based phones. It is gaining popularity with iPad users who are turning their tablets into full blown PCs.
It is bigger than than the Stowaway at 6.4" X 4.0" X 0.75" when closed and almost twice as heavy. The payoff is that it comes with all 75 keys so typing numbers is straight forward
It can use either HID or SPP bluetooth making it a good choice for any phones not geared to HID like Android.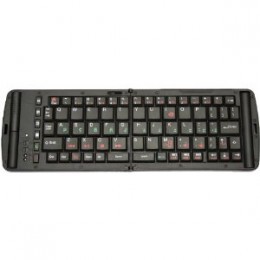 Freedom Pro
Neatly folded
Menotek Mini Bluetooth Keyboard : flexible and coffee proof
Some people are very happy with flexible keyboards, some are not. The keys react differently on any flexible and if your typing technique is not synced to the way the keys work. you need to do some relearning. Essentially you need to hit the keys square and true or you will get a long line of the character you hit!
Having said that, most people cope Ok and a full sized waterproof keyboard has advantages in many travel situations. This Menotek is also very reasonably priced.
It is especially desgned for use with Apple iPad 3G and Wifi models 16GB, 32GB, 64GB and iPhone 4/4G, Windows, Mac, Linux. There is a bluetooth adapter supplied to slip into Mac and Linux devices to give them bluetooth functionality.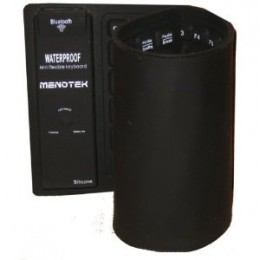 Rolls into a small tube, hard to damage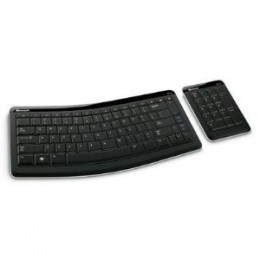 Microsoft Mobile will stand up to tra...
Microsoft Mobile Keyboard
This is never going to slip into a coat pocket but it is very slender, lightweight and if you packing for a time away it will take up very little room in your luggage.
Unlike some of the keyboards above it will sit comfortably on your lap (try that with a flexible KB!) and it offers all the ease of use of a home keyboard without wires or weight.
It can add a lot to any windows based netbook, PDA or Windows Mobile device of any kind.

Ultra Slim Bluetooth Keyboard from Apple
This is not marketed as a portable keyboard but it is exceptionally slim, very tough (adonised aluminium) and can be used as a main keyboard at home or taken on a trip anywhere.
It will work with Macs or Windows equally well, and it will probably be the most beautiful thing in any hotel room you take it to!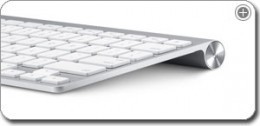 Design excellence
---
Disclosure: This page generates income for authors based on affiliate relationships with our partners, including Amazon, Google and others.