Pot Roast with Planned Leftovers
by Dianne
Delicious Pot Roast recipe with planned leftovers. Step by step instructions on how to make pot roast one day and beef stew the next.
Pot Roast one day and Beef Stew the next
Pot roast with planned leftovers
Pot roast is one of my family's favorite meals.  Last Friday we were having a dinner guest.  It also happened to be my Navy son's birthday and he was home for the weekend so I decided to make pot roast.  This recipe is the result of a long search for the perfect pot roast recipe.  I tried many different recipes before we finally settled on this one.  Of course I am never satisfied wtih a recipe the way I find it.  This pot roast recipe has been subjected to much adjusting over the years to make it even more to our liking.  I hope you like it too.
Pot Roast Recipe
Doesn't this pot roast look delicious?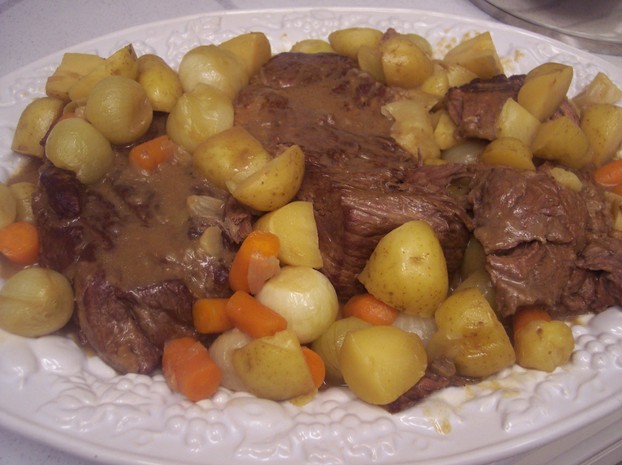 Pot Roast Recipe
Ingredients for Pot Roast
Includes Ingredients for Beef Stew the next day
This pot roast recipe will serve 4 or 5 and still have enough leftovers for beef stew.
1.  About 5 lbs of boneless beef chuck roast
2.  3 lbs small potatoes.  We like Yukon Gold but you can use what you like
3.  2 lbs pearl onions
4.  1/2 to 1 llb Organic baby carrots
5.  2 cans cream of mushroom soup
6.  two pouches of dried onion-mushroom soup
7.  2 cans water
8.  oil and flour
9.  Frozen peas
Directions
In a big heavy pot, place the mushroom soup and dried onion-mushroom soup.  Add two soup cans of water and whisk until well mixed.  Set aside.
Place about 3 tablespoons of oil in a big skillet.  I use coconut oil.  Heat on medium until oil is hot.
In the meantime, coat the roast with flour. 
When the oil is hot sear the roast on all sides.  This keeps the juices and flavor in the meat.
When the roast is browned on all sides place it in the pot with the soup mixture.
I usually buy my chuck roast at Costco where they come packaged two to a pack.  You don't have one big slab of meat so it makes it quicker to cook and easier to handle.
Cook the Roast
Add the potatoes
After you have browned the roast and added it to the pot with the soup mixture, bring it to a boil, reduce heat and cover the pot.  During this stage you'll want to make sure the heat isn't too high because the meat will stick to the bottom.  You want this to be simmering gently, not boiling.   Check it now and then and turn the roast over.  I use this time to get the vegetables ready to go.
Let the meat simmer for about 3 hours.  Check for doneness and tenderness and if the meat looks like it is close to done, add your potatoes.  Let the potatoes cook for about 20 minutes.  Usually I buy bags of very small potatoes so I don't have to cut them up but I couldn't find any this time.
Add the Potatoes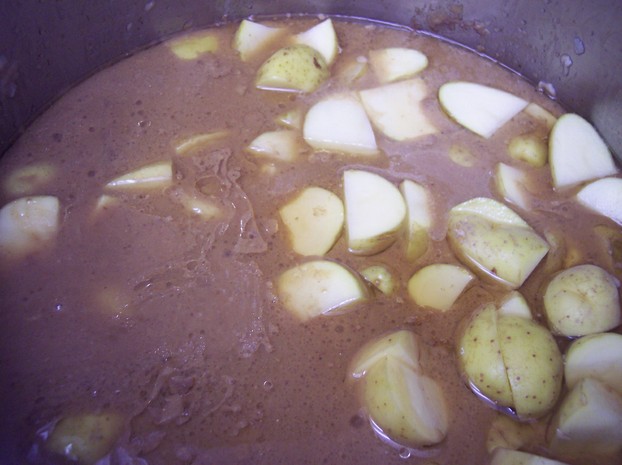 Add the potatoes
Add the Carrots and Pearl Onions
A whole meal in one pot
After the potatoes have cooked for about 20 minutes, add the carrots and pearl onions.  I usually get baby carrots that are small enough that I don't have to cut them but this time I couldn't find any real small ones.
It must not be the time of year for finding small vegetables because the pearl onions were bigger than I like as well.  Go ahead and add them with the carrots.  Keep the pot covered while cooking the vegetables.
The Finished Pot Roast
I serve it on a platter
Keep simmering until the vegetables are tender.  This might take an hour or so.  Just check them before serving to make sure everything is tender.
Move the meat to a platter and surround it with vegetables.  Spoon some of the gravy over all.  You can also put a bowl of gravy on the table.
All done!  Doesn't it look delicious?  Enjoy!
Finished Pot Roast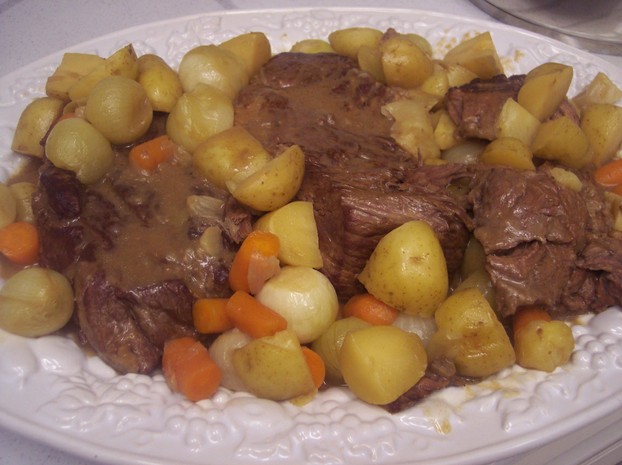 Finished Pot Roast
Beef Stew Recipe
From Pot Roast Leftovers
I have  7 servings of beef stew in the fridge right now.  One son will take a serving to work tonight, and two servings are going home with my Navy son.  That leaves 4 servings for son's lunch or for hubby and me.

After you've enjoyed the pot roast, move the leftovers to a smaller pan.  I use a Dutch Oven.  There should be lots of nice gravy.  Cut the leftover meat into bite size pieces.  If you think the potatoes should be smaller go ahead and cut them up.  Refrigerate this until the next day.  When ready to serve, place it on the stove over low heat.  Cover the pan.  It will take a while to heat up but once again, you don't want it to burn and stick to the  bottom of the pan.  Check it often and stir.  After it starts to get warm add about a half cup of frozen peas, or more if you like. 
Serve with warm dinner rolls. 
You've done all the work once and now you have two very nice meals.
What you need to make Pot Roast and Beef Stew
The right tools for the job
---
Disclosure: This page generates income for authors based on affiliate relationships with our partners, including Amazon, Google and others.