The Kidnapping of Jaycee Dugard
by Dianne
In June of 1991, eleven year old Jaycee walked to her school bus stop. A car pulled over and she was pulled in. Her family heard nothing of her for the next 18 years.
Jaycee Goes Missing
Some Background Information on Jaycee's Kidnapping
On that fateful day in South Lake Tahoe in 1991, Jaycee Lee Dugard, a fifth grader, walked toward her school bus stop.  She never made it to school that day.  A car swerved over to her, someone tazed her, and she was pulled into the car.  She remembers grasping for anything to hold on to.  That happened to be a sticky, prickly pine cone.  Be sure to visit the web site of Jaycee's foundation and read about the beautiful pine cone jewelry and its significance.  (Link below)
Phillip and Nancy Garrido took Jaycee Dugard to their home in Antioch, California and kept her captive in a series of ramshackle sheds and tents in their back yard.  They kept her there for the next eighteen years.  During that time she bore Phillip Garrido two daughters.  Jaycee and her daughters did not attend school and had no medical care for all those years.  The Garridos gave Jaycee the name of Alyssa and for eighteen years Jaycee's family and friends wondered if she was dead or alive.
Jaycee Lee Dugard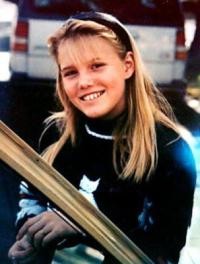 Jaycee Lee Dugard
Jaycee Dugard Grants her first Interview
Diane Sawyer on ABC
Jaycee has given her first interview since her return home in August of 2009.  The two hour interview with Diane Sawyer will be aired on ABC, Sunday July 10 at 9pm Eastern.  Sawyer has said that Jaycee describes her ordeal in great detail and explains how she managed to survive those eighteen years of living a secret life.  Jaycee insists that she is not a victim, she is a survivor.
She sounds like a remarkable young woman to me and I'm looking forward to seeing her interview.  She only had a 5th grade education but she read a lot and taught her daughters to read using the internet.  She kept a diary as well.
Our family lived in South Lake Tahoe when Jaycee was kidnapped.  We did not know her family but this event had a big affect on us and other Tahoe families.  Jaycee's kidnapping was in the local news for a long time.  People kept their children close to them after Jaycee was taken.
We are happy for Jaycee and her family now that they have been reunited.  It was a long time coming.
Watch the Jaycee Lee Dugard Interview
A Stolen Life: A Memoir
by Jaycee Dugard
A Stolen Life: A Memoir

In the summer of 1991 I was a normal kid. I did normal things. I had friends and a mother who loved me. I was just like you. Until the day my life was stolen. For eighteen ...

Simon & Schuster

$23.01 $10.45
Jaycee's Book
and The JAYC Foundation
Jaycee has written a book about her ordeal in which she says she is not a victim, but rather a survivor.  She has also started a foundation called JAYC.  Some of the proceeds of her book will go to the foundation which has been created in order to help other families recovering from abduction.
That pine cone has become the symbol of hope and is the symbol of Jaycee's foundation.
Jaycee did not use a ghost writer for A Stolen Life.  She wrote it herself in her own words.  It was only released on July 12 but has already soared to the top of the bestseller lists.  When the audio version comes out it will be Jaycee herself reading it.
More information about Jaycee Dugard
The JAYC Foundatiion
---
Disclosure: This page generates income for authors based on affiliate relationships with our partners, including Amazon, Google and others.