Purchasing Kids Room Furniture That Grows With Your Child
by ProHomeTips
Many people agree that decorating a child's bedroom is the most fun of all. Not only is the furniture petite and bursting with personality, but also you can be more daring.
Many people agree that decorating a child's bedroom is the most fun of all. Not only is the furniture petite and bursting with personality, but also you can be more daring with a kid's bedroom. You can experiment with colors, designs and themes that you wouldn't put in any other room of the home, plus show off a bit of your own childhood favorites in the process. If you loved butterflies for example, why not make your child's room a portrait of purple and pink butterflies with soft netting and glitter? If you were a train enthusiast, you can have a collectible train sit on a shelf that goes along the perimeter of the room.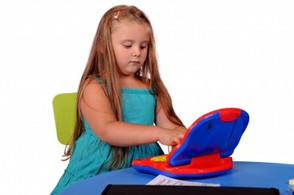 Little Girl Sitting on Bright Colorfu...
Another perk to buying kids room furniture is that the room probably won't stay that way for long. Since kids' tastes are always changing to meet their new stages in life, their bedroom changes as well. This is just one more reason why you can let the creative juices flow. Of course, you want to get the most out of the furniture, as it's an investment, and not one that you want to continue making year after year.
When shopping for kids room furniture, it's best to evaluate your child's taste today and determine what he or she would like in the future. Fortunately, today's furniture is built around practicality so that kids can grow with their furniture. To start building your child's room, you'll want to start with the basic pieces such as the bed frame, dresser and mirror. Some parents like to add a vanity, desk or armoire to suit their child's preferences, allow for more storage and provide more options in the long run.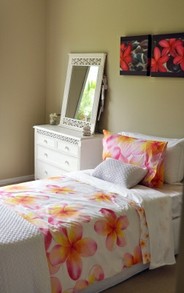 Girls Room
Furniture stores sell their kids furniture in sets or by the piece. Like other furniture sets, the more you buy the more you save, so it's not a bad option to purchase an entire bedroom set at one time, even if you pay more on the front end. There are plenty of options as well so that you can shop for one child, two or more. With unique bunk beds that include built-in shelving, desks and bookcases, you can plan for any room and any space.
Some of our favorites include bunk beds and loft beds that take two or more pieces of furniture and fit them into one beautiful piece. Examples include a twin-over-full or a twin-over-twin that has a desk on one side and dresser drawers on the other. These sets are perfect for siblings that share a room, as they free up floor space by combining a variety of furniture into one piece. You can also spring for a trundle under any bed to give more storage space without taking up more room. And if you have one child but are still limited on space, consider a loft bed that lifts the bed off the floor so you can create a relaxing zone underneath.
children bedroom furniture sets and tips
Just like adult furniture, kids room furniture follows particular themes. You can choose a classic set in natural wood, a traditional set in white or a sophisticated, antiquated set in dark cherry wood. There is also rustic furniture that is especially perfect for boys, while white furniture with pastel-colored drawers is ideal for little girls' bedrooms. To complete the sets are heart shaped mirrors, nightstands, hutches and chairs. Simple and contemporary, this kids furniture is the perfect way to give your child a room of his or her own, while purchasing quality-made furniture that will stand the test of time.
What is the most important factor for you when looking for your child's bedroom furniture?
You can fill in all the details later such as with area rugs, curtains, bed linens and lamps. When investing in quality kids room furniture, you can expect that the small details will change to reflect your child's taste, while the furniture will continue to hold up as your child grows. Shopping online for furniture is a wonderful way to evaluate the various options you have, arrange your child's room according to the space and find the best deals. With time and patience, you can find the perfect kids furniture that both you and your child will love.
Get Book Smart on Children's Rooms
---
Disclosure: This page generates income for authors based on affiliate relationships with our partners, including Amazon, Google and others.