Quick Explanation of The Chimney Sweep Process
by collegegeek
If you are curious about the chimney sweep process this article gives a detailed overview of everything that goes into keeping a clean chimney.
What Goes Into a Chimney Sweep?
Find Out Here...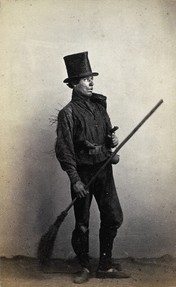 You may not always think about the maintenance of your chimney but there are times when you will really need to have it cleaned. Due to continuous use during winter days and colds seasons, thick layers of soot, dirt, and sometimes highly flammable byproducts of woods can accumulate inside the vents of your chimney. In some cases, backfires and serious house fires can occur, that is why it is really important that you take your chimney seriously.
The chimney sweep process does not involve just cleaning the inside surface of your fireplace. For you to be safe from any risk of carbon monoxide poisoning and fires, the health of your chimney must also be checked to see if there is problem that may arise. There are simple methods that you can employ to clean your chimney. However, this can be a bit risky because it means climbing up the roof of your house. If you want things done properly, it will be wiser to call for an expert chimney sweep.
You don't have to worry because the cost a chimney sweep service is nothing compared to the cost of equipment you have to purchase if you want to do the job yourself. Given that you are going to pay a fair amount of money for the service, you need to be very careful choosing the right company or a qualified expert. To look for a good chimney sweep service, you can check the directory or surf the world wide web. You will be able to see a lot of companies offering the same service in very competitive packages but not all are certified to guarantee you the peace of mind.
Here are some pointers you can take note of when choosing or looking for a chimney cleaning company to help you:
1. Don't entrust your house to just anyone. Find a chimney maintenance company that has been in the business for quite some time. This way, you can be sure of the experience they have had in cleaning different kinds of chimneys. It will also be an advantage if the company has references from other people.
2. Ask your neighbors about their preferred chimney sweeper. You will have greater peace of mind and confidence of the service if the company has been already tried and tested by other homeowners in your area.
3. It is not enough to seek help from a certified company. It pays to check if the chimney sweep to visit your house is also certified. Chimney sweeping is already a profession, so it is not that difficult finding one.
4. Protect your property. Find a company that offers a business liability insurance policy that will cover any damage to your house should an error or accident occur.
Chimney cleaning must be done at least once a year to ensure your family's safety from any fire related problems. If you want a chimney sweeping service that you can trust, always take caution in choosing a service. Allthough it seems quite simple you don't want someone creating a bigger mess than you already have.
This explanation is brought to you by the Eugene Or Chimney Sweep experts, The OGC. Good Luck!
---
Disclosure: This page generates income for authors based on affiliate relationships with our partners, including Amazon, Google and others.