Get rid of Cable TV, the Roku 2 XS streaming player is all you need
Looking for a way to watch TV with no cable bills and no commercials? Look no further than the Roku 2 XS streaming player.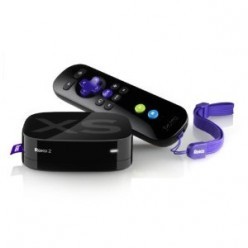 It has been a few years now since we got rid of the cable TV for quite a few reasons, the biggest one being – Far too many commercials particularly those directed at the children.  Another reason was the fact that, in theory you had so many channels to watch but actually, there still was not that much good stuff to watch.  So now having come across an item that will allow me to choose what to watch and when I watch it with no commercials...  Well, buying the Roku 2 XS streaming Player is a no-brainer!
What is the Roku 2 XS?
It is a Wifi enabled streaming player that can be connected to your television allowing you to watch whatever you choose to watch.  It is a pretty small box so it does not take up that much entertainment space.   There is a ton of free and premium TV channels up for grabs when using this streaming player.
This particular version of the Roku can also be wired and connected directly to your internet router. Therefore preventing too much choppiness when watching TV if you have an unreliable wireless connection.
How user-friendly is the Roku?
It is supremely easy to set up for even the most non-techie minded.  The interface over the television is very easy to use.  Some have complained about a slight clunki-ness but overall, it is a great, simple and easy system to work with.
You will need a HDMI lead or an A/V lead depending on the capability of your TV.

Another added Bonus in the Roku 2 XS
The Roku 2 XS comes pre-loaded with games like the Angry Birds Game which seems to be something of a revolution at the moment.
What entertainment choices are there?
Netflix, Hulu Plus, Amazon Video on Demand, about 350 Entertainment channels with all your favorite shows with NO commercials!  Great, isn't it?
You do have to search a little for some of the free channels but they are there and a search on Google will definitely help with discovering more.
All of this for no monthly fee unless you choose a premium channel/service.  Definitely not as many channels as on a cable subscription but who watches all of those channels anyway?

Another feature.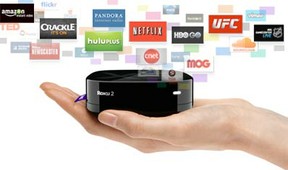 You know how streaming TV sometimes can be a bit blurry or pixelated and not too clear in terms of picture quality, well the Roku 2 XS has HD capabilities so you get high definition to add to your watching pleasure.

A summary!
Pros: 
1.   Wired connection – This can be a big issue for some as occasionally the wireless connection can be slow.  How irritating to be trying to watch something that stops and starts. 
2.   Great video quality
3.   The interface on the homepage of the Roku is easy to navigate
4.   No monthly fee
5.   You can increase its storage capabilities using a MicroSD card
6.   It comes with a remote control
7.   Pause and rewind your programmes
8.   NO cable/satellite fees, Woohoo!
9.   Minus a whole lot of commercials
10. USB port for extra storage, picture viewing etc.
11. Easily obtained on Amazon
Cons:
1.   You have to buy your own HDMI cable
2.   You may have to put in your credit card info before use, even if you do not choose to use any of the premium content
3.   No, on and off switch
Overall:
The Roku 2 XS Streaming Player is a great addition to any household. 
The Roku Range
I think the XS is best as it has the most features.
---
Disclosure: This page generates income for authors based on affiliate relationships with our partners, including Amazon, Google and others.